What do castles, graffiti artists, beer tasking, pretzel making, and Pinocchio have in common? If you said Germany, you would be right! The Adventures by Disney® Deutschland Discovery allows guests to step back into history and really get to know this wonderful country.
An Adventures by Disney® trip is always a wonderful thing – from the first class accommodations, attention to detail, and once in a lifetime experiences, we knew we were in for a treat when we got lucky enough to be able to go on the 8-night Adventure last summer.  Let's take a peek at all this Adventure has to offer!
Willkommen in Deutschland!
Our adventure began in Munich, the heart of Bavaria. Adventures by Disney® guided vacations include accommodations at some of the best hotels in the host cities. In Munich, we stayed at the Hotel Vier Jahreszeiten Kempinski which sits on Macmillanstrasse, in the heart of the city. We were steps away from museums, shops, and many restaurants. The hotel opened in 1858, and such notable guests as Archduke Franz Ferdinand of Austria, Empress Elizabeth of Austria, and Queen Elizabeth II have stayed there! The hotel is both classic and modern at the same time, with high tech lighting and electronic systems in the rooms, and the BEST shower I have ever had!! There is a lovely buffet breakfast daily, as well as a lobby bar and coffee and sweets cafe. It is an excellent choice for any trip to Munich!
After checking in, and freshening up, we met our fabulous Adventure Guides, Alica and Melanie, as well as Michael, a history teacher and our local expert who took us on a walking tour of the city. He was amazing – entertaining, informative, and fun!
Here is just a little of the history lessons we learned. Munich was founded by monks in 750 A.D. and rose to power in the region in 1157 when Henry the Lion, Duke of Bavaria, and the monks built a bridge across the Isar River and created a marketplace to sell salt from Salzburg and goods from Venice. In 1255 Munich became the home of the Wittelsbach family, who ruled the area until 1918. Kurt Eisner then became president but was assassinated soon after which ushered in the early beginning of the rise of the Nazi Party. We learned about resisters and saw monuments to those who stood up tyranny. It was a fascinating lesson in the history of the area, and it made it more real being in the exact spot where the events took place.
We visited buildings that are older than our country, ate and drank some great German food and beers, and learned a great deal about the history of the region. It was the perfect first-day introduction to the country.
Castle Dreams
This is the day that we had been most looking forward – a visit to King Ludwig II's Neuschwanstein Castle! This castle was commissioned in 1868, and the King never saw it completed, as he died a mysterious death in 1886. In fact, the castle was never completed! According to plans, the castle was meant to have more than 200 rooms, but just over a dozen were finished before funds were cut. However, the Castle still hosts more than 1.5 million visitors each year.
Neuschwanstein was a great inspiration to Walt Disney, and you can see the similarities in this castle when looking at Sleeping Beauty Castle in Disneyland®, as well as Cinderella Castle in the film and at Walt Disney World®.
You are not allowed to take pictures in the castle, but a guided audio tour takes you through the 14 rooms are currently finished – including the cave-like grotto, the king's bedroom, his dressing room, the Throne Room, and Singer's Hall.
After visiting the castle, we took some time to explore the town – you can swim or rent a boat on the lake, or just sit back and enjoy a drink while admiring the scenery.
Bavaria and the Alps are amazingly beautiful, with a rich and sometimes sordid history! Our Adventure Guides made sure we understood the context of what we were seeing, as well as the history of the castle, which made the visit that much more meaningful.
In Memorium
The next morning we had a somber visit to the Dachau Concentration Camp Memorial Site. While difficult to see, and incredibly emotional, it was worth the visit. Our local guide, Michael, taught us more about the history of the Nazi Party and Germany than either of us had ever learned in school, which really put into context how something like this could have ever happened in the first place.
This tour is new to the Adventures by Disney itinerary this year, but they felt that it was important to show the history of the country. Junior Adventurers and anyone who did not wish to visit had an alternative activity that included a visit to the Science and Technology Museum.
You could spend an entire day at Dachau, as you read all of the information in the museum, and visit the various areas of the memorial site. While not recommended for young children, it would be appropriate for high school age teenagers and is actually required in German high schools to visit one camp before they graduate. The thought being that if we can't learn from the past, then we are doomed to repeat the same mistakes in the future.
Prost!
Bavaria is known for its beer – from Oktoberfest to the famous beer halls, so a trip to Munich is not complete without trying at least a glass. Today we visited the oldest continuously operating brewery in the world! For over 1,000 years, Weihenstephan has been brewing and serving beer. While we were there we had lunch, as well as a private tasting lesson from one of the brewers.
After returning to Munich, we had some free time so we decided to visit somewhere related to another industry synonymous with Germany – the automobile. BMW Welt, which is located right next to the Olympic Park from the 1972 Olympics and BMW world headquarters, is a showroom and the spot where you can pick up the new car that you designed and ordered while home in the US. There we saw concept cars and did a little shopping…but not, unfortunately, not for a new car!
All of the Adventurers got together for dinner at the Hofbräuhaus for a Farewell-to-Munich dinner where we enjoyed more German food and beer and were entertained by an oompah band and dancers.
History, with a Side of Pretzels
After saying goodbye to Munich, we hopped on a bus and head north to Nuremberg.  This walled-city is famous for the war trials following World War II, as well as for its Christmas Market, which takes over the town square the month leading up to the holiday.
We started our visit with a visit to the very courtroom where the trials were held and then headed out into the town for a walking and culinary tour. From pretzels with butter to beer, sausages, and lebkuchen (gingerbread type cookies) we sampled the food that the town is known for.
We got to visit the underground tunnels where they stored the city's artwork, stained glass windows, and jewels during the war. Our local guides were very knowledgeable about the town's history and were there to answer any questions we had. We also had some free time to shop and explore on our own.
Although 92% of the city was destroyed from bombings during the war, repairs began right after it ended, and it has been restored to its former beauty and is now ranked as one of the most desirable cities in the world to live.
The Romantic Road
Our next stop on this wonderful Adventure was the beautiful and well-preserved medieval old town of Rothenburg ob der Tauber, or Rothenburg for short. It is part of the popular Romantic Road through southern Germany and was founded in the year 1170. It was also the inspiration for the village in Walt Disney's Pinocchio!
We stayed at the Hotel Eisenhut, which is centrally located near the Town Hall. The hotel consists of four patrician houses that were built between the 12th and 18th centuries. As part of our Adventure, we toured the city on foot with a Night Watchman, who told stories and the history of the town. We also got to visit a bakery and earn our Masters Degree in "Bretzel Making" by making our own pretzels. After some free time to explore, and some Christmas ornament shopping, we met for a photo shoot where we got to dress up on medieval costumes. That was a lot of fun!!
After leaving Rothenburg, and got to spend a few hours in beautiful Bamberg. This UNESCO World Heritage Site city has it all – seven hills, two rivers, cathedrals, shopping, beautiful architecture, a rose garden, and ten breweries! I wish we had more time to explore, but I will definitely be back!
We then hopped on a train for Berlin, the capital of Germany. As we traveled north, the scenery changed, and arriving in Berlin we definitely realized we were not in Bavaria anymore.
Ich Bin Ein Berliner
Berlin is a very cosmopolitan city, and our fabulous hotel, the Regent Berlin, was amazing, and we had a great time exploring the capital over the next few days. We enjoyed a wonderful dinner with our fellow Adventurers at Das Meisterstruck, visited the Brandenburg Gate, the Reichstädt (parliament building) and government area, the Holocaust Memorial, and the Berlin Wall.
Berlin is known for its Curry Wurst, so we stopped for a quick lunch at the famous Dom Curry, before meeting up with our next guides. They took us on a graffiti tour, taught us the differences between graffiti and street art, and then taught us how to use stencils and spray paint so we could create our own masterpieces.
We finished out our first full day in Berlin with a chocolate experience! The Junior Adventurers got to make their own chocolate bars, while the adults got to pick ingredients for a custom bar, and then while the store made the bar we got to shop and enjoy some amazing chocolate fondue. It was such a fun day!!
Our last day in Berlin started with the option to go for a bike ride along the former Berlin Wall, a walking tour of that area, or extra free time to explore the city. We were also all provided with passes to go to Museum Island, which is an island in the middle of the Spree River, where five of the city's museums reside.
That afternoon, many Adventurers chose to go on a river cruise, visit the Topography of Terror Memorial, do a hop-on-hop-off bus tour, go shopping, or just explore Berlin. Germany had been experiencing a heat wave, and the weather finally cooled off, so it was a great day to just be out exploring the city.
Auf Wiedersehen
The last night of an Adventures by Disney® guided vacation always includes a special farewell dinner, to celebrate a great vacation and all of the new friendships. We went to a famous Berlin restaurant and dance hall, where we enjoyed food, drink, friends, and dancing. It was a perfect end to a fantastic trip.
One last breakfast at the hotel, and then it was time to say auf wiedersehen to Berlin and all of our new friends. Adventures by Disney® took care of one last transportation detail and soon we were off to Berlin Tegel Airport and on our way home. What an Adventure we had!
After this amazing adventure, I have to admit, I may have been a bit unsure going in. Was a guided tour, with the days so planned, really the best way to see Germany? I can now unequivocally say YES!! Adventures by Disney® IS the way to experience just about any destination. There is no way a traveler would be able to seamlessly plan all of the destinations we were able to see, let alone the travel between locations. The local guides were priceless. The amount of knowledge they shared with us was something I could never have found on my own. Germany was a bucket list destination to me, and I cannot imagine doing it any other way.
If you would like to have one of your own, we would love to help! All Key to the World Travel® planners are experts and offer the highest level of exemplary customer service. Contact your travel planner to book your vacation, or click here to request a quote today!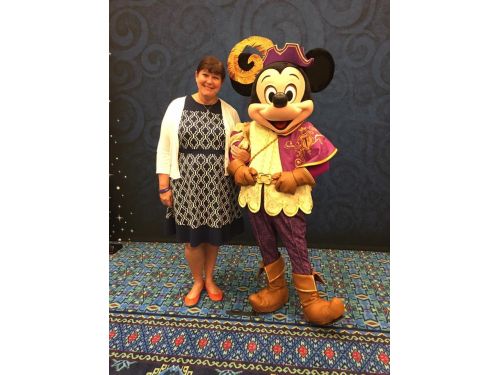 Cheryl Koren
Co-Owner
Contact Cheryl today, using the links below!