Looking for some old Hollywood magic? Want to see where your favorite films have been created? Love Disney history and nostalgia? Crazy about theme park rides, but have always wondered how they work?  Then do I have a vacation for you! Last year I went on the Adventures By Disney ® Disneyland Resort & Southern California – Backstage Magic: Disney Backstage, Hollywood, Disneyland guided group vacation, and it was amazing! From iconic Hollywood landmarks and famous studios to touring Disney Imagineering (!!!) and the Disneyland® and Disney's California Adventure® parks this had it all, and I can't wait to tell you all about it!
First, A Little Bit About Adventures By Disney ®
Adventures By Disney ® is the highest-rated travel product that the Walt Disney Company sells.  These guided group vacations provide culturally immersive, once-in-a-lifetime experiences to locations all around the world! There are 40+ Adventures in 6 out of 7 continents that range in length from 3-11 nights, and there are even adult-exclusive departures, so there is something for everyone!
Adventures By Disney ® guests (called Adventurers) stay world-class hotel with concierge level service. Most meals are included, and whenever, possible introduce Adventurers to the local cuisine and customs or are at locations special to the theme of the tour. While airfare is not included, all transportation once you are on the tour is. This includes from and to the airport, as well as all buses, trains, taxis, or boats (depending on the tour).
All the guided group vacations provide private access and special perks that only Adventures By Disney ® have access to. Not just front of the line access, but private viewings and backstage / behind the scenes access to some of the world's most famous places.  There are always built in adult and child-specific activities, in addition to most of the ones that are all-ages, so there is always fun to do.
Each Adventure is led by two Adventure Guides, one local and another guide. To say these guides are concierge-level is doing them a disservice – they are on top of everything, always planning little surprises and enhancements, and providing things you didn't even know you needed or wanted until suddenly it is taken care of. These storytellers bring the location to life and help immerse you in the culture of the area like no other guided-tour leaders can.
Now for the Main Event – Adventures By Disney ® Backstage Magic
There were several of us from Key to the World Travel® on this Adventure, flying in from all over the country and arriving at LAX that first morning. We were each picked up in individual town cars, and whisked off to the Loews Hollywood Hotel. As we passed by the famed Hollywood sign, I knew we were in for a treat! We arrived at the hotel and were greeted by our Adventure Guides – Christian and Rhiannon who went over all of the details and invited us back for our opening dinner that evening.
After exploring Hollywood Boulevard and checking out the TCL Chinese Theatre and the Walk of Fame for a bit, we met back at the hotel to meet the other travelers in our group. During dinner, introductions were made, and Christian played a game with us that served as an ice-breaker.  He then went over the itinerary for the next day and gave out our first set of buttons. Each day of an Adventures By Disney® adventurers earn a special button to help commemorate the day, and act as a little "thank you" for adventuring with them! It is always a treat to see what each day's surprise will bring.
The next morning we woke up bright and early to get started on our first day of touring, and what a day it was!  After breakfast, we did a little more exploring around the hotel, and then we hopped on a motorcoach and headed off to the land of Muppets – the Jim Henson Company Studios®, which was built on the original site of Charlie Chaplin's movie studio! We met with a puppeteer, saw the original A&M Records studio, did a little shopping, and even got to hold an Emmy award! Next, we hopped back on board the bus for lunch at Tam O'Shanter. This is one of the oldest restaurants in Los Angeles, and the spot where Walt Disney used to have lunch! We had his favorite meal – prime rib and Yorkshire pudding – and got to see his favorite booth.
You may know the story of how Walt Disney came up with the idea of Disneyland® – he was at Griffith Park with his girls, for a Dad's Day. As he sat on the bench watching his girls ride the carousel, he wondered to himself why there wasn't a place for families to go that was clean and had rides and entertainment for everyone. Disneyland® was the answer to that need. The bench can now be found at the theme park, but that same carousel is still at Griffith Park, and we got to ride on it!! How is that for some Disney magic??!!
We hopped back on the bus to head back to Hollywood to continue our backstage tour – this time to the Dolby Theatre® – home of the Oscars®! This Adventure took place in March 2017, a few weeks after the Oscars® Ceremony, and the seating placards used in the rehearsal were still there! We then were treated to an unplanned ice cream party!  Someone had mentioned that they wanted ice cream while we were at Griffith Park, and the Adventure Guides said no can do, but let us see what we can figure out. They got on the phone, and next thing you know we are at Ghirardelli's in a Beauty and the Beast decorated private room eating ice cream sundaes! We had the rest of the night free to explore on our own, and there just happened to be a movie premiere for CHIPS, so we got to see some of our favorite stars arriving for the show. So cool!!
Day three started by saying goodbye to Hollywood and heading out to all things Disney – the Walt Disney Studios, Walt Disney Imagineering, and Disneyland®! For a Disney-nerd like myself, this day was the reason I wanted to do this vacation. To see where Walt Disney had created his movies – to tour the studio, visit the archives, eat lunch in the commissary, and even get to shop where the Cast Members shop – it was blowing my mind. Then to be able to hold one of Walt's trophies – well let's just say a few bucket list items were checked off! And this was before we even got to Imagineering! We were not allowed to take too many pictures here, given the top secret things that are being developed there, but let's just say it was everything you would think it would be and more! We ended our day by checking into the Disneyland® Hotel, eating dinner, and spending some time in the theme parks! It was a very good day!!
The next two days we spent at the Disneyland® and Disney's California Adventure® parks.  The first thing we did was arrive at Disneyland® park bright and early to get some private pictures in the park before anyone else arrived. You NEVER get a picture on Main Street U.S.A. or in front of Sleeping Beauty Castle without at least 1,000 other people trying to take the same picture, so this opportunity was priceless. Each day we had breakfast with some of my favorite characters, and then started our VIP guided tour where we also got to go backstage to see how the Radiator Springs Racers and Indiana Jones™ Adventure ride vehicles work, watch Soarin' Around the World from behind the screen, and even visit 1901, the sister-club to Club 33 at Disney's California Adventure®! But best of all was that we got to visit Walt Disney's Apartment!  His apartment! On Main Street U.S.A.® over the fire station! The one where he and his family would stay! Walt's apartment!!!  Ok, I guess you can tell that I am still pretty excited about this!! It was an amazing opportunity and a memory that I will keep forever! Our evenings were filled with more Disney fun, including a send-off dinner at Carthay Circle and VIP viewing of World of Color! It was the perfect way to experience all of Disneyland® Resort!
Like all good things, it had to come to an end, and I had to return to real life. Another town car came for me, and I had to say goodbye to all of my fellow adventurers and our amazing Adventure Guides. They saw us off, and the last view I had was of them waving a big white Mickey hand as I drove away.
I would highly recommend this Adventure to anyone who loves Disneyland®, Disney history, and Hollywood. The minimum age for this trip is 4 years old, but I would probably recommend it for older children, as they may not get as much out of the history or ride mechanics, and will want to spend more of their time just riding the rides and meeting more characters. Looking for a quick getaway? Check out the Adventures by Disney ® Disneyland® Resort and Southern California Short Escape! If you are looking for something different, Adventures By Disney ® has a whole host of bucket-list-worthy adventures for you to choose from!
~~
All Key to the World Travel® planners are experts and offer the highest level of exemplary customer service. Contact your travel planner to book your vacation, or click here to request a quote today.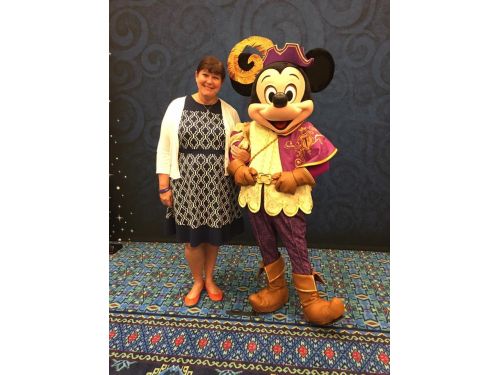 Cheryl Koren
Co-Owner
Contact Cheryl today, using the links below!