Let's Plan Your Disney VIP Tour!
Vacation Like Royalty with Disney VIP Tours
Visiting one of the Disney destinations is already an unforgettable event, but becoming a Disney VIP takes your vacation to a whole new level! With Disney VIP Tours, you can enjoy Lightning Lane access to attractions, get reserved seating for parades and shows, have personalized experiences that make you feel like you're part of the magic, and much more!
At Key to the World Travel®, our complimentary Disney vacation planning services are designed to help you spend more time having fun and less time stressing over the fussy details of your trip. Our Travel Advisors have first-hand experience planning trips to Disney destinations all over the world – just sit back and let us take care of the logistics!
What Perks Come with Disney VIP Tours?
Your Disney VIP Tour experience will vary based on your personal interests, but some of the amazing perks include:
A personalized itinerary customized to your preferences and interests
A knowledgeable and friendly VIP guide by your side throughout the tour
Lightning Lane access that lets you bypass the regular lines at most attractions
VIP seating reservations & prime spots for capturing magical moments
Exclusive character meet-and-greet opportunities
Early park access (valid for guests staying at a Disney resort hotel)
Flexible itineraries and scheduling
and more!
A VIP Tour is the perfect way to plan a stress-free, unforgettable Disney vacation. Let Key to the World Travel® handle the details while you sit back, relax, and enjoy the rides!
Disneyland® and Walt Disney World® VIP Tours
No two Disney fans are the same, and neither are their Disney dreams! VIP Tours are highly customizable to your preferences and interests. Whether you're a thrill-seeker, a foodie, or a family looking to meet your favorite characters, your tour can be tailored to suit your desires. This is your Disney experience, your way!
Walt Disney World® VIP Tours
Walt Disney World® VIP Tours offer an exclusive and personalized way to explore the four enchanting theme parks – Magic Kingdom, EPCOT, Disney's Hollywood Studios, and Disney's Animal Kingdom. Your VIP Tour Guide can share hidden gems, fun facts, and behind-the-scenes stories while you explore.
Disneyland® VIP Tours
Disneyland VIP Tours often come with exclusive extras that make your visit extra special. These might include behind-the-scenes peeks, early park access, or VIP dining experiences. Imagine savoring a gourmet meal with Cinderella's Castle as your backdrop or getting an insider's view of backstage magic!
Complimentary Disney VIP Vacation Planning Services
Key to the World Travel® provides complimentary vacation planning services to make your trip a breeze. Think of us as the fairy godmother of your vacation! Tell us what you want and we'll wave our wand and make it happen. Let us be your key to a magical vacation!
Trip Reservations
We help you grab the best reservations for your family, budget and timeline.
Airline Reservations
Skip the hassle of finding the best plane tickets.
Travel Insurance
Make sure your trip is covered for cancellations, emergencies, & more.
Special Offers
We monitor prices to make sure you get the best available deal.
We're an Authorized Disney Travel Planner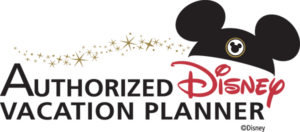 This means Disney recognizes our ongoing focus and commitment to planning customized, magical trips to Disney vacation destinations worldwide, including Adventures by Disney destinations.
Key to the World travel planning services are 100% complimentary – we help you plan a magical, stress-free Adventure at no extra cost.
Your Key to the World Travel Planner will work with you one-on-one to customize your Adventure to the unique needs of you and your family.
Our services are 100% complimentary, with no hidden fees to raise the price of your vacation.
Key to the World travel planners are all graduates of the College of Disney Knowledge.
No need to worry about missing a special promotion – we'll monitor your reservation from the moment it's booked to make sure you have the best available price.
We'll be your own personal concierge and help you with everything from dining reservations to tips and tricks to make the most of your vacation time.
Let us be your key to a magical Disney VIP experience!
Complimentary Travel Planning Services
As long as you haven't already booked your vacation, our services are completely free!
Our expert travel advisors take the most confusing and stressful parts of vacation planning off your shoulders at no cost to you.
Touring with a Group?
Planning a vacation for yourself can be challenging enough, and planning for a whole group is even more complicated – but we can help!
We specialize in travel planning for large groups (typically 10+ hotel rooms) including students and youth groups, senior groups, large families, and more. Check out our group vacation packages to learn more!