You're going on a Disney Cruise! Congratulations! After you book your cruise there are still several steps to complete before you embark on your magical cruise. You will need to do your online check-in and select any extra activities that you want to add to enhance your cruise experience. Your Key to the World Travel® Planner can help you with these, or you can choose to do them on your own.
Advanced Booking Window
Your Advanced Booking Window is determined by your Castaway Club Membership level as follows:
Concierge Guests can book 120 days prior to sail date

Platinum Castaway Club Members can book 120 days prior to sail date

Gold Members can book 105 days prior to sail date

Silver Members can book 90 days prior to sail date

First Time Sailors can book 75 days prior to sail date
Your window opens at Midnight EST – That means West-coasters can check in at 9 pm the night before!
For our upcoming cruise, we were able to log on and complete the check-in about 1 hour before our window opened, but we were not able to book activities until the window officially opened.
Your cruise needs to be paid for in full to register for activities, but not to check in.  Note: your final payment for the cruise is due between 75 and 120 days prior to sail date, depending on the cruise you select.  Be sure to check your cruise details. Your Key to the World Travel® Planner will remind you of when your final payment is due.
Information to gather before check-in
If your Key to the World Travel® Planner is doing your check-in, please be sure to supply the following information. If not, then having it handy will help you when it is time to check in.
Passport information

Credit card information

Flight details

Pre and post travel location address

Emergency Contact Information
If you are doing your own check-in, you will need to login to https://disneycruise.disney.go.com. Select Sign In or Create Account. If you are new to the Disney websites, you will enter your email address and select a password. If you have registered on Disney's Parks sites before it will be the same username and password that you have used previously. Your Key to the World Travel® planner will have helped you with setting this up. Once logged in, select My Disney Cruise tab located on the top right of the screen. A drop-down menu will appear, select My Reservations under Plan and Manage. Here you can select check-in.
Check-in Process
There are 9 steps and you need to go in order of the check-in steps and complete each step before you move on to the next one.
Step 1: Guest Information
You will enter your address, phone number, emergency contact, if you are pregnant and if you are the parent or legal guardian of children in your party.  These steps repeat for each member in your party.
Step 2: Identification
You will select your citizenship and enter your identification type (photo & government ID or Passport), numbers, and expiration dates.
Step 3: Pre/Post Cruise
Are you flying into the port? You will enter your flight information, the address of where you are going after the cruise as well as the transportation you are using from the cruise terminal.
Step 4: Onboard Account
Here you will enter in your credit card information for onboard charges and select who is authorized to charge on this card.
Step 5: Port Arrival Time
You can select an arrival time between 10:30 am and 3 pm. They are in 15-minute intervals. Select the time that best matches up of when you realistically plan to get to the port. This is not your boarding time. Just the time you expect to arrive at the port.  This helps Disney manage the flow of passengers.
Step 6: Youth Registration
If you are bringing children on the cruise this is where you register them in the kid's clubs. This is something that your travel planner cannot do for you, the parent or guardian must complete this step.
You will select who can pick up and drop off your child and if you want them to have self-check-in and out privileges. You will also pick a secret word for you and your children to know. Here is also where you indicate if any child has any allergies. The kid's clubs will sometimes offer your child food so they need the authorization to feed them and if they can participate in activities with Play-Doh. There is also information on if you are bringing an EpiPen. There is an additional form for special services information that must be completed 60 days in advance of your cruise.
In this step, there will also be a link to download and print a My Disney Cruise Adventure booklet. There are fun pages for your child to fill out before, during, and after your cruise.
Step 7: Traveling with Minors
Here you can select if your children can get off of the ship with any other adults, and who those adults are. This is something that your travel planner cannot do for you, the parent or guardian must complete this step.
Step 8: Review Contract
Make sure to read and check that you understand the contents.
Step 9: Port Arrival Form
You can Print your Port Arrival Form and/or send it via email. After you make your selection click "Complete My Online Check-In".
Cruise Activities
Now you get to choose your cruise activities like port adventures and specialty dining experiences.  Are you traveling with others in a different stateroom? You can link your reservations and book your activities together. You can link up to 3 rooms together. In order to link reservations, you will need their confirmation number and the date of birth of one of the guests.
Go back to the My Disney Cruise tab located on the top right of the screen. Select My Cruise Activities on the drop-down menu under Plan and Manage.  For this section, I suggest you have a rough outline of the days you are cruising with plans that you already have set. For example, put in your dinner time so you know that when you are scheduling activities. As you select activities, I also suggest penciling these in, that way you can keep track of what you have already selected.
Once you are on your Cruise Activities page, there will be a link for your day-by-day itinerary.  Select the day you'd like to reserve your activity for, then click "Add Activities" and select from the options provided. You can add the activities for one up to all of the passengers you have linked to your reservation.
Some of the activities you will get to choose from are listed below.  Note: activities are based on the ship you are sailing on, the duration of your cruise, as well as ports you visit. Also, some activities have an additional cost, which will be listed.
On Board Fun

Bibbidi Bobbidi Boutique

packages

Drink tasting events

Shutters Portrait Studio

Golf Simulator

Sports Simulator

Character Meet & Greets (Princesses and specialty characters on Star Wars and Marvel cruises)
Royal Court

Royal Tea

Senses Spa appointments

Port Adventures

Dining

Nursery

Spa and Fitness
If you didn't get something that you wanted don't fret! On your day of departure, you can go to the Port Adventure desk located on Deck 5 on Disney Dream and Disney Fantasy and on Deck 3 on Disney Magic and Disney Wonder to see if there is any availability. If you want to register for group babysitting visit it's a Small World Nursery on Deck 5 for all ships, and Spa & Salon Services can be booked in the salon on Decks 11 and 12 on the Disney Dream and Disney Fantasy; Deck 9 on the Disney Magic and Disney Wonder.
The most important thing to remember: do not be surprised or worried if many of the activities are booked up by the time your booking window opens [due in large part to the Advanced Window Booking noted above].  Your cruise experience will still be magical! All of the restaurants included in the rotational dining provide top notch food and there are more than enough onboard activities listed in the daily navigator to enjoy.
~~
All Key to the World Travel® planners are experts and offer the highest level of exemplary customer service. Contact your travel planner to book your vacation, or click here to request a quote today!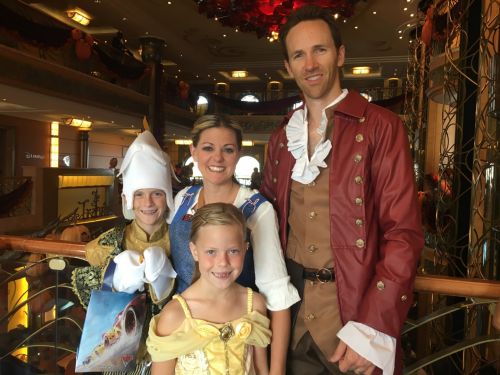 Lynette Brown
Travel Planner
Contact Lynette today, using the links below!