A long time ago (Spring Break) in a galaxy (cruise ship) far, far away (somewhere in the Caribbean), the Disney Fantasy treated guests to Star Wars Day at Sea. Now, in case you have never heard of Star Wars Day at Sea, let me explain. Star Wars Day at Sea is exclusive to Disney Cruise Line and is an entire day themed around, you guessed it, Star Wars®! It is reminiscent of the Star Wars® Weekends that used to be held at Disney's Hollywood Studios®. Star Wars Day at Sea is held on a sea day during your Disney Fantasy cruise, so there are no conflicts with port excursions. When I booked our Spring Break cruise, I didn't know it was going to be a special Star Wars Day at Sea sailing but as luck would have it, it was!
I need to go ahead and tell you, we are a mixed family—3 of us being huge Star Wars® fans, 2, well, not so much. This cruise was just my husband, daughter, and myself. My husband is not a Star Wars® fan. In fact, he hasn't even seen one of the movies!  So we wondered how Star Wars Day at Sea would affect him and other non-Star Wars® folks. Personally, though, my daughter and I were thrilled!
Star Wars Day at Sea actually starts the night before!  Every night there is usually an event in the atrium after the last stage show ends. The night before Star Wars Day at Sea, as everyone was enjoying the normal nightly events, all of a sudden the very distinctive notes of the Imperial Death March began playing. It could be heard throughout the ship. A quick peek into the atrium and we soon knew why that was playing—Darth Vader had arrived!  Out of nowhere, it seems, there he was, on the Atrium balcony, guarded by two Stormtroopers. He let us all know that the ship had been taken over! To prove his point, he sent his guards to retrieve a possible rebel spy! With a warning to us all to be on our best behavior, he left as swiftly as he appeared and regular programming resumed. There was a definite buzz of excitement though!  Even my non-Star Wars® fan husband acknowledged it was "cool".
The next morning we awoke not just to John Williams' iconic soundtrack playing throughout the ship and the ship's horn changing from "When You Wish Upon a Star" to those same classic Star Wars notes, but to characters galore! By the pool, on the decks, in the atrium. We even found Boba Fett in the elevator!  There were plenty of photo ops as well, including the Star Wars Day at Sea sign, Carbonite Han Solo, Chewbacca, Darth Vader, and the droids. They also had special photo ops for those in costume wanting professional photos done.
Speaking of costumes, it felt like a ComicCon convention as some of the guests' costumes were very elaborate. There were a few that made it difficult for us to tell if they were a guest or a true character!  We opted to stick with just t-shirts. But they were fun too as most of the characters commented. Chewie had a good belly laugh at my daughter's Darth Vader in mouse ears shirt! Darth Vader was especially unimpressed with my HOPE shirt or my daughter's REBEL WITH A CAUSE shirt!  When I changed to my DARK SIDE shirt, the Imperial Guard were much happier. I think they even smiled, or something kind of like it. There were still plenty of people not dressed in any Star Wars® garb at all, including my husband. So, for the non-fan, this was not an issue.
Throughout the day and night, there is a jam-packed schedule of activities for all ages. Activities include: marathon of the entire movie series on the big screen in the Walt Disney Theatre, BB8 races (so much fun to watch!), celebrity guest speaker, Porgs on Board Independent Scavenger Hunt, animation classes, trivia contests, Jedi training, costume contests, longer open house hours in Disney's Oceaneer's Club so everyone can take a turn flying the Millennium Falcon, special kids' club activities, Stormtrooper Patrols on the pool deck, Star Wars Summon the Force nighttime stage show on the pool deck, special fireworks at sea set to the iconic soundtrack (meaning you get TWO fireworks displays on these sailings), and special dining room events and Voyage Through the Galaxy themed menus in all 3 dining rooms (including kids' menus that doubled as masks), plus a full late night Star Wars® themed buffet!   For those wanting to learn what all the fuss was about, Star Wars® 101 is offered! Even Bibbidi Bobbidi Boutique gets in on the action by transforming to a Jedi themed salon, with makeovers for boys and girls of ALL ages!! To end this special day, there is a Galactic Dance Party out on Deck 11 but thankfully I don't seem to have any video or pictures of how much fun I had at that!
So what about those guests who have zero interest in Star Wars®? There were plenty of "regular" activities throughout the day and night and there is not even a hint of Star Wars® in the adults only pool deck areas! Remember too, the next morning, all was back to normal. It is only one day out of a fun-filled, 7-night itinerary!  But even my husband enjoyed the food and the fireworks and he admitted that randomly running into characters from the films was fun!
I highly recommend a Star Wars Day at Sea sailing for any Star Wars® fan! It is a fabulous way to not only visit amazing ports of call on a gorgeous ship, but to get up close and personal with your favorite characters, immerse yourself in all things Star Wars®, and be surrounded with like-minded fans. You don't have to worry about overload if you have non-fans sailing with you as it is only one day and there are plenty of regular activities still offered that day. Your Key to the World Travel® Planner can help you decide if a special Star Wars Day at Sea itinerary is right for you. If it's not, there are so many other options including other specially themed cruises!  
Next on my horizon? MARVEL Day at Sea!
~~
All Key to the World Travel® planners are experts and offer the highest level of exemplary customer service. Contact your travel planner to book your vacation, or click here to request a quote today.
SaveSave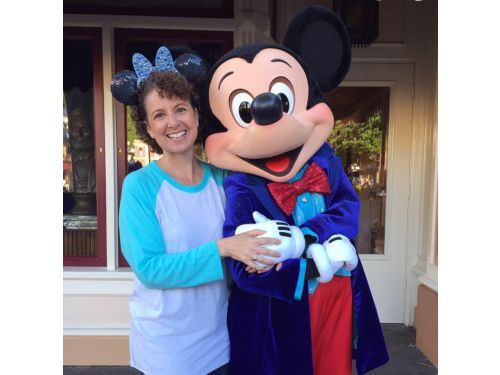 Theresa Perry
Travel Planner and Mentor
Contact Theresa today, using the links below!
SaveSave
SaveSave