When I booked my first
Disney Cruise Line
vacation, I was a little hesitant. My husband and I had been to
Walt Disney World
® Resort several times without our kids, but this was our first experience cruising. Were we going to be bored? Was there enough to keep us busy? Would we even like cruising?
We boarded the Disney Dream and all of those thoughts immediately washed away. The atrium took our breath away! It looked like we had just stepped into the lobby of a deluxe Walt Disney World® Resort Hotel. I knew from that moment that this was going to be a vacation we would not forget.
Once my worries were gone, it was time for us to decide exactly what we wanted to do while on the Disney Dream. There were so many choices for adults every single night of our sailing! From dining and entertainment, to pools and bars, the Disney Dream has it all. Although I believe everything on the ship is worth trying, here are a few adults-only amenities that stood out to me:
Palo brunch
Palo is one of the two adults-only dining locations aboard the Disney Dream. The restaurant is located on Deck 12 of the ship. The brunch is available on sea days and is an additional $30 per person. It is worth every penny! We were seated by the window with a great view of the ocean. Our server offered us complimentary mimosas after seating us and gave us a tour of the buffet offerings. On the buffet you will find fruit, vegetables, seafood, meats and cheeses. But that is not all! You are also given an a la carte menu to order from. We chose to each order a flatbread and an entrée. I recommend the Spicy Italian Sausage flatbread which was very flavorful and for an entrée the Rollatini Melanzane. This dish is breaded eggplant stuffed with prosciutto and cheese. It was amazing! If you aren't stuffed enough, there is also a dessert table by the buffet. With offerings such as tiramisu and panna cotta, the dessert table is not to be missed. Not only is the food at Palo wonderful, but the atmosphere was relaxed and welcoming. We never felt rushed and the service was outstanding.
Quiet Cove Pool
Quiet Cove Pool is located on Deck 11 on the opposite end of the ship from the family friendly Mickey's Pool. It is one of two adults-only pool areas on the Disney Dream. This area includes a pool, bar, plenty of lounge chairs, and two hot tubs. We visited the Quiet Cove Pool many times and it never felt crowded to us. We could always find a chair, and some peace and quiet. During the day it was a little busier, but when we visited at night there was hardly anyone around. You will occasionally see a child passing through in the daytime, but the Quiet Cove Pool is a great spot to hang out with other adults.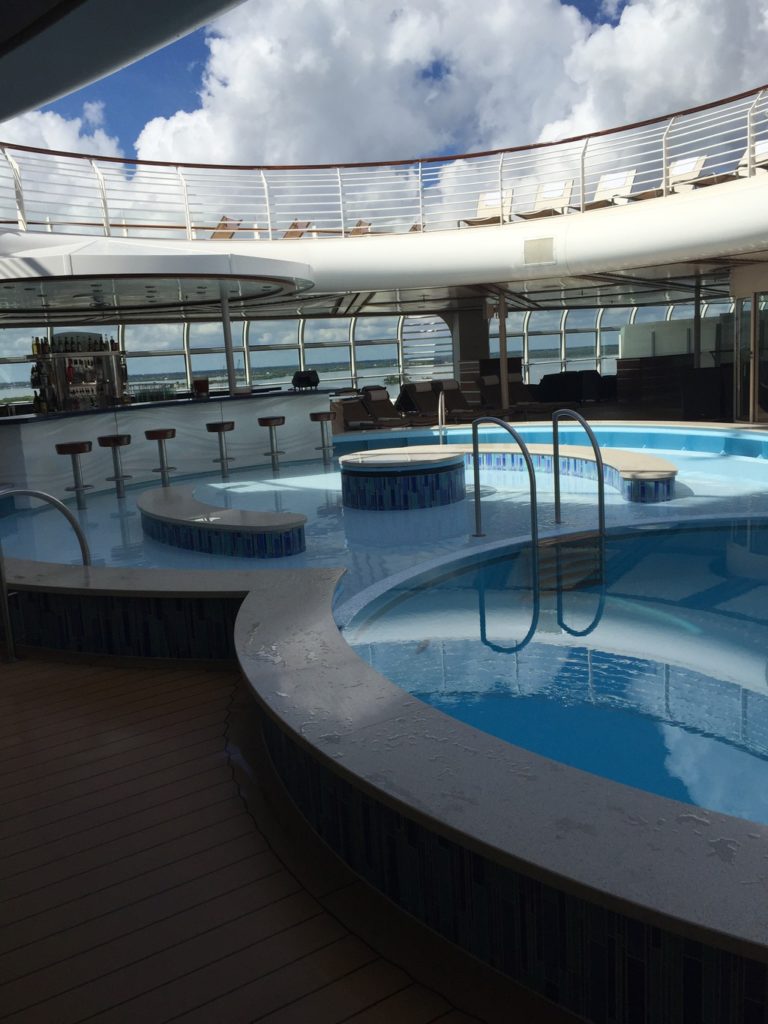 Activities
The Disney Dream has a slew of activities for adults offered daily. Some of them include trivia, bingo, alcohol tastings, cooking demonstrations, and mixology class, depending on the itinerary. You will be given a Personal Navigator in your stateroom every day that will provide times and locations for the various activities. You can also download the Disney Cruise Line app which will list the times. I preferred this option because you can favorite the activities you are interested in, and it will remind you 15 minutes before start times. One of my favorite unique activities we participated in was a ship tour. A crew member took us through various parts of the ship pointing out hidden details, like all of the Remy (the rat) features found in the adults only French restaurant Remy. This was offered on our sea day and lasted about an hour. It was very interesting and worthwhile!
The Rainforest Room
The Rainforest Room is located in the Senses Spa & Salon on Deck 11. A one day pass is $16 per person, or you can also purchase a length of stay pass once on board. After checking in, you are provided with a robe and shoes, but it does require a bathing suit as it is a co-ed space. The first part of the Rainforest Room has five different showers with different temperatures and streams. There are three saunas with varying temperatures as well. Water and towels are provided in this area. There is a set of doors you will pass through that opens up to two hot tubs, ten heated ceramic tile chairs, and beautiful views of the ocean. The Rainforest Room was a surprise hit for us. We weren't sure we would spend any lengthy amount of time there, but once we were there, we loved it! The day pass is good all day, so you can come and go as you please. We went in the afternoon and it was a bit crowded. We tried again in the evening, around 8 (during the second dining time), and we were 2 of 4 people in the entire place. It was wonderful! If you aren't typically a spa person, I would still recommend the Rainforest Room. It's extremely relaxing and quiet, a great way to escape for a few hours.
The District
When you think of Disney Cruise Line, your first thought probably isn't bars and nightclubs, but the Disney Dream has plenty! The District is an entertainment area located on Deck 4. Here you will find some of the best bars and lounges on the ship. My personal favorites were District Lounge and Pink. District Lounge is a comfortable lounge area with live entertainment, while Pink is a elegant lounge specializing in champagne cocktails. We loved going to The District, having a Drink of the Day (look for these in your Personal Navigator!) and enjoying the entertainment.
There is so much to see and do on the Disney Dream, and it's not all for kids. Adults traveling solo, as a couple, or in a group, will love everything this ship has to offer. If you are hesitant like I was, don't be! Take the leap, you won't regret it!
Megan Slocum
Travel Planner
Megan is a travel planner with Key to the World Travel. Contact her today using the links below to plan your next vacation!