Growing up my family visited Walt Disney World® each year during the warm days of summer. School would end for summer break, we would pack up the car and head down to Orlando. We were always so excited to spend a few days at "The Most Magical Place on Earth." I could never imagine visiting Walt Disney World® during any other time. Fast forward (just a few years) and now I am married with a family of my own. We have visited during the spring, fall, summer and last year we decided to go in January. I was a little skeptical, but I was surprised to find my family and I loved it! Now looking back at that amazing vacation, I feel that visiting Walt Disney World® during the winter months is a perfect fit for our family and it may be for yours as well!
First, let's start out with the incredible weather. With temperatures usually mild during the winter months (it is called the "Sunshine State" for a reason), we found the weather to be a perfect blend of warm days and cool mornings/evenings. Of course, weather varies and you are never guaranteed beautiful blue skies and mild temperatures…but you have a much better chance of that during the winter months. When visiting Walt Disney World® during the winter, it is best to dress in layers. You can start the morning with a light jacket and as the temperatures start to warm you can start peeling off those layers, but keep that jacket handy for the chilly nights.
From having a warm cup of tea at Disney's Grand Floridian Resort & Spa to making s'mores at select Walt Disney World® Resort hotels, winter is a perfect time to enjoy some of those activities that often seem a bit too hot during the warmer months to enjoy. Grab a snack and delight in the outdoor movie nights available at select Walt Disney World® Resort hotels with Movies Under the Stars, or warm up your singing voice and visit Disney's Fort Wilderness Resort & Campground for Chip 'n' Dale's Campfire Sing-A-Long. Some other activities we enjoyed during our winter visit included cozying up in a warm spot of our resort hotel and relaxing after a fun day spent in the parks (kicking back in the rocking chairs in front of the gigantic fireplace at Disney's Wilderness Lodge is not to be missed). Take a walk around the resort and look at all the natural beauty or visit The Tri-Circle-D Ranch at Disney's Fort Wilderness Resort & Campground. Seeing the magnificent horses at the ranch and the pony ride were definitely trip highlights for my daughter!  
Another huge draw for us to visit during winter is to enjoy Epcot's International Festival of the Arts. If you are a fan of any kind of art (visual art, culinary art, performing art) this festival is for you. We absolutely loved spending time at this festival. We enjoyed visiting the different food studios and enjoying some of the prettiest and if I may say some of the most delicious food we have had. We laughed until we cried as we toured around Epcot's World Showcase and posed in the living pictures (where you can be part of some of the world's most famous paintings). These make for amazing photo ops, so gather your family together and have fun with it! If you would like to participate in various art workshops during the festival, you can check the different workshop schedules and make reservations to participate. There is even a paint by numbers mural where guests can add a bit of their own artistic flare. In the evenings, enjoy the Disney on Broadway Concert Series. It is a fabulous event to enjoy. Epcot's International Festival of the Arts runs in January and February, so make sure to check it out.
Are you convinced yet that a winter vacation to Walt Disney World® Resort is perfect for your family? Well, what if I said you could enjoy lower crowd levels and some of the lowest ticket cost of the year by visiting in the winter months? While there are some busier times in the winter (with a few holidays and runDisney events sprinkled in during those months), overall winter typically has much lower crowd levels than other times of year such a fall and the ever popular holidays. What about those lower ticket prices? With Disney's® new date-based pricing on tickets, many dates during the winter are some of the lowest of the year!
So pack up your family and go enjoy the Walt Disney World® Resort this winter! It's a perfect time to visit.
~~
All Key to the World Travel® planners are experts and offer the highest level of exemplary customer service. Contact your travel planner to book your vacation, or click here to request a quote today!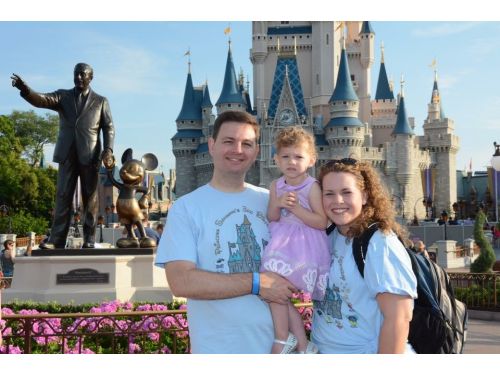 Renee Burton
Travel Advisor
Contact Renee today, using the links below!