Everyone knows that a cruise will spoil you and Norwegian Cruise Line does a fantastic job of it. Norwegian has many beautiful ships in its fleet, but recently  I was lucky enough to sail on the Norwegian Escape, one of their Breakaway Plus class of ships, with my friend and fellow KTTW Travel Advisor Tiffany Harmon. Built in 2015, the Escape is the sister ship of the Bliss. With a capacity for 4,266 guests, you would think the ship would feel crowded but due to the size and creative layout of the ship's design, as well as the abundance of activities, it never feels crowded at all.  There is so much to love about the Norwegian Escape that I couldn't get away with just a short summary. So let's take a look at its many fabulous features!
Guy Harvey
The first thing you notice about the Escape is the signature Guy Harvey hull.  Fun fact, Guy Harvey actually sails several times a year and during these special sailings, he hosts a meet and greet, live painting demonstrations, and environmental classes.
Restaurants
The Escape is home to over 25 dining venues.  25! Included in your cruise fare are 3 dining rooms, a casual bar & grill, and a full buffet.  You can choose to from Taste, Savor, The Manhattan Room, Garden Cafe, or O'Sheehan's Neighborhood Bar & Grill.  All are open for breakfast, lunch, and dinner, with the exception being the Manhattan Room which is only open for dinner.  With Freestyle dining, you decide when and where you want to eat. I was a little apprehensive about how Freestyle dining would work, being that it is such a different concept from other cruise lines scheduled dinner times. We absolutely loved it!  YOU choose which restaurant and when you want to eat! This was perfect for us as we fell in love with the Manhattan Room, featuring live entertainment nightly, and chose to eat dinner there 4 of the 7 nights! It was also nice to decide if we wanted to eat before or after the shows. Or do both!  We may or not have had dinner before in Taste and then hit up Savor later that evening for after show desserts. Totally doable with Norwegian's Freestyle dining concept! We never had a wait for a table and the dining crew remembered us even after only one visit. In addition to your complimentary venues, there are 20 specialty dining options for varying fees.  You also have the option of room service 24 hours a day, for $7.95 service charge. Suite guests will not be charged for room service. Continental Breakfast is available for all guests through 10:00 am for free.
Bars & Lounges
14 bars and lounges scattered throughout the ship mean there is something for everyone, from coffee and espresso at the Atrium Bar to after dinner drinks at Miami's oldest and most legendary bar, Tobacco Road, to freshly muddled mojitos at Sugarcane.  Next time you are on the NCL Escape, please visit Sugarcane and say hello to our new friend, Newman! Best bartender, napkin trickster, and joke teller on the ship!
Entertainment
All cruise lines tout their entertainment options and let me tell you, NCL means business when it comes to quality entertainment.  The Escape plays host to the Tony Award-winning musical, After Midnight. Other complimentary shows are For The Record: Brat Pack, Headliners Comedy Club, and Howl at the Moon: Dueling Pianos.  There are also two dinner shows for a nominal fee. You can pre-arrange reservations for all of the shows, and other activities and specialty dining, via your MY NCL account but we also found that it was easy to schedule and reschedule reservations while onboard using the handy dandy electronic kiosks found at every elevator bay. Entertainment is also easily found all day and night in the Atrium.  Here you will find fun game shows like Deal or No Deal, trivia contests, live demonstrations (fruit art for example), and other complimentary classes.
Activities
In addition to the Casino at Sea, NCL Escape has an Aqua Park with 3 slides:  the Aqua Racer tandem slide, Free Fall (the fastest slide on any cruise ship), and the Family Slide.  This is in addition to pools and hot tubs. Guests may also enjoy the Sports Complex with bocce ball, basketball, mini golf, and the Ropes Course.  The Ropes Course has 5, count 'em-FIVE, Sky Rail Ziplines! To get to those you will have to brave 2 planks including THE Plank which dares you to walk 8 ft over the side of the ship!  With 99 challenges and spanning 3 stories, the Sports Complex will keep you and the kids entertained all week. Make sure to bring closed shoes if you want to participate in the Ropes Course as no sandals, open toe/back shoes, or flip-flops are allowed.
Spa & Fitness Center
There is a fee for use of the Mandara Spa, but it bears mentioning because, let's face it, the spa is one of my favorite things about cruising!  On the Norwegian Escape, you will find the Mandara Spa offers a multitude of spa treatments. The spa is also home to the Thermal Suite, which offers beautiful, floor-to-ceiling ocean views, heated loungers, non-heated loungers, hydrotherapy pool, hot tub, steam room, dry sauna, samarium, salt room, and snow room. The snow room comes in at about 20º or so and is supposed to help stimulate circulation. For my fitness enthusiasts out there, the Escape has a large fitness center that is complimentary for all guests, but if I'm honest, we only passed through on our way to the spa. With such a fantastic fitness center available, I need to work on my fitness dedication before my next cruise!
Kids' Clubs and Adults only areas
 Everyone always wonders if there will be anything for the kids on a cruise and the Norwegian Escape has solved that quandary!  Age-appropriate, supervised kids' clubs are available and included in your cruise fare. Splash Academy served children ages 3-12.  Splash Academy is open daily from 9:00 am – 1:30 am. Ages 13-17 have their own space called Entourage. Away from the little ones, Entourage is packed with activities geared for teens from video games to nighttime pool parties.  Children under age 3 can participate in the Guppies program for a small hourly fee. While the children are enjoying themselves, the adults have some options of their own. Spice H2O on Deck 17 provides a complimentary respite for those 18 and up.  Here you will find hot tubs, sun deck, full bar, and the grotto water feature.
Stateroom
Spacious, calming colors, comfy beds, large bathroom, plenty of storage–the staterooms were designed for comfort!  Don't worry about trying to find your way down the halls, just follow the fish! The fish on the carpets always swim forward!
Staff
Voted the friendliest staff of any cruise line year after year, and after having sailed on the Escape I totally understand why.  From the minute you board and are greeted by the smiling staff you will never meet an unhelpful crew member. They truly want you to enjoy your cruise.  The stateroom hosts are attentive and work tirelessly to anticipate your every need, dining crew remembers you even when you eat in different dining rooms, entertainment staff greets you after every show, and then we have the Washy Washy staff.  These are the folks that make sure NCL Escape remains germ and virus free. You will find them at every turn singing happily about the benefits of hand sanitizer while offering you some. Not only is this practical, but they make it fun.
These are just a few of the amazing reasons a cruise on the Norwegian Escape is a vacation you and your family will never forget!  When you take into consideration the great deals that NCL offers, like the current Free at Sea promotions, the question really is, "Why haven't you booked a Norwegian Cruise yet?"
Key to the World Travel® Planners are here and ready to help you set sail! Contact yours today!
~~
All Key to the World Travel® planners are experts and offer the highest level of exemplary customer service. Contact your travel planner to book your vacation, or click here to request a quote today!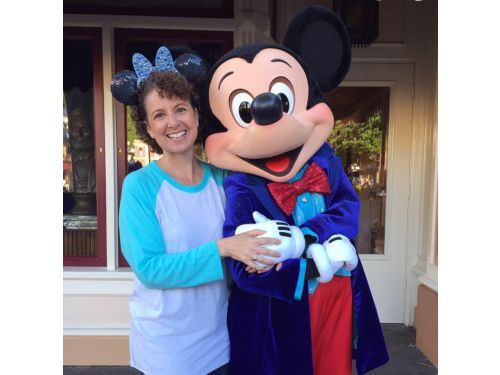 Theresa Perry
Travel Planner and Mentor
Contact Theresa today, using the links below!