Once upon a time, a young woman married the man of her dreams. One of the first things they did as a married couple was to head off to Jamaica where they climbed waterfalls, watched cliff divers, went scuba diving, sipped cocktails on the beach, and ate romantic dinners overlooking the ocean. It was a fantastic honeymoon, and they decided that travel would always be a part of their lives.
Over the next few years, they did just that! They visited San Francisco, Washington D.C., Baltimore, Philadelphia, Baltimore, Cleveland, and New York City.  They spent time at beaches in New Jersey, Delaware, Florida, and Maryland. They did a road trip through New York State, Ontario, and Michigan to visit his family. They visited Niagara Falls and her alma maters in Shippensburg, Pennsylvania, and Ithaca, New York. Walt Disney World®, SeaWorld®, and Universal Orlando Resort® were frequent vacation spots, and they dreamed of one day taking their children to meet Mickey Mouse and see Cinderella Castle.
The couple spent 10 days visiting Austria and Germany – where they rode in horse-drawn carriages, toured castles and mountaintops, took pictures at the Sound of Music gazebo, explored medieval towns, and drank German beer while singing with the Hofbräuhaus band. They even tried to take a cruise to Bermuda – but a little hurricane got in their way, so they visited the Titanic Museum and went whale watching in Canada instead. Each trip they laughed, loved, smiled, and made memories to last a lifetime!
But then one of the lifetimes ended far too soon, and the woman found herself alone, widowed at the age of 32. Devastated, she didn't know how she was going to go on without him and was lost in what she was going to do with her life.
Before the accident, the couple had given her parents a trip to Orlando as a Christmas gift, and they insisted that she come with them. They were scheduled to travel about two weeks after the funeral, and they didn't want her to be alone. She reluctantly agreed to meet them there, but was very much dreading going to a place that had so many happy memories for her. Still in shock, once she arrived in Orlando she spent most of her time on the patio writing in her journal and just staring into space, trying to wrap her head around what had happened.
On the last day of the trip, her parents took her to Disney Springs™ (Downtown Disney™ at the time) for lunch and some shopping – and probably just to get her out of the hotel.  This had always been a favorite spot of the couple's, and they always made time to go to World of Disney for some souvenirs before heading home. She was filled with dread of having to go there without him, but as soon as she got out of the car, the most amazing feeling came over her. She knew that he was there with her and that he wanted her to know he was ok, and that she should do her best to be ok too.
Right then and there, the woman made a decision – she would continue to live her life the way that they had wanted – a life filled with travel. He couldn't do it himself anymore, so it was up to her to live their lives for them. So that is just what she did. Over the next few years, she visited Las Vegas, St. Louis, London, New York City, Dallas, The Bahamas, North Carolina, Dubai, and Rio de Janeiro. She saw shows, visited museums and castles, rode a camel, and even learned to samba. She took a road trip through Chile where she drank wine and saw the most beautiful sunrise over the mountains that she had ever seen and finally made it to Bermuda, where she did a half-marathon. Every place she visited she felt him there with her – smiling down and loving every minute of her adventures.
Then, it just so happened that the woman fell in love again, and she married her Prince Charming. They started their lives together as a married couple with a whirlwind trip to Europe where they visited England, France, and Italy. They saw priceless art, drank and ate amazing food, and visited some of the most beautiful buildings and vistas in the world. Soon after they welcomed a son, and she got to fulfill the dream of having him meet Mickey Mouse and see Cinderella Castle for the first time.
They have made travel is an important part of their lives as well, and they have visited many places over the years – Houston, Dallas, Los Angeles, Philadelphia, Baltimore, Washington D.C., New York City, Atlanta, Miami, Tampa, East Tennessee, South Carolina Coast, Oklahoma, and several road trips up and down the East Coast. They have cruised to the Bahamas, Jamaica, Mexico, and Grand Cayman, they visited Oahu and the Big Island in Hawaii, and have been to Walt Disney World®, SeaWorld®, and Universal Orlando Resort® too many times mention.  Swimming with dolphins and manta rays, viewing active volcanoes, hiking to waterfalls, visiting zoos and aquariums, and visiting natural history museums are just a few of the adventures that they have had. In fact, the woman is so passionate about travel that she is now a co-owner of a travel agency and helps others plan their dream vacations. The couple has instilled a love of travel in their son, and on each trip, they have laughed, loved, smiled, and made memories to last a lifetime!
It is said that travel is the only thing you spend money on that makes you richer, and it is very true. Travel can change your perspective on the world and on your life, fill you with happiness, make you smile, and even feel joy when you never thought it would ever be possible again. Which is why that woman never says no to a trip, and why the next time you have the opportunity to travel you should do it without hesitation. The world is a big place, and it is just waiting to be explored. So get out there and laugh, love, smile, and make memories to last a lifetime!
~~
Key to the World Travel®, an Authorized Disney Vacation Planner, is a full-service travel agency, so whether your happy place is a theme park, a beach in the Caribbean, a city in Europe, a cruise to Hawaii, or a relaxing day at Discovery Cove®, we can help make any of your vacation dreams come true. All Key to the World Travel® planners are experts and offer the highest level of exemplary customer service. Contact your travel planner to book your vacation, or click here to request a quote today!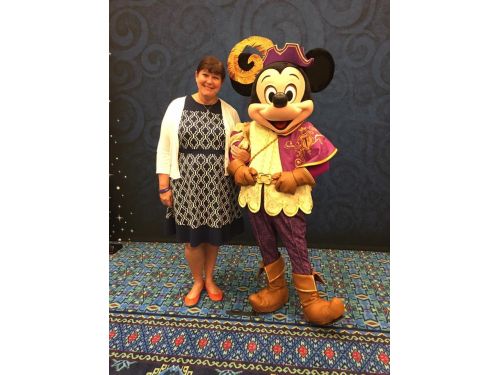 Cheryl Koren
Co-Owner
Contact Cheryl today, using the links below.