Disney Cruise Line's beautiful new ship is a Wish Come True!
We're sharing everything you need to know about the brand new Disney Cruise Line ship, the Disney Wish, setting sail now from Port Canaveral.
Disney Wish – the newest ship to join the Disney Cruise Line family – is finally setting sail from Port Canaveral. Key to the World got a sneak peak on the Christening Sailing, and we're sharing with you the all-new enchantment you can experience onboard. Fantastical worlds and beloved stories from Disney, Marvel, Star Wars and Pixar are brought to life like never before. Let's take a look at what you'll find on this amazing new ship!
Cool Kids Clubs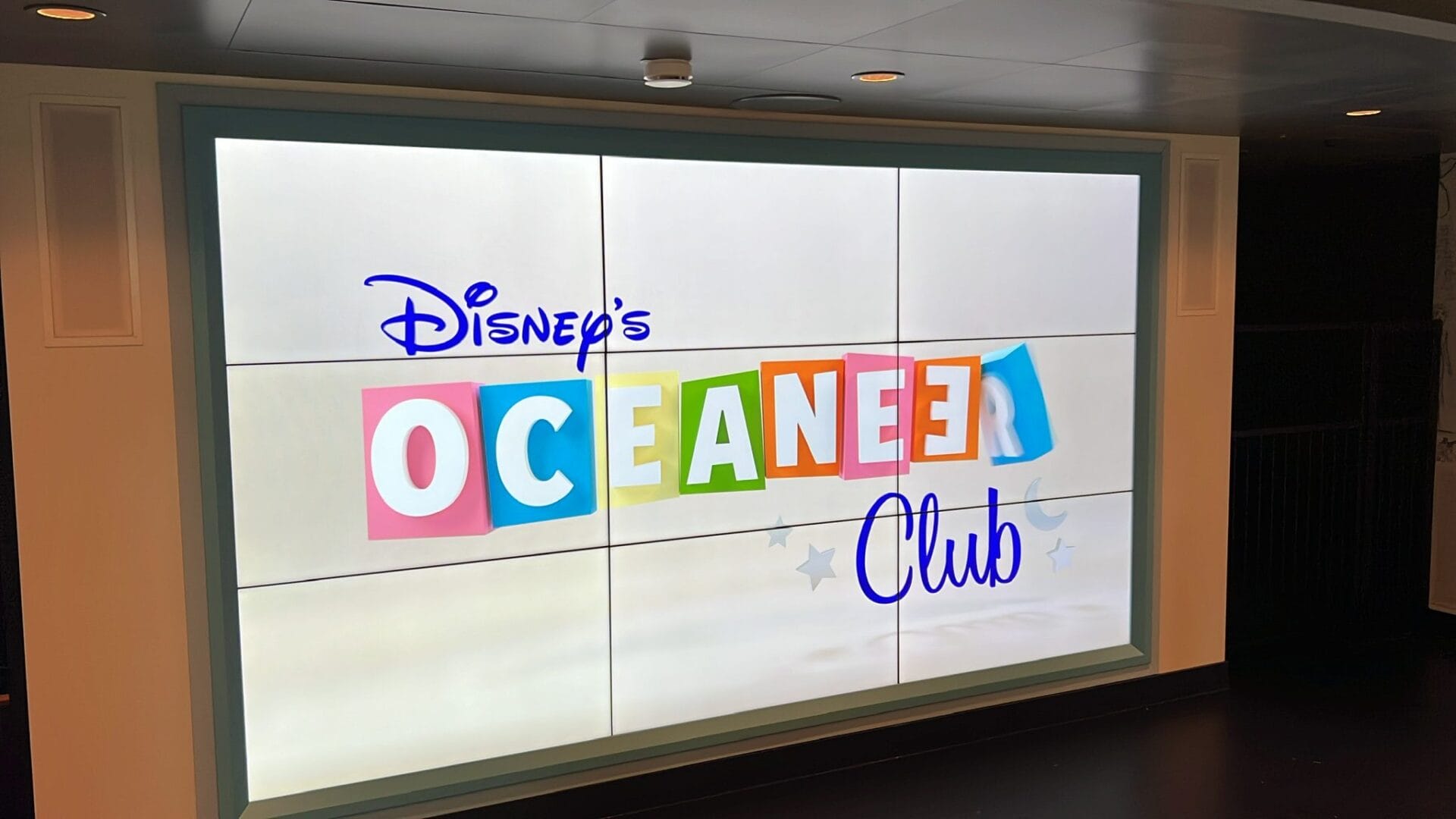 Disney Cruise Line has always been the industry leader in engaging spaces for kids, but they've gone above and beyond on Disney Wish! There's a dedicated space for kids of all ages, and each space has a such a wide variety of activities that every child can find something they'll love.
Not to mention, for the first time ever, you can slide into the Oceaneer Club on an Alice in Wonderland-themed slide! The slide is a very cute – and fun! – touch for the kids, and adults are allowed to take a turn, too. Just be careful, grown-ups, it's a very fast slide – one adult in our group slid a little too fast and shot out the end!
Disney's Oceaneer Club
The Oceaneer Club is for children 3 to 12 years old, and the club on Disney Wish is truly out of this world! It features multiple innovative spaces that will occupy kids for hours on end. Whether they wants hands-on, counselor led activities, Meet and Greets with characters, or more "on their own" activities like video games and art, there's something for every child in these amazing spaces.
Marvel Super Hero Academy – kids can design their own virtual super suit, then "suit up" and train alongside their favorite Marvel heroes in a virtual reality game that has them jumping and playing while they help the heroes defeat infamous villains!
Star Wars Cargo Bay – step into the cargo bay and right into the Star Wars universe! Kids can play an interactive game, meet some of their favorite Star Wars characters like Rey and Chewbacca and channel The Force to save the ship!
Walt Disney Imagineering Lab – in the Imagineering Lab, kids can create their very own Disney attraction! Exciting hands-on activities let them see just how new attractions are made. They can even design their own coaster and then climb inside a virtual reality pod to take a ride on their creation!
Fairytale Hall – Kids can create art projects with Rapunzel, learn to write stories with Belle and create ice magic with Anna & Elsa.
Mickey & Minnie's Captain's Deck – this colorful hands-on play area is designed for the littlest cruisers, with slides, climbing structures and more
Edge
A space just for kids ages 11 to 14 to relax, hangout, play games and meet new friends, Edge was inspired by a cool New York loft.
Vibe
Teens ages 14 to 17 have their own space to hang, watch movies, play games, and maybe take a few selfies! Supervised by the coolest counselors at sea, Vibe is a relaxed space to just chill.
The Hideaway
Brand new on Disney Wish, young adults ages 18 to 20 have their own space called The Hideaway. Right next to Vibe, this area features a DJ booth, a smoothie bar, games, and a giant LED screen.
it's a small world nursery
The it's a small world nursery offers babysitting and childcare services for infants and toddlers. Exclusively for the little ones, ages 1 to 3, these bright, colorful spaces are safe places for kids to romp or rest while parents enjoy the adult spaces on the ship. Rates for the nursery are $4.50 per half hour for the first child, and $4.00 per half hour for additional children (minimum one hour). Advance reservations can be made online, and additional reservations are available once you board on a first-come, first-served basis.
Elevated Adult Escapes
Disney Wish has so many spaces dedicated just for adults! You'll find bars and lounges dotted throughout the ship, so there's no shortage of spaces for adults to relax and enjoy their vacation. In addition to those highlighted below, other bars and lounges include Wishing Star, Enchanted Sword, Cove Bar, Currents, The Lookout, and Luna's Libations. We loved the way the adult spaces are scattered throughout the ship now, instead of being concentrated in just one area.
Hyperspace Lounge
This IS the place you're looking for! Guests who have sailed on one of the other Disney Cruise Line ships will recognize that Hyperspace Lounge is like Skyline, but now in a galaxy far, far away. You'll visit Tatooine, Coruscant, Batuu and more as you enjoy expansive views of space and out-of-this world beverages. Families are able to visit during the day, but after 9 p.m. it becomes an adults-only area. Be careful, or like us you might accidentally spend four hours here!
The Bayou
The Bayou, inspired by The Princess & the Frog, is a gorgeous bar and lounge that features live entertainment and Louisiana-style beverages. You can even find beignets on the menu! We spent a lot of time relaxing in this area, both during the day and at night.
Quiet Cove
The Quiet Cove is an adults-only refuge, featuring an infinity pool, a car, a coffee shop/lounge, comfortable loungers, and it spans an entire section of one of the upper decks of the ship.
Nightingale's 
Sing, sweet nightingale! This beautiful piano bar just steps from the Grand Atrium is inspired by Cinderella and features some very innovative drinks.
Keg & Compass
The ship's pub now has a Viking flair! The Keg & Compass features beer and other adult beverages, a pub food menu featuring delicious wings, and you can stay up-to-date on news and sports on one of the many screens.
The Rose
Inspired by Beauty & the Beast, The Rose is Disney Wish's adult-exclusive lounge featuring champagne cocktails and stunning views of the ocean. The Rose sits just in front of Palo Steakhouse and Enchante.
Hook's Barbery
At first glance, this is the spot for gentlemen to find pampering (shaves, haircuts, event pedicures), but look closer and you'll find a not-so-hidden whiskey and bourbon bar!
Artful Accommodations
Disney Wish features a completely new look for the staterooms! The rooms are bright, airy, and each features beautiful artwork inspired by classic Disney stories. From magic castles to enchanted woodlands and the spirit of the sea, you'll find subtle touches from classic Disney films like Cinderella, Sleeping Beauty, The Little Mermaid, Moana, The Princess and the Frog and Tangled. Disney Imagineers kept all of the innovative features you've grown to love about Disney Cruise Line's staterooms (like split baths, raised beds for storing luggage underneath, and divider curtains) while adding in new elements that make the rooms comfortable and functional for families. We found tons of charging ports (both USB and USB-C), lots of space to store your belongings, and very comfortable beds. The staterooms feel much more upscale and luxurious while still very functional for families with kids of all ages.
New on Disney Wish are some incredible concierge staterooms, including the 2-story Royal Suites and the exquisite Tower Suite that resides in the forward funnel and features four bedrooms and four and a half bathrooms!
Imaginative Dining
One of the things we really loved about Disney Wish was the three new rotational dining experiences, featuring all new themes and menus. Character dining is something Disney does so well, and now with Disney Wish, everyone will get to experience character dining without having to make separate, hard to get reservations. There's something for everyone in three main dining restaurants and the new adults-only dining experiences.
Worlds of Marvel
Join Ant-Man and The Wasp for "Avengers: Quantum Encounter," a demonstration of new technology that will have you using new technology, the Quantum Core, to help save the ship! This is another area where Disney has combined a character meal with entertainment during dinner, and it will definitely keep the kids engaged! Throughout the meal you'll see all of your favorite Marvel heroes on-screen, and you'll even get to meet Ant-Man and The Wasp in person!
1923
Named after the year the Walt Disney Studios was founded, 1923 brings to life old Hollywood glitz and glamour. The food here was excellent, and the space is artfully divided to feel intimate and cozy as well as glamorous.
Arendelle
For the first time in forever, a Disney Cruise Line ship features a Frozen-themed dining experience! We'll be honest, we were a little skeptical about this one, but were absolutely blown away! The food was fantastic, the entertainment was excellent, and everyone got in on the fun. Part classic character meal (you'll be greeted at your table by Anna, Elsa, Olaf, Christof, and Wandering Oaken) and part dinner theater, this is an experience the whole family will love.
Marceline Market
The classic cruise ship buffet is reimagined in Marceline Market, with 10 food station, a cafe-style bar and lounge, and both indoor and outdoor seating. We loved this dining option (open for breakfast, lunch and dinner), and found it to flow much better than Cabanas on the other ships. The decor is more upscale, and we loved being served by crew members instead of the traditional "serve yourself" buffet.
Mickey & Friends Festival of Foods
The on-deck quick bites area on Disney Wish is truly impressive, and a huge improvement over the other ships! You can choose from the traditional grill foods like burgers, fries, hot dogs and chicken fingers and also find pizzas, a taco bar (where you can build your own tacos, bowls and burritos), and Mickey's Smokestack BBQ featuring ribs, chicken and other BBQ favorites. Minnie's Ice Cream is the all day soft serve ice cream station, which is now staffed by crew members instead of serve yourself (we loved this – less mess and much lower chance of catching germs!).
Palo Steakhouse
Fan-favorite Palo has been transformed into Palo Steakhouse, a combination of the delicious Italian dishes guests love and a premium steakhouse, featuring select cuts of steak (including Japanese Waygu).
Enchante
Inside this opulent adults-only restaurant inspired by Lumiere from Beauty and the Beast, innovative international cuisine crafted by 3-Michelin-starred Chef Arnaud Lallement and spectacular ocean views evoke a certain "je ne sais quoi."
Innovative Experiences
Aqua Mouse
The Aqua Mouse is billed as the first-ever Disney Attraction at Sea, and features immersive show scenes, lighting and effects. Disney Imagineers took the popular Aqua Duck attraction and "plussed" it! It's still the super fun water ride you remember, but now has some new "dark ride" style elements reminiscent of Mickey & Minnie's Runaway Railway attraction at Walt Disney World.
(photo courtesy Disney)
Disney Uncharted Adventure
Using your mobile device as an "enchanted spyglass," embark on quests that let you interact with the ship in new and exciting ways. Then battle an infamous Disney villain to restore the Wishing Star's magic—and save the universe! Fans of Disney Dream and Disney Fantasy will recognize this as the ship-wide "scavenger hunt" from those two ships.
Bibbidi Bobbidi Boutique
Fairytale makeovers have reached a new level of magic on Disney Wish! The Bibbidi Bobbidi Boutique space is simply stunning, and features a closet that will make every child who loves to dress up's dreams come true. They have every princess dress you can imagine, and new on board are Captain Mickey and Captain Minnie outfits (along with some very cute prince and knight gear). Reservations are required, and the makeovers are for kids ages 3 and up. Prices start at $99.95 and go up from there depending on the level of service and how many dress up items you'd like to purchase. We also loved the new "all pink" gear that includes cute luggage and backpacks, hoodies and t-shirts.
Hero Zone
Hero Zone is the sports court on board Disney Wish, with basketball, air hockey, foosball, and new to the ship, the Incredi-Course, an inflatable obstacle course. This area is a fun hands-on, high-energy fun zone for active families and will even have game show style challenges to get everyone involved in the fun.
Movies & Live Shows
Disney Wish boasts not one but TWO movie theaters! One is Alice in Wonderland themed and the other is Peter Pan themed, and both will show first run films and fan favorites. On our christening sailing we were able to see the brand new "Lightyear." Broadway quality shows will also run in the Walt Disney Theater; on Disney Wish it will be The Little Mermaid, Aladdin the Musical and the all-new Disney Seas the Adventure.
Are you ready to make a Wish and set sail?
Contact your Key to the World Travel advisor today, or send us a Quote Request so we can get started planning your trip of a lifetime aboard this beautiful new ship!