Traveling to
Walt Disney World
® is overstimulating enough without sensory differences; but, for those children and adults with sensory processing disorder, it can cause one to become angry (fight), run away (flight), or completely shut down (freeze). This is a compilation of sensory friendly spaces that may assist in maintaining regulation throughout your entire vacation whether at a resort or in one of the four parks.
Baby Care Centers:  All four parks have these centers which include A/C, rocking chairs, quiet rooms, and huge changing tables.
Sensory Friendly Spaces: Magic Kingdom®
Sleepy Hollow:  Located just outside the entrance to Liberty Square, past Cinderella Castle on the left coming from Main Street, U.S.A.®, Sleepy Hollow offers a few picnic tables under a canopy. Occasionally, I've felt air conditioning and strong fans blowing a nice breeze.
Cheshire Cafe has limited seating and despite being situated near the Carousel and across from Cosmic Ray's, it still feels relatively remote. This is especially true in the morning.
Tom Sawyer Island offers a short "raft ride" over and then there is some seating on the dock that's typically in the shade. Depending on your child's needs, you may want to skip this because of the desire to jump into the water, but if that isn't a concern, it's a great place to rest and tune out the audio and visual stimulation of the rest of the park.
Inside waiting area for Hall of Presidents: There is great air conditioning here in the lobby and the show is fairly quiet. The lobby can echo sometimes, but cast members are usually really flexible with allowing you to stay in the lobby.
Walkway between the Castle and Liberty Square: Coming from Fantasyland® toward the Castle turn right by the fountain. Usually, Cinderella's Fairy Godmother is doing her meet and greet. As you go down the walkway there are many shaded benches and, of course, BEAUTIFUL views of the castle for you. Very few people take this walkway. Depending on the time of day, there may be fireworks which would negate the quiet getaway, so be sure to check the park schedule.
Carousel of Progress: Great air conditioning and comfortable chairs. There is music during the show and it's difficult to leave midway through. You can also ask a cast member if you can stay through multiple shows.
Liberty Square behind Christmas Shoppe: There are a few little niches around Liberty square where you can relax on a bench. There is also a smoking area nearby so depending on the direction of the wind, this may not work.
People-mover, aka Tomorrowland Transit Authority: A great ride for movement and a breeze. It's a decent length and you can ask the cast member before you get up if you can go around again, especially if your child has potentially fallen asleep. Just don't stand at the end of the ride and you should be able to go around one more time.
Tables BETWEEN the Pecos Bill and Tortuga restaurants: air conditioned and quiet. The Tortuga side is much better than the Pecos Bill side.
Magic Kingdom® Walkway Connecting Storybook Circus to Space Mountain®:  This path is quiet and typically sees few park goers as it is somewhat hidden from plain sight. There are plenty of things to observe along this route, from the Steam Train to Disney's Contemporary Resort to the beautiful landscaping that follows this walkway. You can enter from New Fantasyland® between The Barnstormer® and the Railroad Station or enter from the side of Space Mountain®. There is a smoking area along the path though, so keep that in mind if you or your child doesn't like the smell.
Sensory Friendly Spaces: EPCOT®
The Land Pavilion Sunshine Seasons: you can find seating by one of the back tables along the edge. It's rare to find this much seclusion in the parks, and you'll do well to take advantage of it.
DVC Member Lounge:    You must be with a DVC member to take advantage of this but you can find chairs and places to rest as well as air conditioning and free drinks.
The path from Test Track® in Future World to the Mexico Pavilion in World Showcase:  It's not super shady, but there are a few seats and the location isn't very crowded. This is also where you'll find restrooms and the Baby Care Center.
Victoria Gardens in front of the Canada Pavilion, and the waterfall-flanked walkway leading to O Canada:  Little shade and no seating, but still a little break from the crowds and noise. There is also an air-conditioned waiting area as you head into the Canada film.
At the very back of the Morocco Pavilion, before the gift shop, there is a vast expanse of shady, quiet space. There's nowhere to sit, but at least it's cool and relatively quiet.
American Pavilion waiting area & show: Like the Hall of Presidents, the American Pavilion has a great air-conditioned waiting area and has a show with MANY MANY rows of seating. The show is longer than the Hall of Presidents, even less crowded, and you can potentially sit through multiple shows. Again, ask a cast member if you can sit there. Potential Downsides: Noisy group?
France – Go all the way to the shop in the back and turn left there are some small tables and air-conditioning, get coffee & snack from the patisserie! The back area of Imagination between the ride and the shop. Rarely explored by families there are a few little areas you can squat if need be.
United Kingdom Pavilion Gardens:  There is a lovely English garden with beautiful flora and a hedge maze located behind the buildings and shops at the United Kingdom Pavilion in Epcot®. During select hours of the day, a cover band can be found playing chart-topping British retro hits of the '60s on a small stage off to the garden's edge. When the band isn't performing, however, this secluded location is quiet and serene, a perfect sensory friendly place to get away from the crowds and rest your feet.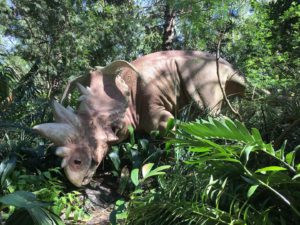 Sensory Friendly Spaces: Disney's Animal Kingdom® 
The Pangani Forest Exploration Trail and Maharaja Jungle Trek®:  A great walk with seating off the beaten path.
Conservation Station®: The only way out to this location is by train, which a lot of children love. Then, there are spaces and dark rooms inside with air conditioning to get away.
Dinosaur Trails: Right in front of the DINOSAUR® Attraction there are trails with benches. They're in the shade and very few people realize that they are there.
Walkway where stroller parking happens for Nemo: The area that is at the BOTTOM of the Nemo area (where the show lets out), near the bathrooms, where you can relax for a while.
Sensory Friendly Spaces: Disney's Hollywood Studios®
In front of the ABC Commissary is a good place to sit and watch people.
Starring Rolls: Besides the yummy pastries, Starring Rolls has some good outdoor tables with umbrellas that could provide some shade and it's a little bit off the beaten path.
Going past Toy Story Midway Mania® and up a bit on the left there is a bench that is always in the shade
Animation Courtyard: There are some quiet areas in Star Wars Launch Bay or you can sit in the shade along the front of the left-hand side of the building.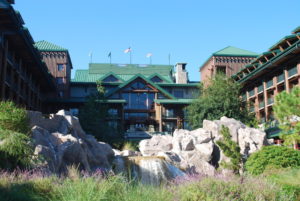 Sensory Friendly Spaces: Disney Resort Hotels
Many people do not know that you can leave the park and go to one of the resorts to relax even if you are not staying there!!! The Deluxe Resorts & Vacation Club locations have amazing lobbies and many sensory friendly little niches you can get away in to relax. It is 100% OK for you to go and soak up the quiet and air-conditioning at any of these resorts.

CLOSEST RESORT HOP FROM MAGIC KINGDOM®: Get on the boat to Disney's Wilderness Lodge, walk to the Disney Vacation Club wing and there is a room called the Railroad room. There are many comfy chairs for you and it is air-conditioned and dead quiet during the day. You don't have to be staying there to get in there. Just ask someone where the room is and they'll point you in that direction.
CLOSEST RESORT HOP FROM EPCOT®: Walk out of the International Gateway to Disney's  Beach Club Resort. They have a great Lobby that is air-conditioned, has many couches to relax in. Again you NEVER have to be staying at a resort to enjoy their lobbies and restaurants.
CLOSEST RESORT HOP FROM DISNEY'S ANIMAL KINGDOM®: Disney's Animal Kingdom Lodge is dark and has great places to sit for hours in their lobby. Their restaurant, Jiko, is not open for lunch and has a very cool waiting area that is extremely remote with some benches and chairs to relax in.
CLOSEST RESORT HOP FROM HOLLYWOOD STUDIOS®: Get on the boat and whichever resort it stops at first (Disney's BoardWalk Inn, or Disney's Yacht & Beach Club Resorts) get off the boat and go enjoy their quiet (air-conditioned) lobby!
If you have some additional sensory friendly spaces, please feel free to share them so we can add to our list!
~~
All Key to the World Travel® Planners are experts and offer the highest level of exemplary customer service. Contact your travel planner to book your vacation, or click here to request a quote today!
Joleen Fernald
Travel Planner and Mentor
Contact Joleen today, using the links below!