The gifts have been handed out, the holiday food and beverages consumed, and now you are left with an empty feeling that can only be filled by planning a trip to warmer climates. Lucky for you, we can help! Universal Orlando has some amazing options for you're entire family. Whether your plans are to park hop until you drop, or just relax for a few days to get away, Univeral Orlando has you covered!
Universal Orlando Resort also has some of the best options for you and your family when you want to relax poolside. To help you narrow down which resort has exactly what you need, we have created a guide for you to look through covering all of the Universal Orlando Resort pools. Take a look and then contact your Key to the World Travel advisor to quote your trip today!
Universal's Endless Summer Resort – Surfside Inn and Suites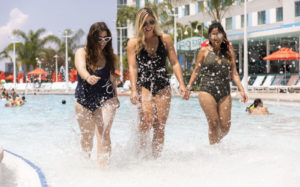 Universal's Endless Summer Resort – Surfside Inn and Suites is a fun waterfront pool that is the perfect place to relax and play for the whole family. This pool is so cool it is shaped like a surfboard! When you're looking for a little libation you can take advantage of the Sand Bar with one of their signature cocktails, frozen drinks, wine, beer, and smoothies.
Universal's Aventura Hotel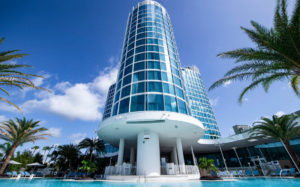 Universal's Aventura Hotel has a modern vibe that gives you a total 'South Beach' feel.  The pool, a splash zone for kids and a fire pit provide for plenty of chill time after a long day in the parks. Soak in the sun, cool off in the pool, and plan your next days adventure while you let the water wash away the day. In the evening you can grab a drink from Bar Sol and sit fireside with while the kids splash in the pool behind you.
Universal's Cabana Bay Beach Resort
Universal's Cabana Bay Beach Resort is a retro-inspired hotel that isn't like any other resort in the Orlando area! Featuring a 10,000 sq. ft. zero-entry pool with iconic dive tower waterslide! If that isn't enough to entice you to stay,  Universal Orlando's first lazy river at an on-site hotel. The Hideaway Bar & Grill offers delish food and beverages or treat yourself at the poolside Atomic Tonic bar and relax under one of the cabanas for rent or shaded picnic tables. The Cabana Courtyard also offers a large fire pit and fun for the whole family.
Loews Sapphire Falls Resort
Next stop: Caribbean escape. Loews Sapphire Falls Resort features the largest pool at Universal Orlando Resort – a 16,000-square-foot, zero-entry pool. Now that's a lot of room for fun, and even more for relaxation. Surrounding the pool, you'll find a sandy beach, hot tub, cabanas for rent, waterslide, children's play area and a fire pit for nighttime s'mores!
Loews Royal Pacific Resort
Are you looking to escape to a tropical hideaway? Now you can do it without the flight across the ocean and stay at Loew's Royal Pacific Resort. You can sink your toes into the white-sand beach that hugs the huge lagoon-style pool. This resort gives you total Polynesian island vibes as you relax by the palm tree-lined pool. This area features two hot tubs and the impressive Royal Bali Sea interactive water play area for children. For some shade and privacy, rent a private cabana complete with amenities such as a ceiling fan, phone, TV, refrigerator with water, soda and a fruit bowl. On select evenings you can witness a torch-lighting ceremony featuring the "oli aloha" welcoming chant, a fire dancer and more.
Hard Rock Hotel Orlando
The party won't start till you check in to Hard Rock Hotel at Universal Orlando Resort! You'll never miss a beat in this 12,000 square–foot pool that features an underwater sound system. On select days, you might even get a chance to hear live music poolside. The pool at Hard Rock Hotel Orlando also features a 260–foot slide, two hot tubs, a sand beach, and a volleyball court.
Loews Portofino Bay Hotel
Loews Portofino Bay Hotel transports you to the tranquil beauty of Italy with three unique pool experiences: the Beach Pool, Villa Pool, and Hillside Pool. The Beach Pool is the ideal place for your family to spend the day together. This lively, yet serene pool area features a Roman aqueduct–inspired waterslide, a sandy beach, children's pool, two hot tubs and colorful beach cabanas. The Villa Pool offers additional amenities including private cabana rentals and upgraded lounge chairs. Get away from the action and kick up your feet under a cabana that includes a ceiling fan, refrigerator, phone and plasma TV. The third pool, the Hillside Pool, is just off the hotel's east wing. This pool offers a bit more privacy for a quiet place to relax by the water. The most secluded of the pools – you'll feel like you're on your own private Tuscan estate.
Are you ready to get away to a poolside paradise? Let us help! Our travel advisors can plan the perfect Universal Orlando Resort vacation today. Click here for more information.
Images Courtesy Universal Orlando Resort