There are many ways to make your visit to Walt Disney World® extra special! Whether you're celebrating a special event, trying to maximize your time, or just wanting to indulge, the Frozen Ever After Dessert Party may be for you! My family and I recently attended the party and we loved it! Before you decide if this special ticketed event is right for you and your family, I'd like to share our experience.
The Frozen Ever After Dessert Party is offered on select nights at Epcot®. You must have park tickets and purchase tickets for the party to attend. On your party night, you will want to arrive at least 45 minutes prior to your party time to check in and receive your bracelets. Many Cast Members will be available to point you in the right direction. Check-in is typically located adjacent to the Mexico Pavilion. Then you'll be allowed to roam the nearby shops until party time. Our check-in and party location was located in the Norway pavilion due to inclement weather. On a humid August day, this move indoors was absolutely wonderful! The hall was beautiful and themed nicely. Weather permitting, however, you can expect your party to be outside.
We were seated with a few other families at a simply decorated table with special 3D glasses at each seat. There were many desserts and beverages to choose from. The theme is evident but even those who aren't huge Frozen fans would find treats to enjoy. It's also worth noting that I still had plenty of options to choose from after speaking with the chef about my food allergies. Several tables were set up buffet style with a variety of sweets, fruit, beverages and a cheese fondue station! The adult beverages were located in a separate area away from where you'd send the kiddos to help themselves to seconds. The more intimate feel of this party allowed me to relax and not feel overwhelmed as I typically do at a buffet. Perhaps my favorite treat was the frozen popcorn! You have to see it to believe it!
After about 40 minutes of enjoying our treats, we were told we'd be leaving for IllumiNations: Reflections of Earth shortly. This notice gave us the chance to use the restroom before heading out. Since our party had been moved indoors, we had to walk to the firework section near the Mexico pavilion. At first glance, we weren't sure we'd enjoy the show because there were no tables and chairs, and our view was directly behind a huge bush. If you have concerns about the extra walking and standing, especially if you're going after a day in the parks, keep this in mind. Shortly after we popped on our 3D glasses, however, the true magic began! I do not want to spoil the surprise, but the 3D glasses took the theme of the party to the next level. As it turns out, the bush was strategically placed so that fireworks could be shot out right in front of us! It was the best view of a firework show that I've ever seen!
When IllumiNations: Reflections of Earth ended, we had to walk back to the Norway pavilion to ride the Frozen Ever After Ride. Be aware that you have to wait for crowds to clear before Cast Members guide you back to the ride. This is where we would have appreciated having a place to sit. Still, having the chance to skip the line on a highly sought after ride was pretty cool!
Overall, we found the Frozen Ever Dessert Party to be very cool. If you're looking for a way to add a sparkle of magic to your Walt Disney World® vacation, this may be the icing on your snowflake!
All Key to the World Travel® planners are experts, and offer the highest level of exemplary customer service. Contact your travel planner to book your vacation, or click here to request a quote today!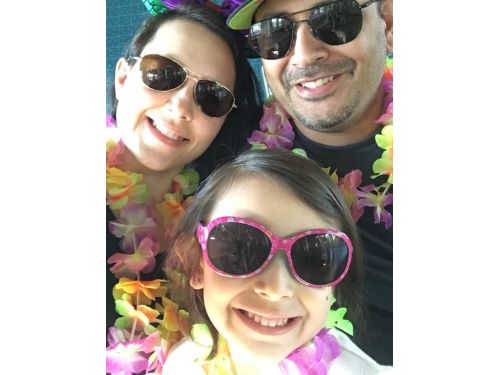 Mary Serrano
Travel Planner
Contact Mary using the links below!