I will be the first to admit that I am not crafty.  No sense in even trying to fake it.  I could have my own board on Pinterest for all of my crafting disasters!  I can color within the lines and that is the extent of my artistic ability. But, when I visit Walt Disney World®,  I sure do love having a pretty MagicBand!  Yes, MagicBands come in a wide array of vibrant colors, but what about the bling?  Since I am craft-challenged, I had to find simple ways to take my MagicBand up a notch.  Between brainstorming with what I had on hand at home and a visit to my local crafting store,  I have everything I need to create beautiful, fun, and customized MagicBands.  Here are some of the easy ways I have decorated my bands.
BLING

:  My daughter was a competitive dancer for years.  This is how I was introduced to E600.  E6000 is magic.  E6000 is easy.  E600 is an inexpensive all-purpose glue that won't ruin fabrics or plastic like Superglue® would.  It has proven to last through sweat, extended wear, and it is waterproof.  You could choose to glue anything onto your

MagicBand

.  My personal favorite is rhinestones!  You can select rhinestones in any color or size.  To apply the rhinestones I have found the easiest way is to put a little E600 on a paper plate and use the tip of a bobby pin to get a dab of glue.  Then you simply pick up the rhinestone with the glue end of the bobby pin and place where you want it. Voila! That's it!  Once all stones are in place, let your band sit in a safe place to dry thoroughly.  Out of habit from my dance mom years, I always carry E6000 and bobby pins just in case my band needs a stone replaced.  This has only happened once though, after a full day at

Disney's Typhoon Lagoon

Water Park.  
Duct Tape

: They say Duct Tape® fixes everything.  That's true.  Duct Tape® also can have your

MagicBand

looking stylish in minutes!  You can select any color or pattern you wish but of course, my favorites are the Disney line.  This method is so easy!  The skinny Duct Tape® is the perfect size for your band.  The larger size can be trimmed.  
Vinyl stickers

: If you have a Cricut® or Silhouette® vinyl cutting machine you can cut out vinyl decals to put on your band.  Monograms, Disney character silhouettes, mouse ears, your favorite sports team logo, there are so many options!  I always put a topcoat of clear nail polish just as a little extra insurance to keep the decal in place but I know some people who don't and their decal stays put fine.  
Paint Pens

: If you are artistic, you could use the pens to make elaborate designs. My son's girlfriend used her paint pen to monogram her band.  Me?  I used my paint pen to help my band rock the dots—Minnie dots of course! Don't be afraid!  If I can do it, anyone can! (

Thank you to Karley Watts for her photo!)
Nail Polish

: My favorite method, hands down!  This is the cheapest, easiest and the quickest way to fancify a

MagicBand

.

 I have decorated more bands with nail polish than any other method.  Even my glitter hating daughter likes to paint her band in solid colors like black or teal.  I love this method not just because it is so easy but because of the hundreds of variations you can choose from.  You can select your favorite color, fun colors, glitter, sparkles, bioluminescent, glow in the dark, color change, and more.  You can opt to paint the whole band or do the Mickey head in a different color.  You can use inexpensive nail polish or your best.  See? So many options! I always finish with a clear topcoat to prevent chipping and to add a little shine.  
Band Wraps

: Another option is to order full band wraps from Etsy.  There are hundreds to choose from, including prints, characters, and iconic Disney images like the monorail or Haunted Mansion wallpaper.  I love

Key to the World Travel® planners Shauna Damboise's Lilly Pulitzer® wrapped band and Jen Van Hill's Haunted Mansion®

band!

Swapping Disks

:  This isn't crafty at all but it is a way to let the guys in on the fun.  Simply swap out the center disks and create fun color combos.  
Alright, fellow MagicBand fashionistas!  Let's see YOUR custom designed bands!  Share your pictures and tips in the comments!  
~~
All Key to the World Travel® planners are experts and offer the highest level of exemplary customer service. Contact your travel planner to book your vacation, or click here to request a quote today!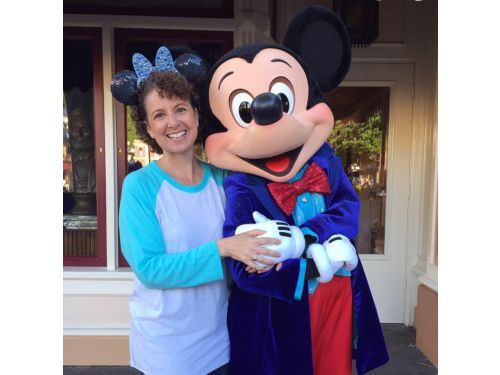 Theresa Perry
Travel Planner/Mentor
Contact Theresa today using the links below!
SaveSave
SaveSave
SaveSave