Disney's Port Orleans Resort – French Quarter at Walt Disney World® can be overlooked by those planning to stay on site.  Perhaps it is the small size of the resort or the lack of larger-than-life theming that characterize the value resorts.  But those wanting to have an on-site stay at a moderate price will be highly satisfied by Port Orleans French Quarter.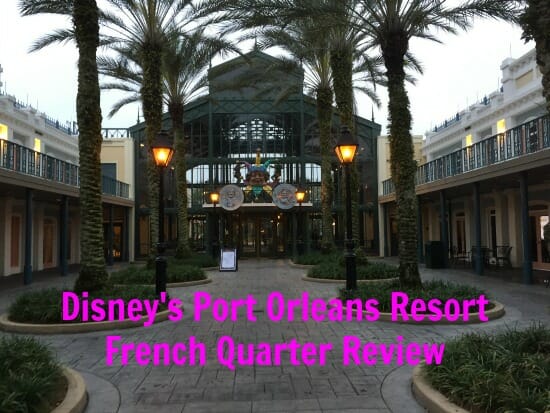 SIZE
Disney's Port Orleans Resort – French Quarter (sometimes referred to as French Quarter or just POFQ) is the smallest of the moderate resorts and smaller than any of the value resorts by far. The small size comes with two great advantages. First, the walk from the furthest room to the main building that has check-in, bell services, food service, theme park transportation, and the gift shop is only five to seven minutes.  Second, a smaller resort means fewer people in general.  If you are not one who likes being with thousands of other people at all times, then French Quarter's intimate size might appeal to you.
ROOMS
Rooms sleep up to 4 guests and are in configurations of two queen beds or one king bed.  There is a table and two chairs, a small bench seat, a dresser with three drawers, and flat-screen TV.  The theming is not particularly bold, but rather subdued purples and golds.  A curtain separates the sink area from the rest of the room.  A refrigerator is in the dresser, and a hair dryer is available.
POOL AND PLAYGROUND
There is just one pool at Disney's Port Orleans Resort – French Quarter, Doubloon Lagoon, but it is well-done and has high kid appeal.  There is a water slide (who doesn't want to come out of a dragon's mouth?) and a kids' splash area for those 48-inches and under.  A hot tub is in a separate, secluded area a hundred feet away to give some privacy from the louder pool area.  Opposite the hot tub area is a small playground. Guests of French Quarter are also free to take a short walk (or hop on the bus) to Disney's Port Orleans Resort – Riverside and use the pools there.
DINING
There is no table service restaurant at Disney's Port Orleans Resort – French Quarter, but the quick service location is particularly good in Sassagoula Floatworks and Food Factory Food Court.  There are some traditional New Orleans options (po-boys, gumbo, and the delicious beignets) as well as popular stand-by options (burgers, pizza, nuggets, pasta).  The space in the ordering area is very tight, so visiting during busy mealtimes might cause some claustrophobia.  There is also the Mardi Grogs pool bar and Scat Cat's Club lounge that has limited food options available.
SHOPPING
The gift store is sized just right for the resort.  It has some traditional Disney merchandise (plush toys, mugs, etc.) and some resort-specific items.
RECREATION
Movies under the stars are played daily, and there is a "Cajun Campfire" with marshmallow toasting available most days.  For a price, surrey bike rentals and horse drawn carriage rides are a good way to relax along the Sassagoula River.
ENTERTAINMENT
Scat Cat's Club features live music.  While not specifically entertainment, the resort does have a bellman dressed in colorful Mardi Gras clothes who will happily pose for pictures with your family!
TRANSPORTATION
Like all the moderate and value resorts, transportation to the theme parks is by bus only.  At French Quarter, however, unlike the other moderates that have multiple internal stops, there is just one bus stop and at most times, it goes directly to the theme parks.  (Occasionally, the bus will make stops at one or more of the Riverside stops on its way to the parks.). As a bonus for a moderate resort, there is boat transportation to both Disney Springs™ and to Disney's Port Orleans Resort – Riverside.  The boat ride at night is particularly delightful.
PROXIMITY TO RIVERSIDE
If you need some of the amenities that go with a larger resort, such as a sit-down table service restaurant (Boatwright's Dining Hall), a larger feature pool, an additional entertainment option (Yeehaw Bob Jackson), going to Disney's Port Orleans Resort – Riverside is a boat ride or short walk away.
You can have a wonderful time at all the Disney resorts and you would do well by staying at Disney's Port Orleans Resort – French Quarter, I would recommend French Quarter for repeat visitors with children who have already stayed at one of the more highly-themed resorts for their kids' first trip (the All-Star resorts, Disney's Art of Animation Resort, Disney's Polynesian Village Resort, Disney's Wilderness Lodge, and Disney's Animal Kingdom Lodge have better kid appeal).  I also recommend it for an adults-only trip for its authenticity to the New Orleans look.  Those who want a quieter experience and less walking also would find French Quarter very appealing.
All Key to the World Travel® planners are experts, and offer the highest level of exemplary customer service. Contact your travel planner to book your vacation, or click here to request a quote today!
Bradley Maki
Travel Planner
Bradley is a travel planner with Key to the World Travel. Contact him today using the links below.