Pin trading at Disney is an exciting hobby for kids and adults alike. You can collect pins of your favorite characters while connecting with cast members and maybe even other park guests. If you're looking to start pin trading on your next Disney adventure, here's a quick guide on what to expect.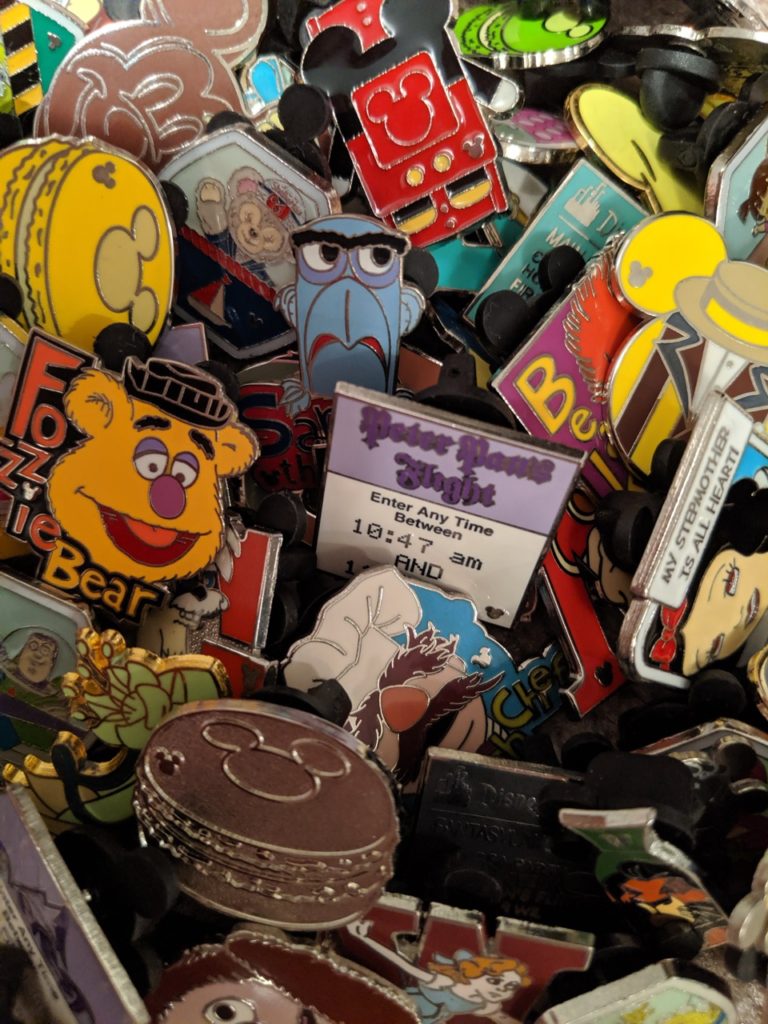 You'll need to start by purchasing some pins for yourself. Disney trading pins are offered at various retail locations in the parks. To get genuine Disney pins a little more affordably, you can buy them in value packs rather than one at a time. You can usually get several for the price of buying just a few pins individually.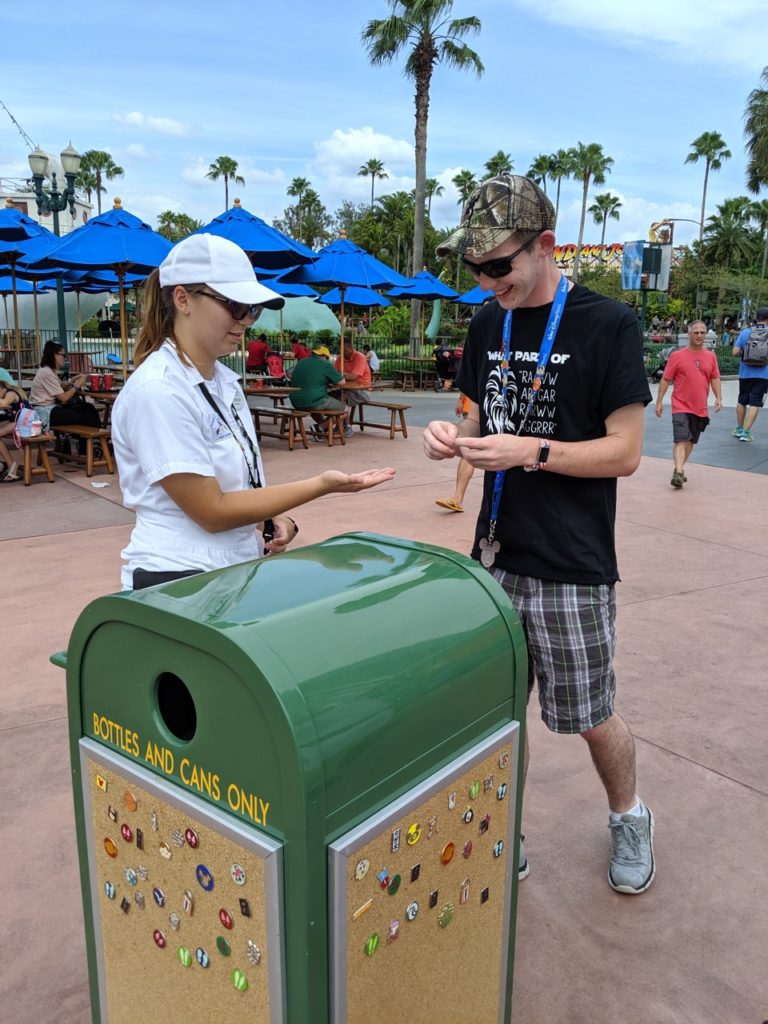 Once you have gotten a few pins, find a Cast Member with a lanyard or pin pouch.  You can find these Cast Members all over the parks – in merchandise locations, custodial staff, and more. Cast Members with green lanyards are only able to trade with guests 12 or younger. Most cast members will be wearing black lanyards that allow them to trade with guests of all ages. Once you find a Cast Member you'd like to trade with, ask to see their pins. You'll choose the pin you'd like from their lanyard as well as one you would like to give them. Cast Members are required to trade their pins with you as long as you're trading an acceptable Disney pin. You can trade up to two pins with the same Cast Member per day.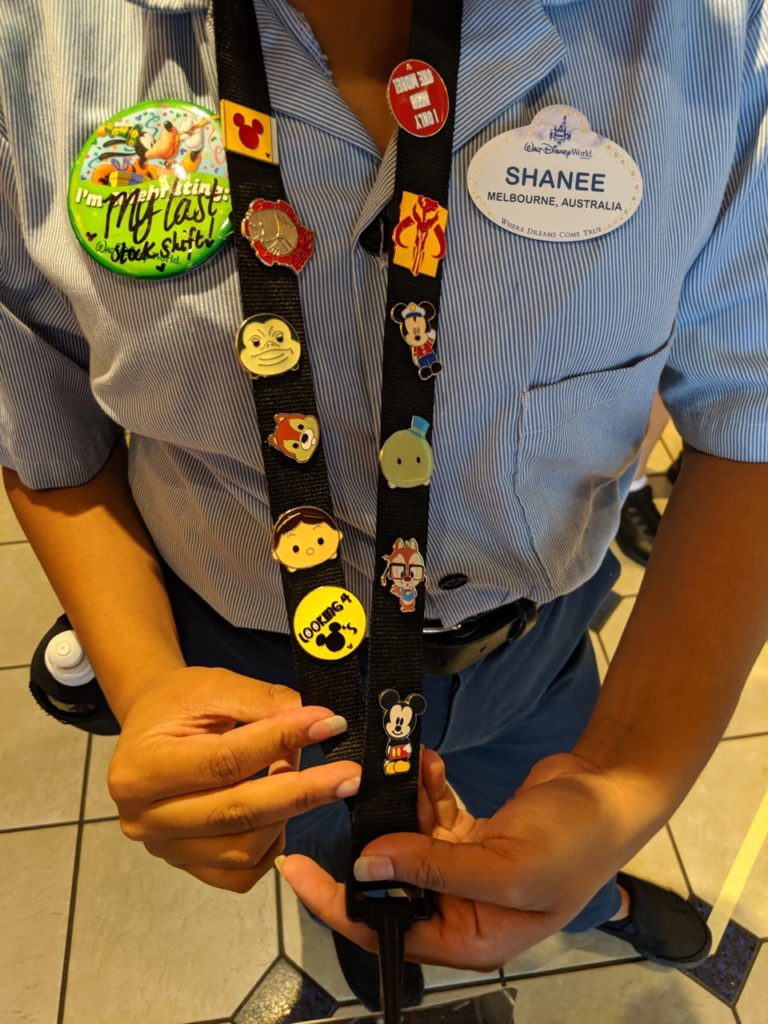 Certain pins are created just for Cast Member lanyards and have a hidden Mickey somewhere on them. These can't be bought around the parks, but can only be collected by trading with a Cast Member. You may also find Cast Members whose pins are turned around backwards. These are mystery trades – so you won't know what you get until you trade.
The best pin trading gems in the parks are the pin boards. While Cast Member lanyards may hold around twelve pins, some pin boards can hold upwards of fifty. There are pin boards all over the Walt Disney World® Resort. Ask at the front desk and gift shop of your resort to see if they have a pin board. We found this pin-covered drum at the front desk of Disney's Animal Kingdom Lodge and this campfire-themed board at Disney's Wilderness Lodge.
Look around the parks for pin boards out and about or behind the counter at merchandise locations. We found pins on a stroller at Epcot® and on a pizza box at PizzeRizzo in Disney's Hollywood Studios®.
Check your Times Guide for any Pin Trading Events that might be occurring while you're in the parks. We were able to attend a Pin Trading Event at Magic Kingdom® in Fantasyland®. Multiple cast members were lined up with their lanyards and various props filled with pins to trade.
Pin trading at Disney is not just limited to the Walt Disney World® Resort. If you're headed on a trip to any of the Disney parks, Disney Cruise Line, or Aulani, A Disney Resort & Spa, make sure to bring your collection with you. Pin trading may become a tradition for your family on all of your future vacations to Disney Destinations.
~~
All Key to the World Travel® Advisors are experts and offer the highest level of exemplary customer service. Contact your travel planner to book your vacation, or click here to request a quote today!