When people hear the name "Orlando" they immediately think of theme parks. That's understandable since it is home to the top theme parks in the world. We all love Walt Disney World®, Universal Orlando® Resort, SeaWorld®, and all the rides and thrills those parks offer. But did you know that tucked away in the middle of this bustling city is a peaceful, tropical oasis known as Discovery Cove?
Discovery Cove is a unique, all-inclusive day resort that transports you to another place. It is open from 8:00am-5:30pm daily, with check-in beginning at 7:15am. Reservations must be made in advance and it restricts attendance to under 1,300 per day. I recently enjoyed a day at this amazing resort with some of my fellow Key to the World Travel® Planners and was told it was at max capacity. You would have never known it!  We didn't have to wait for anything and it felt very uncrowded.
Situated near SeaWorld®, this resort is a quick drive from any of the popular theme park resorts. Once you enter you will soon forget that you are in Orlando!  The lush foliage is reminiscent of a Caribbean island. Several in our group remarked how Discovery Cove reminded them of being on Disney's Castaway Cay, Disney's private Bahamian island. What sets Discovery Cove apart from an island is not only that it is all-inclusive but that you have a wealth of activities included in your visit, highlighted by the 30-minute Dolphin Interaction and Swim package. Guests can also enjoy snorkeling with tropical fish and rays in The Grand Reef®, visiting up close with marmosets and otters in the Freshwater Oasis®, feeding exotic birds including parrots and toucans in the Explorer's Aviary®, and swimming in the tropical Wind-A-Way River®. There is also a large sand bottom pool for those who just want to relax.
Worried about the equipment needed to participate?  Don't!  Your admission includes complimentary wetsuits and vests, life jackets, flotation noodles, snorkel gear, and even your towels. They also provide lockers, sunscreen, and bags for your wet items when you are ready to leave. One unique thing Discovery Cove does is provide special prescription snorkeling masks in a range of strengths on a first come, first serve basis. These are also complimentary, as are the specialized, beach-friendly wheelchairs and strollers. As you would expect of an all-inclusive resort, there is also food, food, and more food! Guests are treated to fresh buffet breakfast and lunch as well as unlimited snacks and drinks, including soft pretzels, hot cookies, and frozen non-alcoholic treats and alcoholic beverages.
Upon arrival, you are greeted at the main building and guided to check-in where your picture will be taken and your custom ID will be made. You will be given your ID and a small, waterproof park map on a complimentary lanyard. This ID lists your dolphin swim time as well as where to report for that experience. If you are over 21 this will also be on your ID, meaning you won't have need for your driver's license during the day. We took advantage of this and put all of our valuables in the complimentary lockers for the day.
On my recent visit, we checked in and proceeded to find some lounge chairs on one of the beaches before heading to the breakfast buffet. We opted for the loungers on the dolphin beach. This is an awesome location as we were able to watch the dolphins all day long!  We noticed throughout the day that there were more than enough chairs throughout the resort as well as shade umbrellas. Hammocks could be found tucked away under the palm trees. Relaxation is definitely the order of the day here!  Lockers stations are in several locations as are the snack bars and sunscreen stations. The layout of Dolphin Cove definitely adds to the ease of the day.
For our day at Discovery Cove, we opted for the package with the Dolphin Experience included. Guests not wishing to participate for whatever reason can opt for a day package without the Dolphin Experience for a lower rate. Children must be at least 6 years old to swim with dolphins. Children ages 6-12 must be accompanied by a paying adult who also is participating in the dolphin swim experience. The Dolphin Experience begins with a 10 minute orientation session led by one of Discovery Cove's expert dolphin trainers. Group sizes are kept under 10 guests. Our trainer discussed safety and answered our questions. We were then led into the Dolphin Lagoon. Believe me when I say that those next 30 minutes were some of the most amazing and fun of my life! We had up close and personal interaction with two dolphins as the trainer talked with us about our dolphins–Luna and Thelma, dolphins in general, how dolphins are trained, and more. Our trainer also answered every single question we had. We were able to feed the dolphins and give them treats for following commands. Did you know dolphins love ice?  I didn't either until that day!! At the end of our session, each member of the group was taken into deeper water for a personal "dorsal tow" back to shore. So! Much! Fun!  The entire time, photographers are taking pictures and videoing your experience. When finished, we were allowed to say goodbye to our sweet new friends. Luna, being the playful young dolphin she is, gave us a special "wave" as her goodbye. FYI: Dolphin tails create a huge splash!  After reluctantly leaving the Dolphin Lagoon we were given fresh, dry towels and led to the photo viewing area. Here we were able to purchase our pictures and videos, as they are one of the few things not included in your admission.
The rest of the day we enjoyed all the other included experiences at our leisure. Other highlights of the day included a delicious lunch with fresh fish, hamburgers, chicken, bbq, and more to choose from, snorkeling with and petting giant stingrays, swimming through a portion of the aviary, and just relaxing with friends on the beach watching the dolphins play.
There is one more thing that is included with your Discovery Cove ticket that gives you even more bang for your buck!  With each package you will receive unlimited admission to SeaWorld® and Aquatica, SeaWorld's Waterpark™ in Orlando, for 14 consecutive days around the date of your reservation. For only $25 more you can also add Busch Gardens Tampa to the deal!  Your Key to the World Travel® Planner will be happy to go over that addition, as well as other optional add-ons like the Shark Swim, with you.
If you are interested in experiencing something different on your next Central Florida vacation, contact your Key to the World Travel® Planner!  Let us handle all the details so you don't have to! (PS–If you meet Luna and Thelma please give them a hug for me!)
Special thanks to my fellow Key to the World Travel® senior travel planners Shauna Damboise, Amanda Powell, and Kelly Wheeler for use of their photos to share in addition to my own!
~~
All Key to the World Travel® planners are experts, and offer the highest level of exemplary customer service. Contact your travel planner to book your vacation, or click here to request a quote today!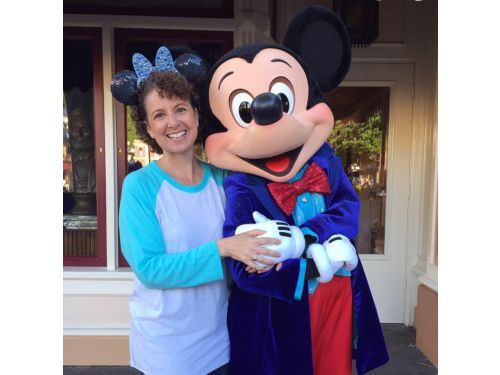 Theresa Perry
Senior Travel Planner
Contact Theresa today, using the links below!