Let's face it; being diabetic is no walk in the park…but when you are at a Disney Park, things can get a little bit trickier. But there is NO reason in the world that having diabetes (or having a child with diabetes) should keep you at home. Here are some tips to help make your Disney vacation as magical, healthy, and diabetic-trouble free as possible.
I will be writing this as if you, the reader, are the one who is diabetic – but the same applies if it is your child, and it doesn't matter if you are Type 1 or Type 2. Also, please note I am not a physician, but an adult travel agent with Type 1 diabetes who is on an T:Slim® insulin pump and a Dexcom® Continuous Glucose Monitor, and frequently visits Walt Disney World® and Disneyland®.
Before You Go
Talk to your doctor about your upcoming trip. Make sure you have a plan in place if your blood sugar goes too high (from the extra treats), or too low (from all of the extra walking). Make sure you also have a note from your doctor – it never hurts to have this for the airplane if you are carrying extra insulin and syringes.
MagicBands use RFID technology, that may interfere with your a pump, meter, or continuous glucose monitor. I have never had this issue, but it is always good to check with your physician and/or the manufacturer for your specific supplies.
Although it would be great to have a Baymax, your own personal healthcare companion along for the ride, in this case, it will be up to you. Always take your meds, meter, test strips, syringes, pump supplies, and Continuous Glucose Monitor supplies in your carry-on. You don't want to run the risk of them getting lost, and frozen insulin is never a good thing! Also, make sure you bring extra of everything – extra test strips, extra insulin, extra pills, extra alcohol wipes, extra IV Prep, extra ketone test strips, an extra meter, an extra Glucagon pen, extra pump supplies, extra batteries, extra syringes, extra Continuous Glucose Monitor supplies…you get the idea, basically extra everything you use at home.
In fact, even if you are on the pump and normally don't use them, bring some syringes. My pump broke while on vacation at Walt Disney World® once, and I had to have a new one over-nighted to me. Not so much fun, but having extra supplies would have helped – as it turned out I had to get a prescription from my doctor at home and spent the afternoon driving to Walgreens to get supplies. If you find yourself without the supplies you need, and you don't have access to a car, your hotel can arrange for a drug store to deliver supplies to you. However, it will be at full list prices.
A few other tips: make sure you also take your doctor's phone number with you, just in case. Trust me, it can come in handy!! You should also have your pump settings written down somewhere too, just in case. Pack some Ziploc bags – they are great for putting your pump into. It might rain, and if you go on Kali River Rapids® or Grizzly River Run it will get wet, so better safe than sorry. Put your name and cell phone number on your meter and supplies, just in case they get lost and turned in to the lost and found. Bring along some hand sanitizer. Finally, it is handy to have a medical ID bracelet (or in my case a shoe ID) with your name and information on it, again, just in case.
Once You are There
First of all, relax and have fun. There is a lot to do, and there is no need to stress about getting it all in. Get to the parks early, and take a break in the middle of the day – relax by the pool, take a nap, go for a swim – and then head back for more fun in the evening.
If you are staying on property, all Official Walt Disney World® and Disneyland® Hotels have refrigerators you can use to keep your insulin cool. There are, however, no freezers. If you have an ice pack to keep your insulin cold while you are in the Parks, every Bell Service Luggage area is equipped with a full-size refrigerator with freezer. Just put your name on it and the Cast Members are more than willing to store it for you, and you can access the refrigerator 24 hours a day. Also, when you check into the hotel, call housekeeping at your hotel and they will give you a sharps jar/container for your protection and theirs. I also tend to dedicate one empty water bottle as my "just in case" sharps container.
If you need to change an insulin pump infusion set, store your insulin, or dispose of a used hypodermic needle while in a Park, a First Aid Station is where you want to go. Each theme park and water park has a First Aid facility:
Magic Kingdom® Park – Between Casey's Corner and the Crystal Palace.
Epcot® – The Odyssey Center Building between Test Track® Presented by Chevrolet® and Mexico Pavilion.
Disney's Hollywood Studios® – Next to Guest Relations Building near the Main Entrance
Disney's Animal Kingdom® Theme Park – Behind Creature Comforts in Safari Village
Disney's Blizzard Beach Water Park – Near Entrance between Beach Haus and Lottawatta Lodge
Disney's Typhoon Lagoon Water Park – Next to Leaning Palms
Disneyland® Park- at the end of Main Street, U.S.A. next to the Baby Care Center.
Disney California Adventure® Park – next to the Chamber of Commerce on Buena Vista Street.
As far as eating and snacks go, Walt Disney World® and Disneyland® have a lot of healthy and sugar-free dessert options. They also allow Guests to bring in their own coolers with food and drinks, so definitely take advantage of that option. Pack your own water bottles, and then refill them at a water fountain so you stay hydrated (all Disney Quick Service restaurants that sell fountain drinks are also required to provide water in a cup free of charge). Carry around the snacks you need so you have them when you want them. Schedules tend to get a little thrown off when you are on vacation…add into that a lot more walking than you are used to, and having an extra snack on hand makes a lot of sense. When making your advanced dining reservations, you can mark "other" as an allergy, and a chef can come out and go over options with you. You may be able to get carb counts from the chef as well, although they are not listed on the menus. If you have a low blood sugar and need a snack right away, tell a Cast Member and they will help you out.
To get into any Walt Disney World® or Disneyland® park you will have to go through security. According to the Cast Members, the metal detectors used by Disney are safe for insulin pumps, but I always ask to be wanded instead of going through the detectors, just in case. I recommend using your best judgment.
Beyond that, it is just common sense stuff. Wear comfortable shoes; watch out for blisters and pre-band aid to avoid blisters to begin with. Change your socks often, and bring extra shoes in case one pair gets wet. Test early and test often – your insulin needs may change, and the only way you will know is by testing. Wear sunscreen. Wear a hat and/or sunglasses. Don't stress, and most importantly have fun!
~~
All Key to the World Travel® planners are experts, and offer the highest level of exemplary customer service. Contact your travel planner to book your vacation, or click here to request a quote today!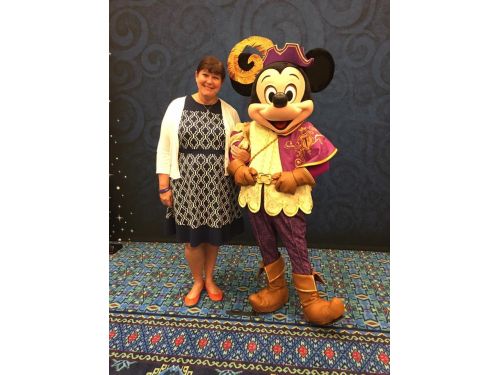 Cheryl Koren
Co-Owner
Cheryl is a Co-Owner of Key to the World Travel. Contact her today using the links below!