I had been planning a large family trip to The Walt Disney World® Resort for over a year!  At the time of travel, my son would be 4, and my daughter would be 18 months. Since my 18-month old was not going to have much of a say over what she would like to do on our vacation due to her age, I made sure to include everything that my 4-year old was interested in into my plans. Of course, he was most interested in meeting his favorite characters!  This translated into many character meals being scheduled, so I could incorporate as many characters as possible at once and mainly concentrate on the rides during our time enjoying the parks.
I should probably mention here that my husband and I had visited Walt Disney World® previously with my son, when he was about the same age that my daughter would be on our upcoming trip. He loved every single character that he met on that trip, so when I was planning our most recent vacation, it never occurred to me that my daughter would potentially be terrified of the characters! (In her case, I think terrified may have been an understatement!)
We spent our first full day at Disney's Hollywood Studios® and I had the Disney Junior Play 'n Dine lunch scheduled at Hollywood & Vine. Unfortunately, my daughter was terrified of Sophia the First, Doc McStuffins, Jake from Jake and the Neverland Pirates and Handy Manny! Her literal reaction every time one of them came over to the table can be seen below.
Because we had many character meals left in the schedule and many other character meet and greets that my son wanted to partake in, I had to come up with a fix and quick. The following are my tips on how to deal with a child who is scared of the characters:
Discreetly Warn the Character (or the Handler) that the Child is Apprehensive Prior to their Approach
As characters made their way to our table at The Crystal Palace character breakfast buffet, I made sure to comment to them that my daughter seemed to be going through a phase where she was terrified of the characters. At the first sign of my daughter becoming frightened, the characters would take a step back and not try to push the issue.
Some of the characters, such as Tigger, tried to get her engaged in other ways. For example, Tigger helped my daughter with her breakfast and behaved in a silly manner with her. Tigger (and many of the characters at other meals we attended) literally spent 10 minutes getting my daughter to warm up to him and to put her at ease. By the end of the breakfast, my daughter loved Winnie the Pooh, Piglet, Eeyore, and of course, Tigger!
Pick Your Child Up and Get in the Photo with Them
I found that at character meet and greets where my daughter was apprehensive, she was not as scared if my husband or I picked her up and acted as a buffer between the character and her. This method was a win-win as our daughter was not frightened and we were still able to have a nice family picture.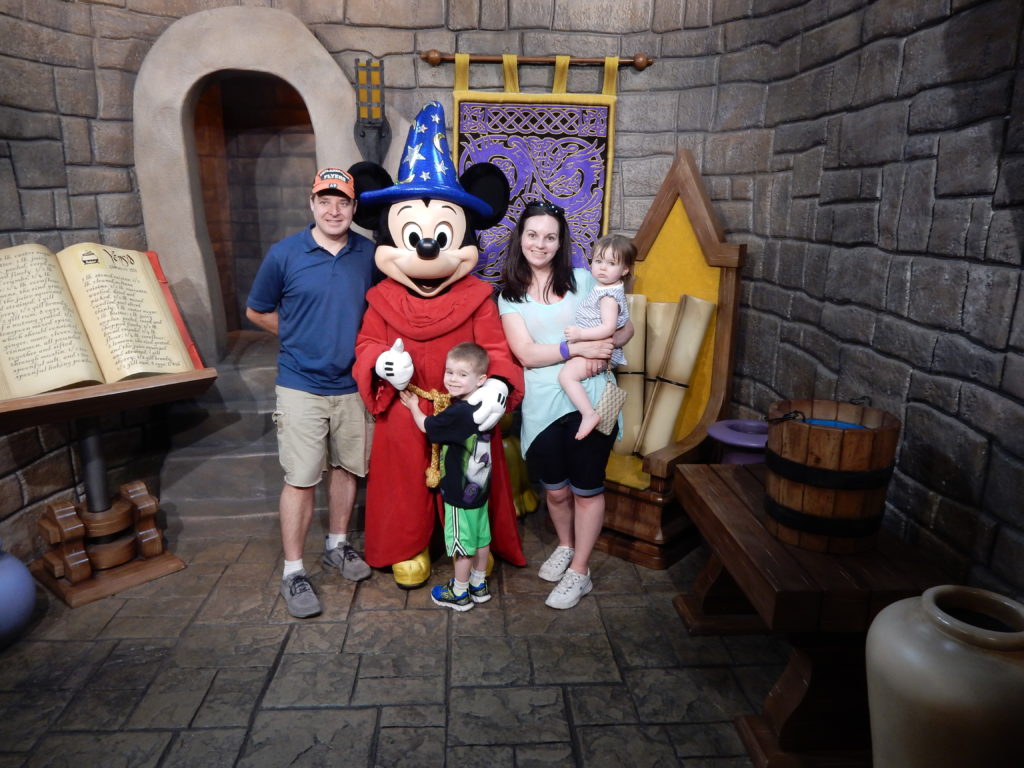 Try Different Characters
I found that while my daughter was apprehensive of characters such as Mickey Mouse, she absolutely loved all of the Disney Princesses! If your child is scared of one type of character, try a character that is more familiar to them or visit a face character that is more 'normal' looking.
By the end of your trip, your child may just surprise you!  My daughter literally ran over to Daisy Duck to give her a hug on the last day of our vacation!
All Key to the World Travel® planners are experts, and offer the highest level of exemplary customer service. Contact your travel planner to book your vacation, or click here to request a quote today!