As the first rays of sunlight glisten over the waters of Disney's Crescent Lake and start to shine on the picturesque Disney's Boardwalk Inn, the heavenly smells of breakfast lead you to the doors of "Trattoria al Forno". Welcome to the excitement and fun, welcome to Disney's Bon Voyage Adventure Breakfast! Here you will have breakfast with some of Disney's ultimate power couples. Visit with the handsome Prince Eric and the bubbly Princess Ariel, then let your hair down with Princess Rapunzel and the smoldering Flynn Rider. Let's get this adventure started!
As you enter the doors, you will check in at the hostess stand and can take a few moments to check out the awesome cart full of dresses, sidekicks, and other merchandise available for purchase to complete your breakfast adventure. My daughter, who is a huge Rapunzel fan, was immediately asking for the Pascal, who in the end we adopted and he joined our family for breakfast.
You are escorted to your table once it is ready, where you will find an Adventure Journal for you, along with a card with all the character signatures that you can take with you at the end of your adventure. Make sure to bring your own autograph books if you would like for the royal adventure crew to sign those, and remember your cameras. As with other character dining, photographers are not available. If you want to capture those lasting memories with pictures and videos, have someone at the table at the ready for when the characters stop by. If you are traveling solo, or want your whole family in the picture, you can always make a new friend and ask your neighboring table to take some pics of you, just make sure to offer the favor back to them as well.
Your meal starts off with Rapunzel's frying pan full of amazingly delicious pastries. Let's get real for a moment, we all know that any breakfast that starts with a frying pan full of pastries is going to be a great breakfast. The chocolate braid and the clam shell pastry filled with strawberry yumminess were favorites at our table. You will also each receive an individual bowl of fresh fruit.
We were pleased to see the variety of foods offered each with cute names mirroring the characters that you will be meeting including the Tower of Pancakes and Royale Breakfast which were our choices, while my little one enjoyed the waffles that had Ariel and Flounder on them…..they were almost too cute to eat, almost.
The food was amazing and plentiful. Huge portions, believe me you will not walk out of this adventure breakfast hungry. The service was attentive and informative, always letting us know which character was coming out next, where they would be coming from, and even which seat my daughter needed to sit in to get the best experience from the breakfast.
The food was amazing, but let's be honest, we all know we are there to meet the royal adventure crew! The characters come to your table individually as you dine, each announced as they enter the room. The first character we met was Flynn Rider. Our daughter was excited to introduce Flynn to our new family member Pascal. Flynn was just as you would imagine him to be – charming and full of jokes! Princess Rapunzel stopped by next and chatted about painting and frying pans. Then Prince Eric, who looked very regal addressing my daughter as "Your Majesty" and giving the best hugs. Princess Ariel was the last to visit our table, and swapped stories with my daughter about how hard it is to walk on human legs and asked if she used her Dinglehopper every day. The character interactions were magical and absolutely priceless.
In between character meetings and dining, there are also moments where guests are invited to join the characters for some activities. While we were there they invited everyone to dance with Prince Eric and Princess Ariel around the dining room.
If you have a chance, don't miss this character breakfast! It really was the Best Breakfast Ever! Not only do you meet 2 characters who are nowhere in the parks, Prince Eric and Flynn Rider, you also have special moments with Princess Rapunzel and Princess Ariel. It's like the amazingly delicious breakfast is just a bonus. Also remember since this is at Disney's Boardwalk Inn, no park ticket is needed, however make your dining reservations early as this is a popular breakfast.
One last tip I have…..maybe use your fork as they do up in the human world, they frown upon using your Dinglehopper the way it was meant to be used, but we all know that Ariel knows the right way to use it…..it will just be our little secret! Now go, adventure awaits!
All Key to the World Travel® planners are experts, and offer the highest level of exemplary customer service. Contact your travel planner to book your vacation, or click here to request a quote today!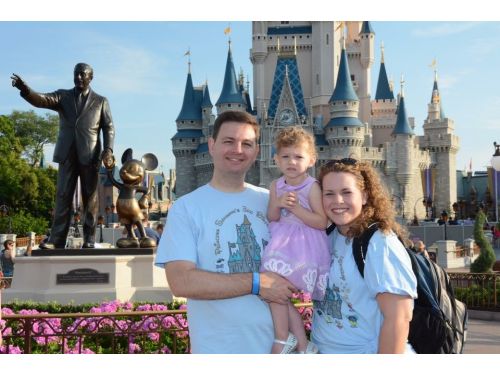 Renee Burton
Travel Planner
Renee is a travel planner with Key to the World Travel, contact her using the links below.