Southern California can get HOT! The average temperature in Anaheim is beautiful; usually not too hot and not too cold! But, there are always exceptions to the average! One of my family's trip to Disneyland® Resort was in June, and it got up to 100°! Kids and adults alike can get cranky when the weather reaches those highs. Disneyland® Resort is still the happiest place on earth and you can still have a magical vacation even with high temperatures. You just need to know where to go to beat the heat!
Rides and Attractions to Enjoy in the Heat
Our favorite ride to beat the heat is Pirates of the Caribbean in Disneyland® Park. The ride feels 10° cooler because you are close to water and it's a dark ride. You don't actually go underground; it just feels like it. We love it because first, you get to sit and relax. Second, you only get slightly wet which is nice if you have little kids that don't like to get wet.
Some of our other favorite rides and attractions to enjoy in the heat at Disneyland® Park are:
Splash Mountain

(you do get wet!)

"it's a small world"

Haunted Mansion

The Enchanted Tiki Room

The ball water fountain outside

Space Mountain

Watch a live show at the Royale Theatre
Our favorite ways to beat the heat at Disney California Adventure® Park are:
Grizzly River Run (you can get really wet!)

Frozen – Live at the Hyperion
The Little Mermaid – Ariel's Undersea Adventure
Soarin'

Around the World

Disney Animation Building (

Turtle Talk with Crush

, Anna, Elsa, and Olaf Meet & Greet, art lessons at Animation Academy, the

Sorcerer's Workshop

, or just sit on a couch and watch the movie clips.)
Water Filling Stations
You want to make sure you and your family stay hydrated. There are water bottle filling stations located outside the Mint Julip Bar behind the French Market Restaurant as well as one at Rancho del Zocalo Restaurante. This water is chilled and free!
Other ways to stay hydrated are to ask for a free water cup at any restaurant and fill up at a drink station, as well as there are numerous water fountains located throughout the park.
Cold Treats
Another way to beat the heat is to indulge in an ice cream treat, Dole Whip, frozen lemonades, fresh fruit, and icy drinks in the parks.
This trip in the photo was at the end of September and it was hot enough to melt the ice cream, but my son loved every bit of it! Just don't forget the wet wipes!
Midday Break
If you are planning on going to the parks for a couple of days, take an afternoon off from the parks and head back to your hotel to relax and/or swim. All of the Hotels of the Disneyland® Resort have fantastic pools with waterslides.
Positive Attitude
You will enjoy your vacation even in the heat if you go into it with a positive attitude. "The problem is not the problem. The problem is your attitude about the problem." — Jack Sparrow (Pirates of the Caribbean)
Protection from the sun
One last piece of advice to beat the heat: Don't forget to bring from home: hats, sunglasses, and sunscreen! Your skin will thank you later, as well as your wallet. You can also bring water bottles that have fans on them as well as fans that clip onto your stroller. We love ones with foam blades that are safe for kids to touch.
You and your family can have a fantastic vacation even with the heat with just a little planning! Enjoy!
~~
All Key to the World Travel® planners are experts and offer the highest level of exemplary customer service. Contact your travel planner to book your vacation, or click here to request a quote today!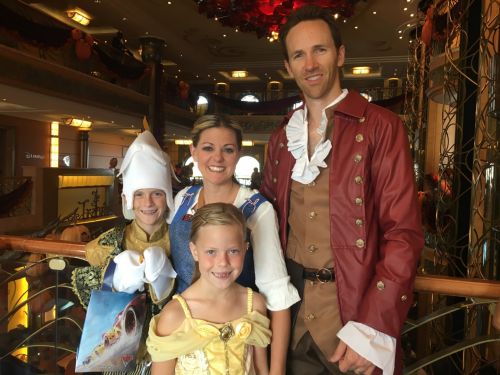 Lynette Brown
Travel Planner
Contact Lynette today using the links below!