A new year has begun and that means making some resolutions. If you're like many of us, your resolutions include making more time for family, self-care, travel, and fun! Before the severe impact of COVID-19, more than 70% of the population was taking a vacation annually. Being pent-up for 18 months without vacation can cause many of us to look for some safe, relaxing, and fun vacations in 2022!
2022 has brought a whole new realization: life is short, and dreams should not be put off. Let's move your "someday" travel plans to "as soon as possible." Where to go or what to do is part of the reason people hold off on booking travel. Our travel advisors at Key to the World Travel will take the worry out of your vacation planning. We get to know you and your family. We take a look at your needs and create options for you to choose from.
To give you some options, we have put together this list of some safe and fun travel destinations in 2022!
22- Barbados
When you think of fantastic beaches, you should think of beaches in Barbados. After all, the island's 166 square miles are surrounded by the most pristine white sand beaches in the Caribbean. This means that wherever you stay in Barbados, you will always be close to a beach. Barbados is a haven for almost any type of island water sport you can imagine. So while you can lay on the shore, on your best beach vacation, soaking up our year-round summer sun, there are many water sports activities waiting for you.
If you're looking to experience a couples-only, royal treatment… the new Sandals Royal Barbados, all-suite Caribbean all-inclusive resort is our pick. This resort features a number of Sandals firsts, including the first rooftop pool and bar, the first 4-lane bowling alley, Sandals first gourmet donut shop, and two new restaurant concepts – American Tavern and Chi Asian. Being one of the two Sandals resorts in Barbados, Sandals Royal Barbados features signature accommodations, including the magnificent Skypool Suites, Swim-up Suites, and Millionaire Suites, world-class international cuisine at seven restaurants, and a 15,000-sq.-ft. spa. Stunning ocean views, Butler Elite service, and exclusive exchange privileges with nearby Sandals Barbados define the new Luxury Included experience.
21- Punta Cana, Dominican Republic
Punta Cana, the easternmost tip of the Dominican Republic, abuts the Caribbean Sea and the Atlantic Ocean. It's a region known for its 32km stretch of beaches and clear waters. Punta Cana is a pure escape for adults and families. From days that start on postcard-worthy beaches that end in a cave-style nightclub, you never know what kind of adventure awaits you! Your travel advisor can create the perfect day for you either soaking up the sun at one of the many incredible all-inclusive resorts or by seeking out adventure with one of the many excursions offered. Or, a little bit of both!
If you want to have the best family-fun trip ever… We suggest you look into the Nickelodeon Hotels & Resorts Punta Cana.  The family that stays together plays together. Whether you and the crew choose to explore our AquaNick water park in search of a splashin' good time, roam around our Gourmet Village for delicious and diverse bites, meet up first thing in the morning with some of your favorite Nick characters at our Character Breakfast, or just plain lay out and soak in the sun on our golden Caribbean beach, there's plenty of fun in store for the entire bunch when you check into Nickelodeon Hotels & Resorts Punta Cana.
Luxurious Nick-themed villas and swim-up suites
Aqua Nick®: access to our guest favorite water park
Nickelodeon Fun with World-Class Gourmet Inclusive® Experiences
Play for Days: Club Nick – a hangout just for kids, Plaza Orange & Character Central for dance parties, character meet & greets, immersive theater experience, Slime! & more
Five-star luxury, playfulness, and warm hospitality that makes the Dominican Republic such a beloved destination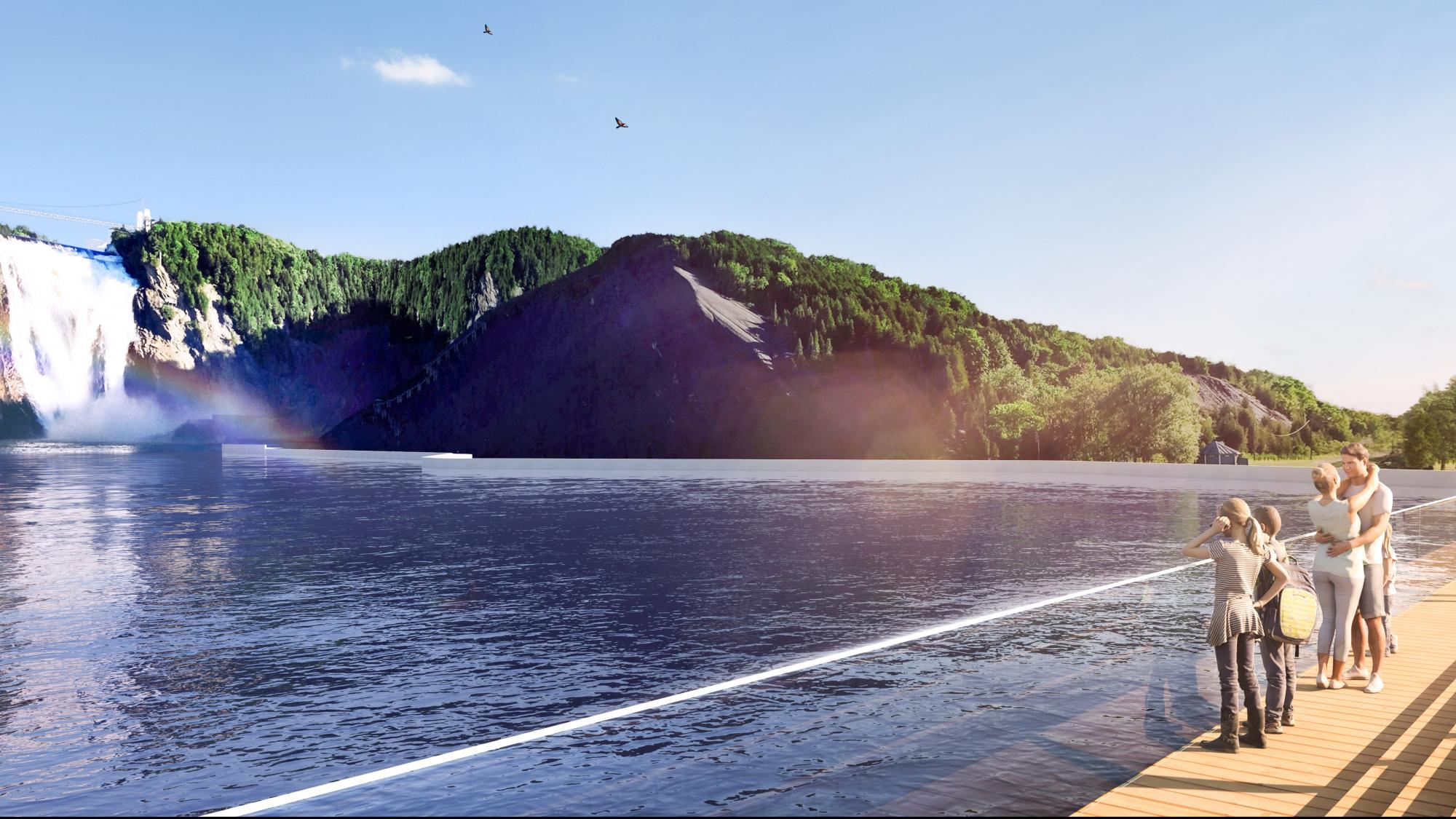 20- Quebec City, Canada
Located in Eastern Canada, Québec City is close enough for a long weekend trip. Only 2.5 hrs by car from Montreal or 1.5 hr flight from New York or Toronto. Its history, friendly vibe, and myriad attractions make it a stand‑out travel destination throughout the year. Québec City's history, friendly vibe, and myriad attractions throughout the year make it a stand‑out travel destination. Every season brings its own special activities and stunning sights.
Québec City's most famous landmark is also the most photographed hotel in the world, Château Frontenac. Whether you're just stopping by for a tour of the Château or staying for the night, it's well worth a visit!
Petit-Champlain is known for its many local shops and enchanting ambiance, this charming pedestrian street is sure to win you over. Known for its concentration of art galleries and fine bistros, Petit‑Champlain is a bona fide memory maker.  Place Royale, this historical gem is where Québec City was officially founded. The unique period of architecture testifies to the combined French and British influences so characteristic of the city's built environment.
Take a stroll along Dufferin Terrace for a magnificent view of the St. Lawrence River and Château Frontenac, as well as live entertainment in the summer and a toboggan run in the winter. Named in honor of Lord Dufferin, a governor-general of Canada who loved Québec City, the terrace is so eternally popular that it has been expanded twice since it was first built. While you're there, hit up another historic site: the remains of the Saint‑Louis Forts and Châteaux, which lie beneath this iconic promenade.
19- Denali, Alaska
Denali National Park and Preserve encompasses 6 million acres of Alaska's interior wilderness. There's no place more wild, rugged, and breathtakingly beautiful than Alaska's Denali National Park & Preserve. There are gorgeous resorts surrounding the breathtaking park. With terrain of tundra, spruce forest, and glaciers, the park is home to wildlife including grizzly bears, wolves, moose, caribou, and Dall sheep. Popular activities in summer include biking, backpacking, hiking, and mountaineering.
One of our favorite spots is the Grande Denali Lodge.  From the moment you arrive, their knowledgeable and helpful front desk staff is ready to make your stay stress-free and memorable by assisting you. They offer tours into Denali National Park, the Alaska Railroad, river rafting, and a wide variety of other outdoor activities are all just minutes away from  Jeep Tours, Bus tours & ATV Tours of Denali National Park, Flight Seeing- Glacier Landing, and Helicopter Tours, Dog Mushing, Scenic, and White Water Rafting, Ziplining, Fly-Fishing, Covered Wagon Adventure, & golf.
18- New York City
New York City has been welcoming visitors since 1594. The city is rich in history, culture, and some of the best sightseeing in the US. The Big Apple is made up of its five boroughs of Manhattan, Brooklyn, Queens, Staten Island, and The Bronx, which stretch along the shores of the Atlantic and the Hudson River.
There is never a bad time to visit New York City. The winter holidays are magical with huge events like the Macy's Thanksgiving Day Parade or watching the ball drop with a million new friends in Times Square for New Year's Eve. Or, you can wander the streets to see the Christmas displays at SAKS 5th Ave. or skate in Rockefeller Center.
In the fall the weather gets a little crisp, the leaves burst into color, and it's the perfect time to walk comfortably to the World Trade Center or to head to see Lady Liberty herself. The city blooms in the spring and summer! Central Park is in full bloom with flower beds as far as the eye can see. This is also the best time to check out some of the best dining in the country or take in a show on Broadway. Times Square is always a must-see no matter the time of year you visit!
There are many incredible places to stay in New York, one of our favorites is the New York Marriott Marquis. This hotel is a vibrant fixture of Times Square and brilliantly captures the iconic energy and spirit of Manhattan. Located on West 46th Street and Broadway, this hotel places guests near some of NYC's most illustrious attractions including Rockefeller Center, Radio City Music Hall, and the Theater District. Experience incredible restaurants including New York's only revolving rooftop dining room with spectacular views of Times Square.
17- London
London is one of the world's most mesmerizing cities. Modern architectural marvels like the Shard line ancient laneways peppered with historic monuments, high-end shops, and award-winning theaters. The picturesque streets wind their way around renowned attractions like Buckingham Palace, Westminster Abbey, and St. Paul's Cathedral, causing visitors to gape at their beauty and exhaust their phone's photo storage.
With so many impressive tourist attractions and captivating things to do, it's no wonder London is one of the most visited cities worldwide, receiving over 20 million tourists each year. Britain's bustling capital offers something for everyone, including shopaholics, foodies, adventurists, historians, and kids; but this can make it tough to choose what to do first. Should you hit one of the top museums (many of which are free to enter), enjoy a picnic in one of the expansive parks, tour a royal palace, or wander around a breathtaking garden? Perhaps you'd prefer to take in a show, ride a horse through a grove, take a flight on the London Eye, or enjoy a traditional afternoon tea at Harrods.
Are you a Harry Potter fan? Then you have to do the Warner Bros. Studio Tour London: The Making of Harry Potter! The tour is full of authentic sets and props and gives visitors a priceless peek into the making of the film series. You can now see the Gringotts' Bank set where you can learn how the magical coins are pressed! There's no experience quite like it for Harry Potter fans of all ages!
16- Upstate New York
Upstate New York can be a beautiful place to visit at any time of the year. There are beautiful ski resorts in the winter or vineyards to tour in the summer and fall. You can spend the summer on the Finger Lakes soaking up the sun or ski one of the beautiful lodges in the winter.
One of our favorite spots in the Hudson Valley is Mohonk Mountain House in New Paltz. This beautiful resort is the closest thing to "all-inclusive" that you will find in the United States. There are 265 guestrooms & suites and 5 scenic cottages. A stay at Mohonk Mountain House includes three meals per day, afternoon tea, and most nonalcoholic beverages.
Mohonk Mountain House is a National Historic Landmark located in New York's Hudson Valley, just 90 miles north of New York City. The resort offers a myriad of leisure activities and wellness programs that renew the body, mind, and spirit. Not to mention the recreational activities included at the resort!  Ice skating, rock climbing, and 85 miles of trails for seasonal hiking, mountain biking, snowshoeing, and cross-country skiing. The grounds feature exquisite gardens, a nine-hole golf course, tennis courts, and stables for horseback riding and horse-drawn carriage rides. The glacial-formed Lake Mohonk is ideal for boating, fishing, and swimming.
15- Skye Island, Scotland
Skye is one of the top locations in Scotland to visit. It is famous for its scenery and landscapes that will take your breath away. The Island of Skye is 50 miles long and the largest of the Inner Hebrides. The Island has a rich History covering many topics, such as: Dinosaur Fossils, Clan Warfare, Highland Clearances, and the infamous 'Bonnie Prince Charlie' and the Jacobite Rebellion.
Both Clan MacDonald and Clan MacLeod have their Clan Castles on the Island and should be on your list of places to visit. The Isle of Skye is also a great destination for Wildlife watching with the White Tailed Sea Eagle at the top of bird watchers lists. Otters, seals, whales, dolphins, and red deer are just some of the other impressive creatures that can be seen on and around the Isle of Skye.
14- Universal Orlando Resort
At Universal Orlando Resort there is so much to do for travelers of all ages! There are incredible thrill rides, family-friendly attractions, one of the largest and best-themed water parks in Orlando, and some of the best resort hotel properties too! You can also visit the Wizarding World of Harry Potter which is located in both Islands of Adventure and Universal Studios. After the new Harry Potter 20th Anniversary Reunion show, this is a hot spot for 2022 travel!
There is more to this park than just the rides. There are several terrific shows and events that take place throughout the year. Many of these events are included with your theme park admission. In addition, you can find many of your favorite characters throughout the parks including the Minions, Trolls, and more. Plus, there is a nighttime show that takes you away to relive your favorite movie moments.
Halloween Horror Nights- Each fall, the spooky season takes over at Universal Studios Florida in the evenings. Halloween Horror Nights is an event at this theme park happening on select nights each September and October. This year, the 30th-anniversary celebration is set to be the best one yet! This is a separately ticketed event with unique experiences, haunted houses, and more. This event may be too intense for young children and is not recommended for children under the age of 13.
Mardi Gras- If you are looking for an authentic New Orleans celebration, you can head to Universal Studios Florida each spring to enjoy their version of Mardi Gras! The beads are flying everywhere and it is a family-friendly experience. With street performers, amazing floats, and fantastic food options, this celebration is a must!
Characters- Throughout the park, you will find many different characters. Currently, these experiences are modified but there is no shortage of characters for all ages! Some examples include Shrek and Donkey, the Transformers, Scooby-Doo and friends, and even Marilyn Monroe! This spring, a new character experience debuted too. The "Dreamworks Destination" character experience is located in the KidZone area of Universal Studios Florida. Here, guests can dance and interact with some of their favorites from the DreamWorks Animation franchise including Trolls, Kung Fu Panda, and more.
Nighttime Show- Universal Orlando's Cinematic Celebration is a nighttime show that takes place at the park on select nights. The show brings to life some of your favorite cinematic moments combined with music, lights, water, and, of course, fireworks! The best viewing for this show is located in the Central Park area. Check the app for showtimes.
13- New Orleans
New Orleans is known for Mardi Gras, but did you know it is a great place to visit 12 months a year? The city loves to celebrate all year long with festivals, food, culture, and local entertainment. This city is known for coming back to life and being reinvented time and time again. While Mardi Gras is a bucket-list experience, there is never a bad time to visit NOLA.
After the excitement of Mardi Gras has died down, the city begins to blossom into springtime and summer and the festivals begin. 12 months a year there are street performers, live entertainment, booming nightlife, and some of the most authentic food you will ever taste in your life! Late summer brings out the gold and black as football season begins bringing tailgating outside the Dome and of course, the New Orleans Saints.
As the weather cools down and Halloween approaches, fall fests are at their peak in October. Munich meets Mid-City at New Orleans' very own Oktoberfest. Each weekend throughout the month of October, celebrate German presence and heritage in New Orleans at Deutsches Haus. December in New Orleans is a site to see. Between Christmas Bonfires, LUNA Fête, Celebration in the Oaks, the Hanukkah parade, Jingle on the Boulevard Parade, NOLA ChristmasFest, and more, there are limitless light shows, displays, and activities to explore. The city is glowing with holiday spirit and cheer all month long.
12- Disneyland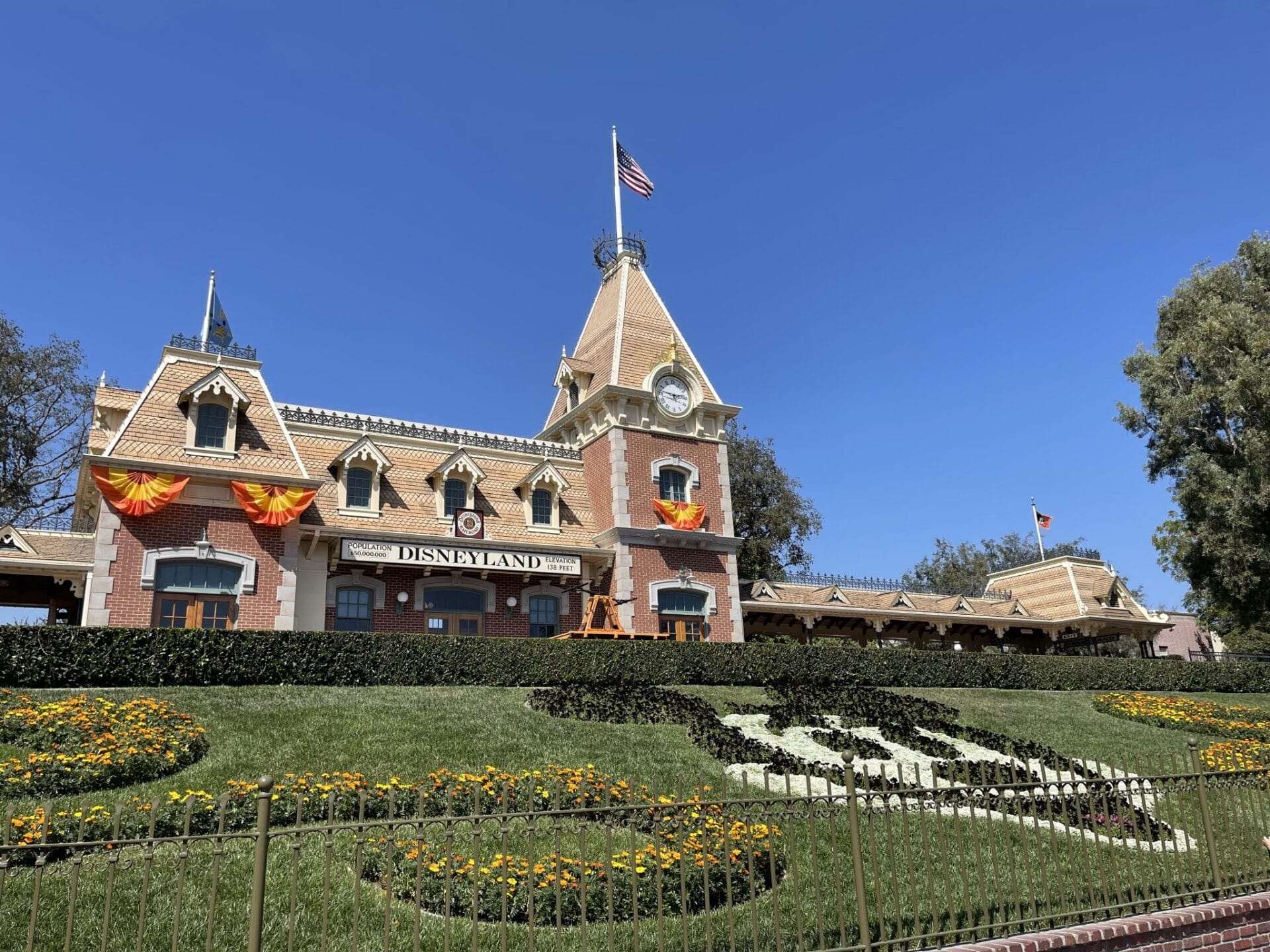 The Disneyland Resort is comprised of two parks (Disneyland and California Adventure), the Downtown Disney District, and three resort hotels. There are also many off-property resorts called "Good Neighbor Resorts" that offer additional rooms for guests visiting the parks.
Disneyland is the first Disney park Walt opened and holds nostalgia and a sense of magic you feel as soon as you enter the gates. Disneyland guests can explore a dense and mysterious jungle, fly through outer space, party in New Orleans, take a quiet stroll through the country riverfront, or explore a medieval village. They can brave the peaks of a snowy mountain, dive into the waters of the lagoon, or race around the landscape along a private highway. Whether young or old, new Disney fans or life-long obsessed, Disneyland offers a unique and exciting experience for each and every visitor.
The park also has thrill rides and some of the best food you will find at an amusment park in the whole country. Host to several events, festivals, and after hours ticketed events there is alwasy a reason to visit Disneyland.
11- Branson, Missouri
Branson is a great vacation destination at any time of the year. There is beauty and adventure in every season. In December, the average high temperature is 45°F, and the average low temperature is 26°F. From November to February, Branson may receive snow, but rarely more than two inches at a time. As soon as the sun shines, Branson's snow melts, and only three to five inches of snowfall here every winter. Spring is a beautiful time of year to visit Branson. It can be chilly in the evenings, but they are a pleasant mixture of warm and sunny days. This means the evenings can be refreshingly cold, and the days can be pleasantly warm. The area is adorned with flowers and beautiful foliage in the spring because of rain showers.There are tons of things to do this summer, both indoors and outdoors, so we're all ready to enjoy the warm weather. There are tons to do in July and August, both indoors and outdoors. A typical rain shower is brief, and it usually does not keep you indoors for the whole day. Visiting Branson in the Fall is a beautiful time for its weather and scenery. The Ozark Mountains have gorgeous fall foliage rolling through them in September and October, and the temperatures usually fall at a comfortable middle point between summer and winter.
Thanks to its location on the shores of Table Rock Lake and it's being just minutes away from all the action in Branson, Still Waters Resort is a great choice for those seeking a fun family getaway. There are plenty of water-based activities, including a choice of three heated swimming pools to relax in (and around), two of which have waterslides (inner tubes provided).
Other notable amenities include a hot tub, the use of complimentary kayaks, paddleboards, paddleboats, and aqua cycles, as well as fishing gear. The resort also has its own marina. Also fun are the hiking and biking trails, along with basketball and volleyball courts. On-site dining is also available in the resort's restaurants.
When it comes time to bed down for the night, take your pick from the resort's spacious studios, along with its one- to six-bedroom condos. Located overlooking the lake, these luxurious units include full kitchens with modern appliances, large living room areas with plenty of comfortable seating, plus a master bedroom. They also feature large decks and patios with outdoor furniture.
10- Sedona, Arizona
If you want to really get intouch with nature or go on some of the most incredible hiking expereinces of your life, Sedona has what you need. From hiking and fine dining to art galleries and personal enrichment, Sedona has so much to fill each gorgeous day of your stay. Sedona continues to be recognized as a place of healing and spiritual renewal. You can refresh those internal batteries while taking in the natural beauty all around you. If hiking is your thing, you can get some red earth on your boots on any of the countless trails ranging from leisurely jaunts to long, challenging backpacking treks.
The Sedona landscape is so incredible it is important to stay in a resort or hotel that compliments this and embraces its true beauty. The Wilde Resort does that and then some. You can relax poolside or by our fire pits in the Grove gardens, where the night sky opens before you. Enjoy the view of Thunder Mountain from the Rangeview Rooftop patio, or experience it at The Wilde Haven Spa, as you unwind after an exhilarating day on the trails.
The Wilde is the ideal base camp for embarking on the epic adventures that only Sedona has to offer. You'll have easy access to trailheads, including Sugar Loaf and Soldier's Pass, and stay close to endless things to do in the great outdoors including hiking, mountain biking, sightseeing, ATVs, jeep tours, and Grand Canyon excursions.
9- Siesta Key, Florida
Siesta Beach is a beach located on Siesta Key in the U.S. state of Florida. Unlike beaches elsewhere that are made up mostly of pulverized coral, Siesta Beach's sand is 99% quartz, most of which comes from the Appalachian Mountains. concession stands, the free trolley to get around on the island, and nearby fun Siesta Key Village, you can plan your whole trip centered around this gorgeous Key without getting bored. This quaint yet quirky 8-mile-long island offers shopping, resorts, dining, and nightlife. Known for its brilliant quartz sand, turquoise waters, and many beachside amenities, Siesta Key is a must-visit island paradise. Siesta Key offers something for everyone. Siesta Key is a romantic getaway for lovers, a family vacation destination, and a playground for active sports enthusiasts. And don't forget: Wherever you stay, the beach and bay are always nearby
When we go to Siesta Key we love to stay at Turtle Beach Resort & Inn. This award-winning Caribbean-style waterfront resort is famous for the large private hot tubs on private patios in each unit, and spectacular views of dolphins and manatees while guests relax in their hammocks or sit on a dock on the bay! The best island sunsets on Siesta Key are found at Turtle Beach! Each beautiful cottage has its own luxurious, large private hot tub spa and hammock. Complimentary kayaks, canoes, fishing poles, bikes, Wi-fi. Gourmet dinner special at the finest island restaurant nightly. Turtle Beach, for the best sunsets, is a short three-minute walk around the lagoon. There is a "secret" beach to walk or a boat to also.
8- Acadia National Park, Maine
When you're planning a vacation people always are quick to jump to white sandy beaches or tropical locals. Recharging the batteries can come in many forms. Sometines it is by reconnecting back to the earth and getting some much-needed time with nature.  Acadia National Park is a 47,000-acre Atlantic coast recreation area primarily on Maine's Mount Desert Island. Its landscape is marked by woodland, rocky beaches, and glacier-scoured granite peaks such as Cadillac Mountain, the highest point on the United States East Coast. Among the wildlife are moose, bears, whales, and seabirds. The bayside town of Bar Harbor, with restaurants and shops, is a popular gateway. The best part of going to a place like this on vacation? You can take your fur babies with you too! The whole park is dog-friendly.
Located harborside in the heart of Bar Harbor overlooking Frenchman Bay and the Porcupine Islands, the Bar Harbor Inn is an iconic and historic New England vacation destination welcoming guests worldwide with genuine Maine hospitality, superior service, and timeless charm.
The Bar Harbor Inn's beautifully landscaped eight acres offer a private retreat with easy walking access to unique shops, art galleries and waterfront activities in downtown Bar Harbor. The casual elegance of the Bar Harbor Inn provides a perfect backdrop to explore the rocky Maine coast and Acadia National Park.
7- O'ahu, Hawaii
O'ahu is home to the largest population of people as well as the best nightlife in Hawaii. The surfing mecca of the world is O'ahu's North Shore, and surfers flock there every winter to witness the best the world has to offer. History buffs will find their bliss among Honolulu's cultural gems such as Pearl Harbor and Iolani Palace.
Many working ranches in Hawaiʻi turn to tourism to help sustain themselves, but no one has done it quite as successfully as Kualoa Ranch. If you're in the market for a tour, there's nowhere that can match its variety, organization, and reputation, and while there are many movie locations to visit around Hawaii, no place can match the quantity of Kualoa Ranch. For years, it has been considered one of the top operations on Oʻahu thanks to its beautiful scenery, professionalism, and Hollywood intrigue. Without question, it's one of the largest and most reputable tour operations on the island, offering a wide selection of family-friendly tours, the quantity of which is unrivaled anywhere else in Hawaiʻi.
Our favorite resort to call "home" while we are in O'ahu is Disney's Aulani Resort. Aulani is perfectly positioned on the beautiful beaches of Ko Olina on the leeward coast of O'ahu—nestled between verdant mountains and serene ocean waters. Here, you'll be removed from the crowds of Waikiki, yet close enough to enjoy the wonders of the island. Check out complimentary equipment, like beach chairs, umbrellas and boogie boards. Or rent snorkels, paddleboards or other equipment and embark on an exhilarating ocean adventure.
Aulani Resort is perfectly positioned overlooking a tranquil lagoon and the Pacific Ocean. But, you also have some incredible pools at Aulani!
Waikolohe Pool, a zero-entry pool with a tunnel body slide
Waikolohe Stream, offering 2 tubing adventures — extreme rapids and a lazy river
Wailana Pool, a 1,500-square-foot, tension-edge pool, with a water wall that empties into the deep end of the pool
Four whirlpool spas that offer relaxation
Ka Maka Grotto, an infinity-edge pool overlooking Ko Olina Beach that comes to life at night with twinkling lights
Keiki Cove Splash Pool, an interactive splash zone for little ones
Menehune Bridge, an interactive area for kids, with slides and a play structure
Rainbow Reef a saltwater snorkeling lagoon where you can swim with fish, without the waves (fees apply)
6- Cancun, Mexico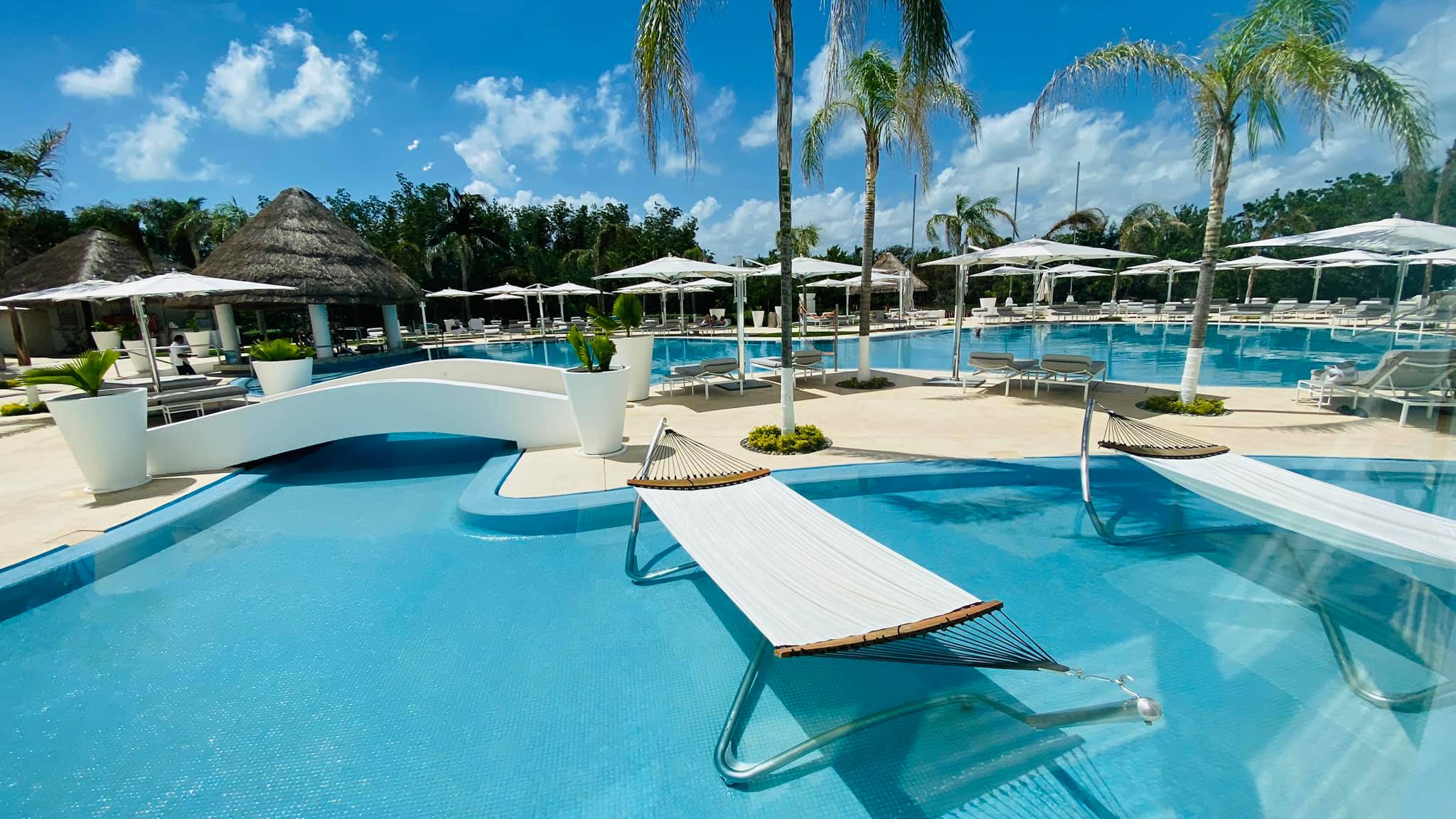 When people think Cancun, they often associate it with "spring break" or "party vibes," and often miss out on one of the worlds best vacation locations. Mexico has many destinations that are popular among tourists all over the world. Among the most popular of them all is Cancun. The peninsula hosts some of the best luxury resorts in Cancun. Cancun hosts many fantastic resorts and places to visit for fun excursions.
Le Blanc Spa Resort is a chain we are very familiar with(see Los Cabos). Their Cancun location is even better than the sister resort in Los Cabos! Every guest has their own bulter. Each guest room has its own hot-tub the perfect size for two people. They also come with a mini-bar fully stocked.  With numerous dining options offered, you will find something to enjoy. For breakfast and lunch, the buffets are a popular choice. When it comes to dinner, the restaurants in the resort specialize in cuisines such as Chinese, Italian, French-fusion, Thai and Japanese.
Not to mention their incredible oceanview pools and white sandy beaches. If you are looking for luxury in Cancun, this is the resort for you!
5- Saint Lucia
If there was ever an enchanting place created, it's the island of Saint Lucia. It's found in the fiery passions of its ancient volcano, the serene abundance of its rainforest and the rhapsodic charm of Marigot Bay. Even the twin peaks of Les Pitons, the island's iconic landmark, pair off as beautifully as two people in love. When you think "tropical utopia" this is what you imagine. From the pristine beaches to the mountains that rise out of the tourquoise sea.
Sandals Halcyon Beach in Saint Lucia is an all-inclusive, adults-only paradise, where majestic palms line a pristine beach. This resort boasts a true "Garden of Eden" feel, a Caribbean beach resort where your senses are elevated by caressing sea breezes, inviting ocean waters, and fragrant tropical blooms. Experience the all-new Beachfront Honeymoon Butler Suites with private deck and plunge pool or indulge in gourmet dining at six specialty restaurants. We always love Sandals because they bring a whole new level to the "all-inclusive" game. This resort includes:
Unlimited fine dining at 6 restaurants
Breakfast, lunch, dinner and anytime snacks
Unlimited Premium Liquors
7 bars, including swim-up bars
Stocked bars in every room
Unlimited Robert Mondavi Twin Oaks® wines
All tips, taxes and gratuities
Round-trip airport transfers
Green fees at 2 nearby golf courses
Round-trip tranfers to 2 nearby golf courses
PADI-Certified SCUBA diving (and all equipment)
Snorkeling (and all equipment)
Waterskiing
Hobie Cats, paddle boards, kayaks
Professional instruction for water sports
Beach volleyball, bocce ball, pool tables
Day and night tennis
Unlimited land sports and state-of-the-art fitness centers
Day and night entertainment including live shows
Round-trip shuttle to 2 nearby Sandals
Exchange privileges with 2 nearby Sandals
All amenities and inclusions at 2 nearby Sandals
WiFi (in room and all common areas)
Free wedding (for stays of 3 nights or longer)
4- Walt Disney World
The most magical place on earth has a lot to celebrate this year. In October the Florida theme park reached a huge milestone. 50 years of magic! To kick off the party Disney announced there would be an 18-month long party featuring new parades, new nighttime entertainment, new castle shows, new food and drink, and so much more!
Magic Kingdom may be celebrating her 50th anniversary, but EPCOT will be turning the big 4-0 on October 1, 2022! EPCOT has so much opening in 2022 in celebration of the 40th Anniversary. The Taste of EPCOT International Festival of the Arts runs from January 14th through Feb. 21, 2022. Taste of EPCOT International Flower and Garden Festival will also bring the festival fun! This popular and fragrant festival springs to life on March 2 and runs through July 4. That's 125 days to enjoy fresh cuisine, colorful gardens, playful topiaries and vibrant entertainment.
If that wasn't enough, opening early 2022, Guardians of the Galaxy: Cosmic Rewind is a family-friendly adventure, featuring a totally new type of roller coaster experience we're developing just for this attraction – it's a story coaster that rotates 360 degrees so you're always focused on all the action as you help the Guardians save the galaxy. Not only that but Guardians of the Galaxy: Cosmic Rewind will also feature the first reverse launch on a coaster in Disney history and is one of the longest enclosed coasters in the world. It's a massive experience that will match the scale and adventure of the Guardians of the Galaxy films.
3- Los Cabos, Mexico
In 2021, we traveled all over Mexico staying in resorts all over both Cancun and Los Cabos. While in Cabo we fell in love with the incredible beaches and local life.  Los Cabos is a resort area on the southernmost tip of the Baja California Peninsula in Mexico. The region has two distinct parts: Cabo San Lucas and San José del Cabo. These two cities stand on either side of The Corridor, a 20-mile (32-kilometer) highway surrounded by championship golf courses and world-class resorts.
Dance or shop in upbeat Cabo San Lucas or walk the old streets of San José del Cabo for a more traditional experience. After you've taken in the sights on land, be sure to enjoy Los Cabos' proximity to the waters of the Pacific Ocean and the sheltered Sea of Cortez, which separates the peninsula from mainland Mexico.
While in Los Cabos we were swept away by one resort specifically. Le Blanc Spa Resort. This stunning adults-only all-inclusive resort, offers so much that you never have to leave the resort. You can take your pick of 4 different oceanfront pools, spend the day in their luxury spa, or have the butler draw you a scented bath with essential oils. Because every guest at this resort is treated like a VIP with butler service! We woke up every day and had an incredible meal on our balcony looking out to the ocean. Every room has an ocean view!
When it's time to eat, you'll enjoy a very warm welcome at Chef Enciso's signature restaurants. Go Greek with Mezze, take a journey through fine dining at Lumière, or simply sip an aperitif in the polished ambience of the Blanc Lobby bar, serenaded by local musicians.
2- Exuma, Bahamas
There are 360 islands that make up the Bahamas. Every island is surrounded by the clearest water you will ever see. We have seen beaches all around the world but the water in the Exumas is by far the clearest. When you talk about "Bahama Blue" Exuma is what you think of.  The water is so clear you can put on some goggles and snorkel anywhere you want. Between the colorful fish, sea slugs, turtles, starfish, and sharks, your snorkeling adventure won't have a dull moment.
The famous swimming pigs of The Bahamas are found on Big Major Cay, also known as Pig Beach, in The Exumas. If you want to spend a day meeting these food driven friends there are many excursions that include a visit to them! There are many stories how these pigs ended up here. But, we don't care how they ended up on the island. They made it home and are the best swimmers we've ever seen! I mean, how sweet is that little baby sleeping on the shore?!
When we stay in Exuma, our favorite resort is Sandals Emerald Bay. Deep within the idyllic waters of the Exumas, adults-only Sandals Emerald Bay brings unprecedented luxury to the easy-going rhythms of the Bahamian Out Islands. This luxury all-inclusive resort in the Bahamas is a privileged enclave, designed to ensure you'll feel like you're the only ones there, where service reigns supreme and Bahamian-style architecture of elegant villas and suites harmonize with nature.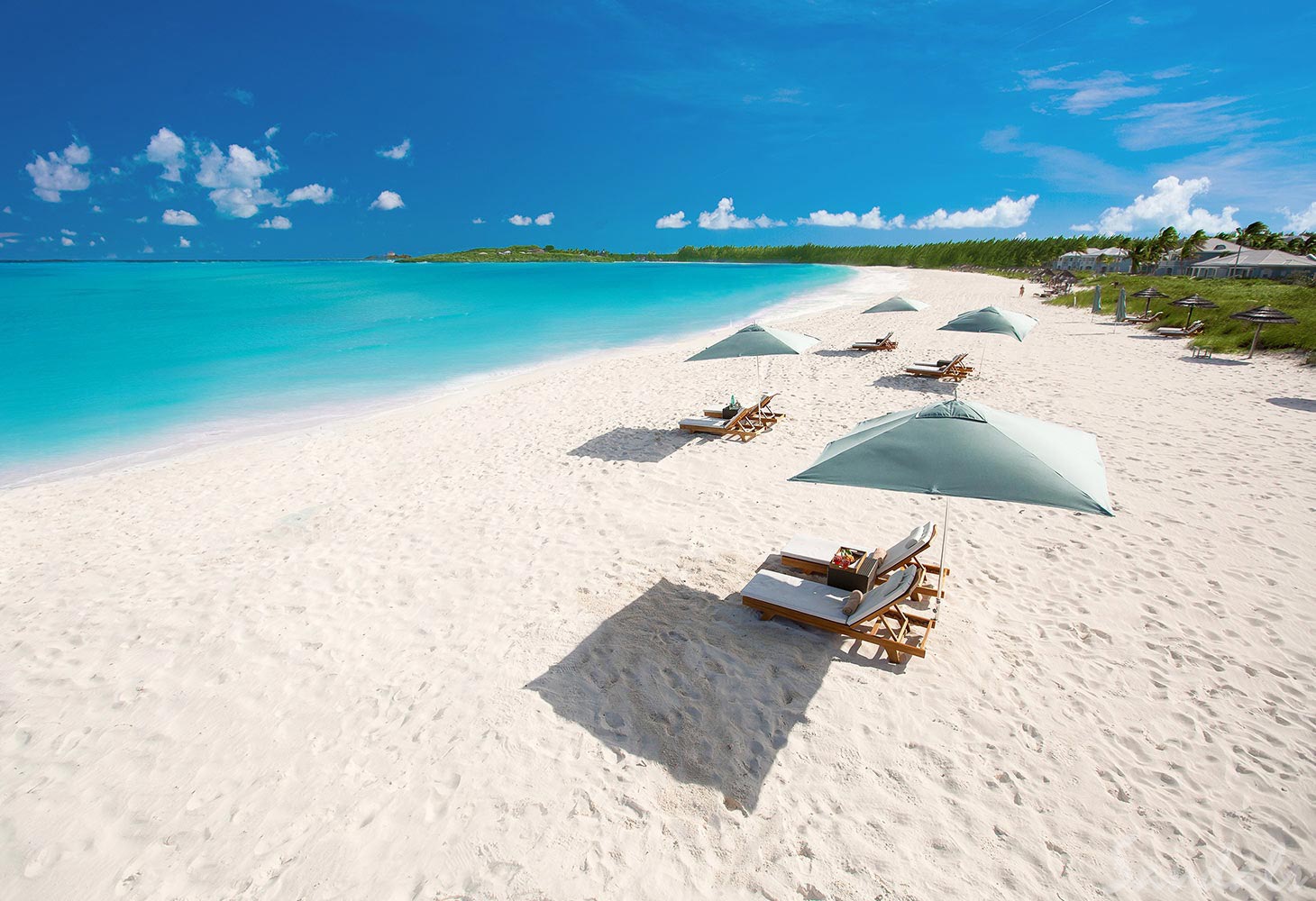 Secluded within 500 tropical acres along a pristine, mile-long beach, civilized pleasure coexists with exotic adventures, from three impressive pools — including a half-acre, zero-entry pool with a dramatic fire pit in the middle — to 11 exceptional restaurants and an award-winning golf course. Sandals all-inclusive resort in Exuma is the ultimate romantic getaway.
1- Turks and Caicos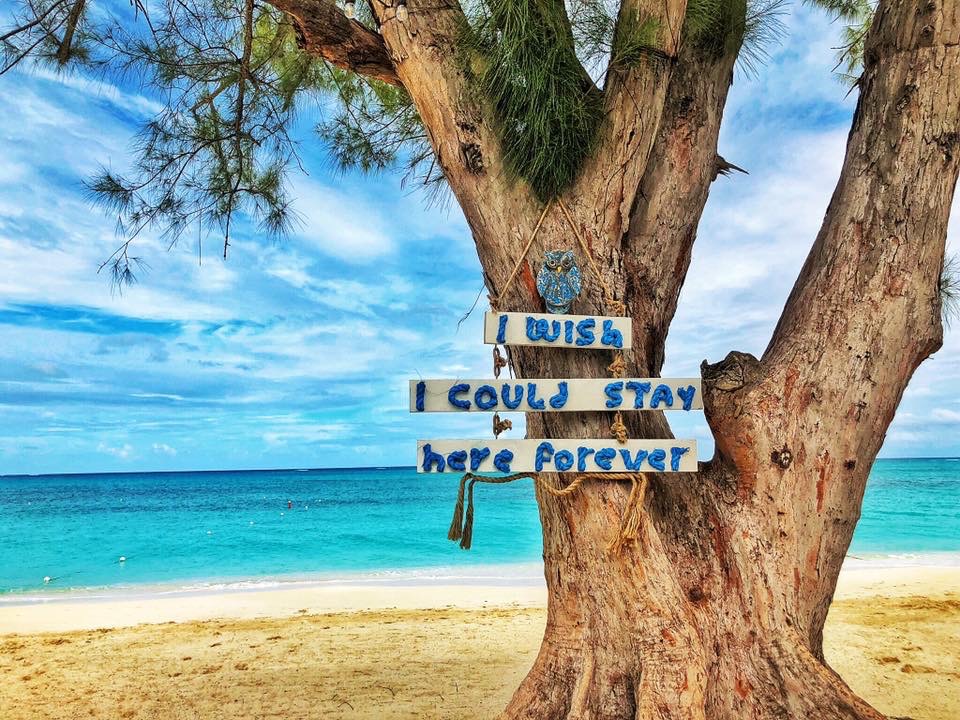 Turks and Caicos is a tropical archipelago spread over 100 "cays" with only 9 of them inhabited islands. Luxury tourism is the primary source of income to the Turks and Caicos and they cater to that to the max. There's a wide range of places to stay across the islands, including expansive all-inclusive resorts, quiet hotels and luxurious rental villas.
Grace Bay is 12 miles of sweeping white-sand beach on the north shore of the island of Providenciales in Turks and Caicos. Located on the best stretch of this famous beach, all-inclusive resort Beaches Turks & Caicos is lapped by the calmest and clearest turquoise waters, perfect for every type of water sport.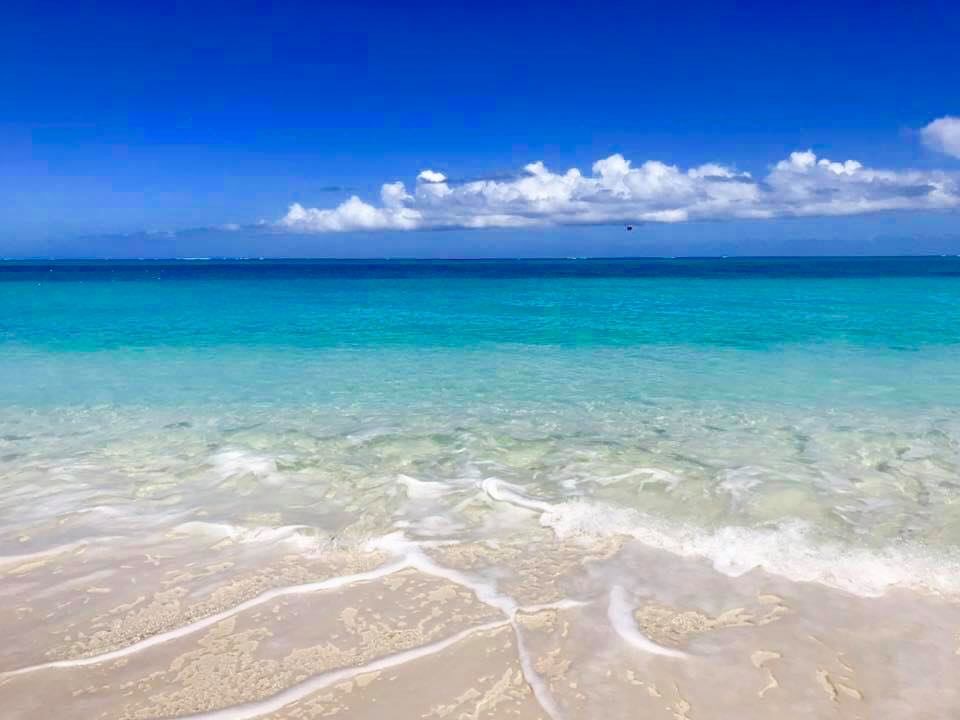 If you are looking for a place to take the whole family on vacation you need to check out Beaches Turks and Caicos. You can surround yourself in a garden oasis in the Caribbean & Seaside Villages, bask in the old world charm of the Italian Village, experience a Caribbean paradise with a French accent in the French Village, or embrace the laid-back charm and elegance of the Key West Village. Whatever your vacation mood, this all-inclusive resort in Turks & Caicos has a village to match.
Included in your stay is the option to dine at over 21 different locations. There's even two new food trucks by the waterpark that offer Mac & Cheese and ice cream creations. The best part of this resort, EVERYTHING IS INCLUDED! You can enjoy the best food from around the world, Pirate Island Water Park, scuba diving and water sports,  and so much more! Check out what you get as part of the Beaches experience:
Unlimited gourmet dining at 21 restaurants
Breakfast, lunch, dinner and anytime snacks
Unlimited premium liquors
15 bars, including swim-up bars
Stocked bars in every room
Unlimited Robert Mondavi Twin Oaks® wines
All tips, taxes and gratuities
Roundtrip airport transfers
Kids Camp with certified nannies
Pirates Island Waterpark
Caribbean Adventures with Sesame Street®
PADI-Certified scuba diving (and all equipment)
Snorkeling (and all equipment)
Hobie Cats, paddle boards, kayaks
Professional instruction for water sports
Beach volleyball, basketball, pool tables
Liquid at Beaches nightly teen club
Xbox Play Lounge
Day and night tennis
Fitness center with state-of-the-art equipment
Day and night entertainment including live shows
Free WiFi (in room and all common areas)
The Caribbean's first Certified Autism Centers
10 freshwater pools, 4 whirlpools & 1 scuba diving pool
No matter where you travel in 2022 or beyond, Key to the World Travel is here for you every step of the way. We have travel advisors that spend hours training on the top locations and the latest safety proceedures to make sure you are completely infomed for your next vacation.
Are you considering a trip? This is a great time to plan your perfect vacation! Having a travel advisor means someone there to have your back in any occurrence. There is no additional cost to you and you have peace of mind knowing that your vacation is in good hands. Contact our friends at Key to the World Travel® for a free, no-obligation quote for your next trip.