Ahoy mateys…there are an endless number of things that make a Disney Cruise Line unique and amazing, but the pirate party is my family's favorite!!  Maybe it's just the excuse for us as adults to dress up!!  I mean who doesn't love dressing up as a family of pirates and buccaneers?  One night on each Disney Cruise Line Caribbean itinerary (even 3-night cruises) is highlighted with a "Pirates in the Caribbean" Deck Party.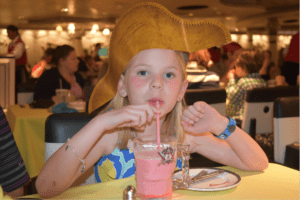 The party starts at dinner, as all the servers dress the part of a pirate, and usually the menu even has a pirate theme.  The kids menus can be turned into pirates hats, and they sell specialty kids drinks in lighted skull cups.  You are encouraged to dress up in costume for dinner whether you are in main or second seating.  On our first cruise, we missed the memo about the party…luckily we all had black, red, and white colored clothes to match the party.  Thankfully housekeeping leaves great Pirates in the Caribbean party bandanas in your room prior to the party, so even if you don't have a costume, you can at least wear a bandana. Not everyone enjoys dressing up as much as our family, and many people will get themed t-shirts or for women, wear long skirts and button down shirts.   As second timers, our family all dressed in pirate-themed costumes and went to dinner as a family of buccaneers…awesome!!
After dinner (if you are in main seating) head up to the pool deck for the P.A.R.T.Y.!!  Kids get a great spot roped off in front of the stage for the show.  The main pool has a cover that doubles as a dance floor to add space for everyone to enjoy the party on deck.  If you know Disney, then you know the shows are amazing.  
The bonus my family loves with Disney Cruise Line is increased interaction with characters, and this party is no exception.  The party starts with buccaneers leading the kids through some fun music and dances while they tell a pirate tale.  They come off the stage to allow for better viewing for all the kids on the dance floor and to help them learn the dance moves.  Then Goofy, Minnie, Daisy and Donald join the party to dance it up with the buccaneers and kids, big and small alike!!  Some itineraries even include some of the kids getting to go onstage to help with the party and dancing.  
Spoiler Alert!!!   If you know Disney, no party can go smoothly, especially with Captain Hook aboard your ship!  But don't worry, Captain Mickey is also aboard to save the day in true Disney fashion.  What party is complete without fireworks?!!  Disney Cruise Line is the ONLY cruise line that has a fireworks show at sea!!  Really there is no better way to top off a party and a cruise, than with fireworks!!  We do like to head up onto a higher deck to view the fireworks.  
On certain cruises, such as the Halloween on the High Seas, the Pirate Party is combined with a Halloween Party.  On these sailings you will see people dressed up in costumes other than pirates.  These cruises sometimes also include a themed buffet later in the evening!!  So enjoy getting to pretend you are a pirate with your kids and other guests!!
Some itineraries add in special Pirate-themed game shows and trivia to get everyone in the mood! Be sure to check your Personal Navigator—the Disney Cruise Line newsletter or mobile app—while onboard for specific show dates and times.
~~
All Key to the World Travel® planners are experts, and offer the highest level of exemplary customer service. Contact your travel planner to book your vacation, or click here to request a quote today!
Jessica Forrer
Travel Planner
Contact Jessica today, using the links below!