Going on an all-inclusive vacation is a goal for many people.  But, what does "all-inclusive" mean exactly? It is different for all brands and resorts but in general it means your stay, unlimited food, drinks, activities and entertainment are included in the booking price of the resort.
Are all all-inclusive resorts the same?
Many times clients will ask us if all-inclusive resorts all offer the same amenities and benefits. The answer to that is easy, no. Each brand and resort have varied benefits in what is included in their all-inclusive vacation package.
Using a travel advisor is the best way to ensure someone is doing the research in advance, as the quality of these options may vary, depending upon the hotel or resort that you choose. Some resorts include meals and drinks as part of their all-inclusive package, while other things including tours and water sports must be paid for separately – and that would be no good if you want to go out on a jet ski and have no cash…

What is included with Sandals & Beaches Resorts?
If you haven't tried an all-inclusive vacation yet, a good place to start is one of Sandals' award-winning beach resorts, as they set the bar so high with their offerings, that you'll never settle for less while vacationing again. Watersports (including scuba diving!), first-class dining, luxury airport transfers, as well as bars and entertainment are all some of the many things included in the price of your stay. Let's break it down below:
Gourmet dining & unlimited soft and alcoholic drinks
With Sandals & Beaches, some of the all-inclusive perks are 5-star gourmet dining at up to 16 restaurants per resort, including breakfast, lunch, dinner and anytime snacks. Foodies will love this type of all-you-can-eat vacation, especially when you can tell, based on resort ratings, that what you get will be well worth the price you pay. Dining includes themed options, which make it possible to give your taste buds a worldwide perspective.
Fancy a drink? Not all all-inclusive resorts include alcoholic drinks as part of the package. Sandals hosts up to 11 bars per resort, available to order your favorite alcoholic and soft drinks as often as you want.
Bars are open from early in the morning until late at night. Whether you're a whiskey lover, or you'd like to take your pick from their extensive cocktail and mixer menu, you'll find all you wish for at Sandals and Beaches. Even grabbing a cold beer from their local and international featured brands while you're swimming isn't too much to ask for. At swimming pool bars, you can indulge in a wide range of cold and refreshing flavors, without having to get out of the water! Back to your room you'll find a fully stacked mini fridge, which is free to use 24-hours a day! Sandals also offers unlimited top-notch Robert Mondavi Twin Oaks® wines as part of their all-inclusive experience.
Water sports

You will have unrestricted access to beaches and water sports, with direct access as resorts are located smack on some of the most beautiful beaches in the Caribbean. If you're a PADI-Certified scuba diver, you'll be happy to know that all the equipment you'll need to explore the magic of the undersea is available as part of your package, as are sailing, water skiing, snorkeling and other motorized and non-motorized activities.
Insider Tip: Not PADI-certified yet? Try snuba diving, or get your PADI certification within 48 hours during your stay. Priced at USD $450, this is one of the added offerings Sandals makes available for guest's convenience. Once you're certified, you can dive for the rest of your vacation for free!
This means you can alternate between Hobie Cats, paddle boards, and kayaks, in the most mesmerizing waters. Professional instruction is also included, so you won't need to worry about figuring out how anything works on your own. If you're looking for something super adventurous and different, opt for a boat exploration of nearby private offshore islands, an option that is available at select resorts.
Round the clock options for entertainment
Even if all you really want to do is relax, it's still reassuring to know that if you feel like mixing and mingling with the crowd at your couples-only vacation, you can step out of your room and take in top notch entertainment which sometimes includes live bands.
If you're not up for it, you can bask in the convenience of your vacation and recharge your batteries or do something low-key like a candle-lit dinner on the beach with your partner!
Golf
Golf aficionados, your green fees are covered at select Sandals resorts including Sandals Regency La Toc, which features an 9-hole par 33 course, the award-winning Greg Norman designed course at Sandals' all-inclusive resort in Exuma, Bahamas (18-holes, par 72) and the expansive 18-hole, par 71 golf course at the Sandals resort in Ocho Rios, Jamaica. Sandals recently acquired a new golf course in Saint Lucia, the 18-hole Sandals Golf and Country Club in Cap Estate, which means you can pretty much just play golf and forget about the world during your stay in Saint Lucia. The resort offers free transfers from any of the three Sandals resorts in Saint Lucia to both golf courses, so you don't have to concentrate on anything but staying on top of your game!
Fitness center with state-of-the-art equipment
When considering all all-inclusive property, it's understandable that you're going to want to make sure all the amenities live up to their descriptions on a website and brochure. All Sandals resorts feature top of the line gym equipment as well as complementary classes and training sessions in a range of activities.
Tips, gratuities & hotel taxes included!
At most all-inclusive resorts tips, taxes and gratuities are not completely included in your stay, so you will need to bring some cash to tip staff at the bars, restaurants and front desk (USD will do). It's important to read the fine print! At Sandals Resorts, all taxes and tips are included, so you don't have to worry about this. There's one exception: the butlers. The tip is not obligatory and often depends on the quality of service received. If you're served by multiple butlers, you can divide this tip among them as you wish.
If you plan on venturing out of the resort, it is recommended to bring cash, as most vendors do not accept credit or debit cards.
Luxury rooms and amenities
Last but not least, the accommodations. Stylish and super elegant, Sandals aims to please with their rooms which range from the affordable deluxe and premium rooms, to plush villas with private pools and Butler Suites. The rooms are priced based on category, and each category features different amenities, like the Love Nest Luxury Suites which come complete with Tranquility Soaking Tubs™ for two, 24-hour room service, VIP check in, and more!
Roundtrip airport transfers
Just as soon as you step out of customs at your destination, you'll find a Sandals representative waiting to take you to the fully air-conditioned shuttle bus, which will take you directly to your resort. During your departure, a complimentary shuttle will also transport you to the airport. Guests booked in Elite Butler rooms can opt for exclusive Rolls Royce transfers!
Exclusive airport arrival lounge
Not many other all-inclusive resorts can offer exclusive airport arrival lounges, but Sandals can. As part of the Jamaica, Bahamas and the Saint Lucia experience, you'll find the grandeur of Sandals, in a setting that enhances the comfort of your airport experience, and gives you something to look forward to when you arrive. The whole thing sets the tone for what you'll encounter later when you get to the resort itself, adding to your luxury included Sandals vacation.
Free Wi-Fi
Wi-Fi is everything while away from home, and it is refreshing to arrive at a resort that understands just how important it is to stay connected. At Sandals you'll find Wi-Fi in your room (in all room categories), as well as in all common areas. The codes are given to you upon arrival, and you're free to use it for as long as you please.
Romance included: a free wedding with your stay
Who doesn't want a free wedding? Can you imagine booking a stay at a resort for a few days with the love of your life and having opportunity available for a free destination wedding as part of your package? There is hardly anything dreamier than that and it's available at all the exquisite locations Sandals offers across the Caribbean. So, remember when selecting a Sandals property, choose well, as you may very well decide to get hitched on one of their glittering island shores!
Adults only all-inclusive resort, or bringing the kids?
One of the things that set Sandals apart in the all-inclusive arena is the fact that the properties are adults-only, designed for couples. Sandals provides an upscale adults-only vacation experience that is so comprehensive, that it has become immensely popular for honeymooners, and couples looking to reignite their love. Sandals resorts have seen so many weddings, honeymoons and vow renewals, that it is safe to say their resorts are some of the most romantic, beachside all-inclusive resorts for couples in the world.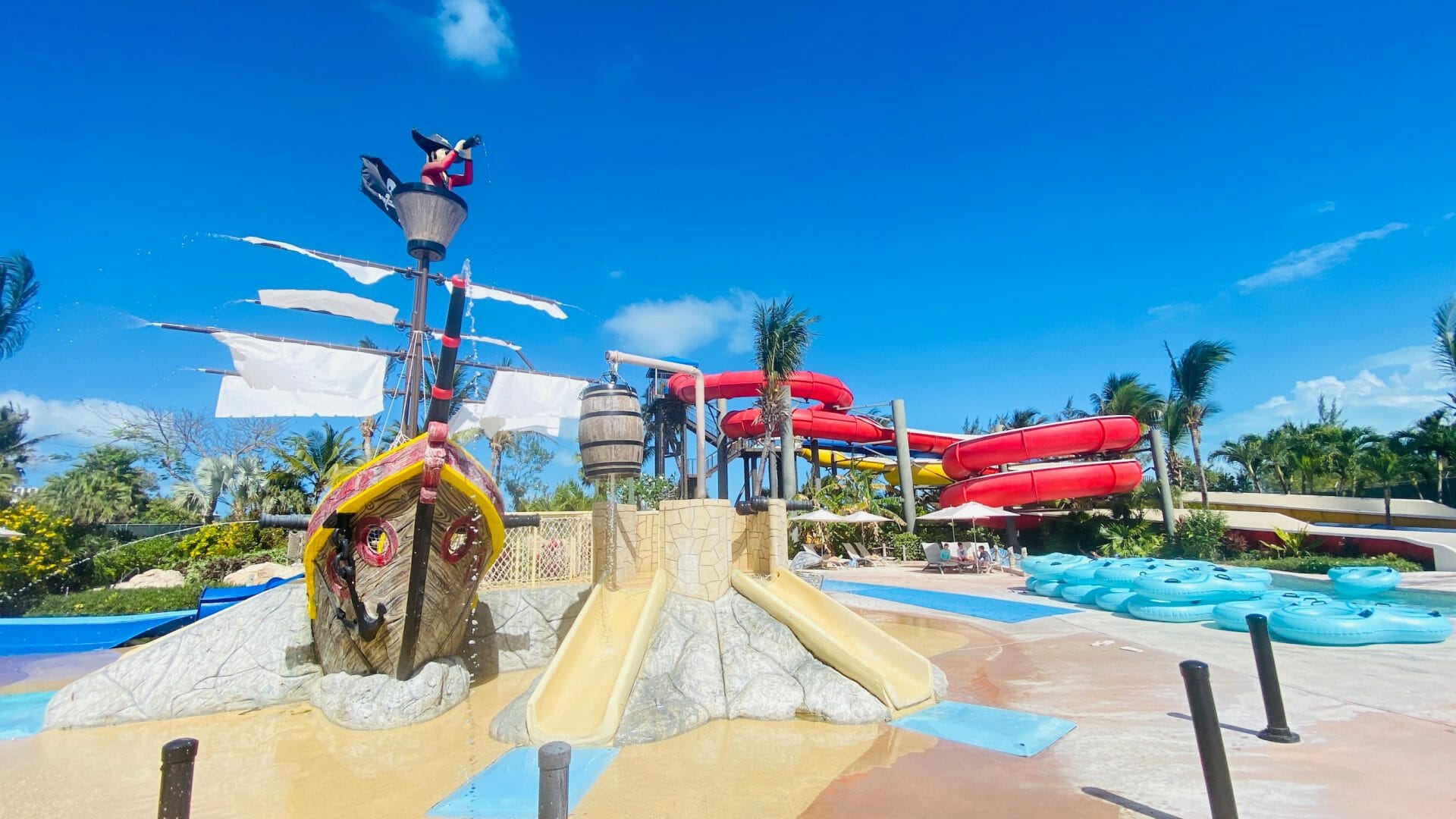 Prefer bringing the kids on an all-inclusive vacation? Beaches' family friendly resorts, part of the Sandals resort family, cater to families with children. Beaches is known and loved for being the ultimate family beach vacation spot, and with properties in Turks & Caicos and Jamaica, these family friendly all-inclusive resorts draw in thousands of visitors from around the globe annually.
At Beaches you'll find the same all-inclusive benefits as Sandals, with even more attractions including awesome waterparks, X-box lounges, a Kid's Camps with certified nannies, and more! To top that off, kids also get the unique opportunity to interact with Sesame Street® characters, through an exclusive partnership. Sesame Street® VIP-packages include a Meet & Greet, buffet breakfast, and the opportunity to have an awesome Caribbean adventure your kids will never forget!
Are you considering a trip? This is a great time to plan your perfect vacation! Having a travel advisor means someone there to have your back in any occurrence. There is no additional cost to you and you have peace of mind knowing that your vacation is in good hands.
Contact Key to the World Travel® for a free, no-obligation quote for your next trip. Click here. If you love following along for the most up to date park information and news, follow us on Instagram too: @kttwtravel
Some Photos Courtesy Sandals Resorts