Has everyone already told you that you're crazy for taking a baby or toddler to the Walt Disney World® Resort? And have you responded with the saying "they're free 'til they're three"?! If you're visiting the Walt Disney World® Resort with a baby or toddler, the Baby Care Centers may become your favorite location in the park. Each park has its own center, and each Baby Care Center includes nursing rooms, changing tables, high chairs, and more – giving you the ability to take care of your baby's needs in an air-conditioned environment away from the crowds.
The Baby Care Center at Magic Kingdom® is located on Main Street, U.S.A. by Casey's Corner. The Baby Care Center at Epcot® is located in the Odyssey Center, between Future World and the World Showcase, near the Mexico Pavilion. The Baby Care Center at Disney's Hollywood Studios® is located on the left as you enter the park, and The Baby Care Center at Disney's Animal Kingdom® is located on Discovery Island near Creature Comforts.  All of the Baby Care Centers are noted on the park maps, or a Cast Member can point in you the right direction. While the water parks, Resort hotels, and Disney Springs® do not include Baby Care Centers, baby changing stations can be found in most restrooms.
My personal favorite part of the Baby Care Centers are the changing areas. While the bathrooms at Walt Disney World® do provide extra space for changing your little one, I still look awkward lugging my baby and an overpacked diaper bag into a restroom to change him. The Baby Care Centers have the nicest – and most hygienic – changing tables around. Many of the changing tables are oversized, providing room for your both your baby and diaper bag. They are all layered with paper (similar to what you might find at a doctor's office) and are routinely changed by the Baby Care Center staff, or you can change it yourself.
Cast members are located in each of the Baby Care Centers. As with all Disney Cast Members, they are friendly and extremely helpful. On one occasion, my infant had an accident on a changing table before I could grab another diaper. Let me tell you, it went ALL OVER that oversized changing table. I was mortified but also had a baby to dry off and clothe with no extra hands to help. The sweet Cast Member came over and said to me, "Don't you worry about that one bit, honey! You take your baby and enjoy your day and I'll take care of this!" I was able to dress my baby while she grabbed some paper towels and took out her sterilizing equipment to prepare the changing table for the next baby. Beyond cleaning, the Cast Members in the Baby Care Centers are generally very personable. It's rare that you have time to sit and talk to a Cast Member for an extended period of time, but when you're giving your baby a bottle you suddenly have plenty of extra time. We've met several Cast Members in the Baby Care Centers who have given us tips and tricks to use the rest of our day in the parks.
For families with older children along with a baby, each Baby Care Center provides television and room to sit. While mom is taking care of the littlest member of the family, the older kids can watch a Disney movie.  I've watched many families end up staying in the Baby Care Center a little longer than planned, as some of these cool spaces are the perfect nooks for a midday nap.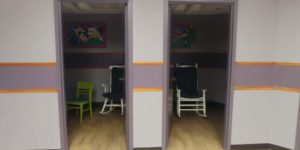 If you're breastfeeding while visiting the Walt Disney World® Resort, the Baby Care Centers provide a private spot for you to feed your baby.  In each nursing room, there's rocking chairs or gliders. Some nursing rooms are completely private and meant for only one mom, while others can hold several mothers at once.
If your child is eating solid foods, the centers provide high chairs to feed your little one in a calmer, cool area. There's also a microwave and sink in each center to help prepare meals you might bring in. Some centers also provide extra amenities, such as a bottle warmer and a water cooler.
Even though you may tediously pack your bags for your Walt Disney World® Resort vacation, at some point you're bound to forget something you need. Each Baby Care Center also contains a store with products for your baby. From formula and baby food to diapers and wipes, whatever your baby needs, the store most likely has it. Baby Care Centers also have bug spray, sunscreen, and over the counter medicines for purchase. Since the Baby Care Center at Disney's Hollywood Studios® is smaller than the rest, the baby care items can be purchased at the gift shop just to the left of the center.
Although you don't ever want to think about it happening, children do become separated from their family while at Walt Disney World®. If and when this happens, the child who becomes separated from his or her parents while in the park will be escorted by a Cast Member to the Baby Care Center. Once there, the child will be looked after until the parent comes to claim the child.
The Baby Care Centers at Walt Disney World® Resort make traveling with a baby so much easier. If you're wondering if you can do a Walt Disney World® Resort vacation with a baby, the Baby Care Centers make it possible. Honestly, I'm going to miss the cool midday breaks when my baby gets too big for them!
~~
All Key to the World Travel® Advisors are experts and offer the highest level of exemplary customer service. Contact your travel advisor to book your vacation, or click here to request a quote today!