Throughout the year, SeaWorld® Orlando hosts special events such as Electric Ocean, the Craft Beer Festival, Seven Seas Food Festival, Halloween Spooktacular, and Christmas Festival. However, one of our favorite events is Inside Look, which is a behind-the-scenes event where families get exclusive access to areas of the park never before visited by guests and meet with veterinarians and animal experts and hear their personal stories about caring for the animals that call SeaWorld® home.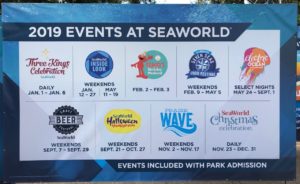 Each time this event is held, there are different behind areas that guests are invited to visit. In January, the locations were the Fish House, Manta Aquarium, Sea Lion and Otter Primary Housing, Animal Ambassador Hamlet, and the Beluga and Seal Primary Housing, as well as the SeaWorld Rescue Center. Visitors got to see how the animals' food is prepared, where they live and are cared for, as well as view aquariums, habitats, and exhibits from a whole new perspective.
This time around, guests are invited to visit the SeaWorld Rescue Center and five new locations: Dolphin Theater, Antarctica: Empire of the Penguin®, Shark Encounter, Birds of Prey Rescue Center, and Shamu® Stadium! Here is a little bit of detail about each.
SeaWorld Rescue Center
As you tour with their team of animal care specialists, you will learn how they provide care for the SeaWorld® animal residents and provide critical and temporary care for injured wildlife, including endangered manatees and sea turtles. You will see how they create and clean millions of gallons of manmade seawater every day, view specialty rescue vehicles and are able to visit the veterinary hospital where animals are helped every day.
Dolphin Theater
Arguably one of the most popular sea animals, bottlenose dolphins steal the show each day in this theater. With this behind the scenes look, you will get to meet with the animal care specialists who work with and care for these mammals each day, go poolside to habitats not seen from guest areas. Plus, you will get an up-close look at the macaws that soar above guests during the shows.
Antarctica: Empire of the Penguin®
Travel behind the scenes of the penguin habitat and learn what it takes to care for these flightless birds. First, you will meet learn how and why they carefully mimic Antarctic daylight schedules and atmospheric conditions in their lighting, air handling, and filtration rooms. There is a reason you travel through the cold air to get to the habitat, and why your allergies will never bother you while you are in there. The cold is so no organisms are introduced to the habitat, and you have no allergy symptoms because the air is filtered so it is completely clean, and blows through quickly, so nothing you happen to have on you affects the penguins! The best part of this tour – getting to step out INTO the habitat and get up to these wonderful birds.
Shark Encounter
Families get a topside view at Shark Encounter while they learn what it takes to care for the residents of SeaWorld®'s 700,000-gallon shark habitat. Learn how they are fed and how they are giving an annual physical in the medical pool. You won't view these sharks the same again!
Birds of Prey Rescue Center
Here guests will get to meet SeaWorld®'s Ambassador Animal team and the bald eagles and falcons they care for. You will get to tour the birds' home, Eagle Mews, and watch and learn how these fascinating birds interact and train with animal care specialists every day.
Shamu® Stadium
In this first-of-its-kind backstage opportunity, guests will be able to visit the backside of Shamu® Stadium and meet the dedicated team who safeguard the health and well being of the killer whales and rescued pilot whales who call this area home. You will be able to see where hundreds of pounds of fish are prepared daily, check out the whales' toys, and visit the medical pool and system of habitat pools to better understand the dynamics of caring for SeaWorld®'s largest residents. Being that close to the whales, seeing them play, and hearing all that they do and how much these care specialists love them was the highlight of the day for us.
Special Guest Appearances
For more than 40 years, SeaWorld® has partnered with multiple government agencies, conservationists, stranding networks, and zoological facilities to help rescue over 34,000 ill, injured and orphaned animals in need. Available 24/7/365, the dedicated team of animal care, veterinary and animal rescue experts will always answer the call to help an animal in need. Last weekend, we had the opportunity to see and hear from Jon Peterson, SeaWorld® Orlando's Vice President of Zoological and Rescue Operations. In this up close and personal conversation, he shared stories of animal rescue successes, and what they have learned from ones where the animals were too hurt to make it. With the goal of rescue, rehabilitating and returning as many rescued animals to the wild as possible, SeaWorld®, Peterson, and his amazing team will go anywhere, and do anything, to help an animal in need.
Next weekend, Chris Fischer, the Founder and Chairman of OCEARCH, returns for another Inside Look appearance. Fischer will talk about how, since 2007, he has worked with over 50 scientists and 20 institutions, and led 17 global expeditions to collect critical scientific data related to tracking (telemetry) and biological studies of keystone marine species such as great white sharks. He is a great speaker, and his non-profit OCEARCH is an amazing organization whose goal is to enable scientists and governments around the world to generate groundbreaking data in an open source environment while enabling dynamic STEM education to inspire the next generation of ocean explorers. To learn more, visit ocearch.org.
The last SeaWorld® Inside Look of the year will be held this weekend, May 18-19, 2019. If you are in the Orlando area, we highly recommend checking it out.  This special event is included for free with your park admission. And be sure to collect stamps in your Explorer's Guide. By visiting at least three Inside Look locations throughout the day, you will receive a special pin from the SeaWorld® Rescue Store, located at the front of the park.
~~
All Key to the World Travel® advisors are experts and offer the highest level of exemplary customer service. Contact your travel advisor to book your vacation, or click here to request a quote today!