My family and I went to the  Disneyland® Resort to celebrate my husband's 40th birthday. Our goal when planning was to try as many new things that we haven't experienced on past visits. Both my husband and I have been to Disneyland® over 25 times each. So this was a fun challenge for us. It also allowed us to find some really cool hidden gems at the Disneyland® Resort (this includes Disneyland®, Disney's California Adventure®, and the resort hotels).
Hidden Gems: #1 Stay at a Disneyland® Resort Hotel!
This was the first time we stayed on property as a family. I chose Disney's Grand Californian® Hotel & Spa because turning 40 is GRAND! Before our trip, I was able to set up a delivery in our room to surprise my husband for his birthday. It was through Disney Floral and Gifts. I called the hotel and they sent me a link where I was able to make my selection online. I ordered him A Mickey's Birthday Wish package! His surprise started with a banner on the door wishing him a happy birthday.
Once inside we found that the room had been decorated with Mickey confetti, balloons, a gift basket and tons of gifts. I think my kids loved the surprise more than my husband! Also, the package came with a birthday Mickey ears hat that says happy birthday, but my husband wouldn't let me post that picture, haha!
Another cool gem of staying at a Disneyland® Hotel is that you can book a package (park tickets & hotel – we also booked a character dining, but you don't have to to get the package). When we arrived at the hotel they gave us our packet and you get so many fun extras at no additional cost! We got luggage tags, lanyards, and a Disneyland pin for each person in our family, and a book of coupons just to name a few!
Hidden Gems: #2  Ride the back seat on the Monorail!
Most people usually request to ride in the front of the Disneyland® Monorail, but a fantastic hidden gem is the back seat compartment of the monorail! We asked the attendant if we could sit in the front and it was already taken, so he offered us the back. You get so much more space and it's just for you and your party! The window wraps around so you get an amazing view of the parks on your trip in and out. Also on a side note: the monorail trains can get cold because the top windows are open in the main cars. In the back car there are no open windows. We rode the monorail 4 times and each time we chose the back!
Hidden Gems: #3 Visit Snow White's Grotto!
Snow White's Grotto isn't on the map. It is located on the right-hand side of Sleeping Beauty Castle if you are facing the front of the castle. I took this picture as I was walking over the bridge. There is a little pathway after you walk over the drawbridge and through the castle to your right. The first time we found this gem there were pennies lined up along the edge of the wishing well for kids to make wishes. I'm not sure if Disney places these pennies or if the Fairy Godmother does, but regardless it is such a fun magical gem for the kids to be able to make a wish!
My daughter also got to meet her favorite princess here! I love that the characters walk around and interact with all of the guests!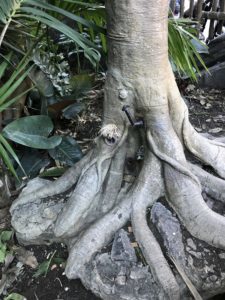 Hidden Gems: #4 Say hi to the Little Man of Disneyland!
There is this really cute Golden Book titled, "The Little Man of Disneyland." It is about when Disneyland® was first built, but I won't spoil the story for you. My kids love reading the book, but the really cool gem is you can actually visit the Little Man of Disneyland's house!
My daughter took the close up photo of his front door 
To find the Little Man of Disneyland's house you need to go to Indiana Jones™ Adventure ride. Find the ride sign. It is attached to a tree in the planter box. Look in the planter box next to the base of the tree and you'll see it!
Hidden Gems: #5 Grab a snack at the Mint Julep Bar!
This one actually isn't a new gem for us! We love beignets from the Mint Julep Bar and get them on every trip. This bar isn't located on the map. Is on the back side of the French Market restaurant. You can access the line by going between the New Orleans Square Railroad Station and the bathrooms.
You can choose to have powdered sugar as the topping or you can pick their seasonal topping. In the winter it is peppermint, starting at the end of January it will be blueberry – lemon for Mardi Gras.  They are baked fresh to order so sometimes the line can get long, but the beignets are hot! They come in a pack of 3 or you can get a deal if you buy a pack of 6. Also, try the mint julep. It is refreshing after eating a treat!
Hidden Gems: #6 Explore Pirates Lair on Tom Sawyer Island!
We always say we need to go over to the island, but this time we did and we are so glad we did! This place is incredible! It doesn't even feel like you are at Disneyland® anymore. There are no crowds and it is so quiet. My husband described it as Zen-like. There are so many fun things to explore on the island. There are caves to go through, rocks to climb, suspensions bridges to cross, skeletons to raise, waterfall to enjoy!
My favorite part of Tom Sawyer Island was getting to meet Jack Sparrow. There was no line to get his autograph and he spent his time interacting with the kids. He even rode the raft back to land with us. It was a very neat experience that we will for sure do again!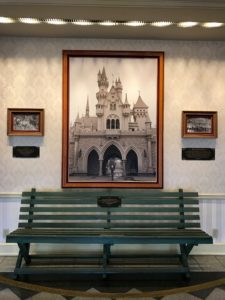 Hidden Gems: #7 Visit Walt's bench!
Have you ever seen those buildings on the right-hand side when you walk into Disneyland® before you get to Main Street, U.S.A.? Ya, I never paid attention to them at all either. I was always in a hurry to get to the rides! But this time we slowed down and went into The Disneyland Story presenting Great Moments with Mr.  Lincoln. Right when you enter you get to see Walt's bench. This was the bench he actually sat on when he came up with the idea of Disneyland®. The only bummer part is you can't sit on it! But being a historian by trade, seeing his bench was a gem for me.

Hidden Gems: #8 Find clues to the future of Disney!
Disney leaves clues for their upcoming plans if you look for them. The first clue we found was in Disney's California Adventure® and it was a hatch with the Avengers A on it. It is located to the right of the Guardian of the Galaxy ride in the planter box. Walk over to where the trolley starts and you'll see it on your left-hand side. The clue is that Disney may be incorporating more Marvel into Hollywood Land.
The next clue we found was walking on the pier towards Toy Story Midway Mania!® As you are walking they have signs up on the construction blocking walls. The picture below is of Heimlich from A Bug's Life. The clue is that when Pixar Pier opens, a bug's land may be closing and one of the rides is going to move over to the new Pier. Flik also has his picture up on the Pier.
Hidden Gems: #9 Pet the cats of Disneyland®!
This gem is my daughter's and my favorite! We love cats! And Disney has cats! We have been able to see a cat on two different trips. Both times have been at Disney's California Adventure® and both times are on the path from Soarin' Around the World to the entrance of Disney's Grand Californian Hotel® & Spa on the left-hand side. All of the cats have names. This one is Francisco! He came up to the fence for a pet.  The cats are so popular there is even an Instagram page for them called Cats of Disneyland!  It is such a fun experience to see them!
And there you have it, my 9 Hidden Gems of Disneyland®. I hope you get the chance to go find them.
~~
All Key to the World Travel® Planners are experts and offer the highest level of exemplary customer service. Contact your travel planner to book your vacation, or click here to request a quote today!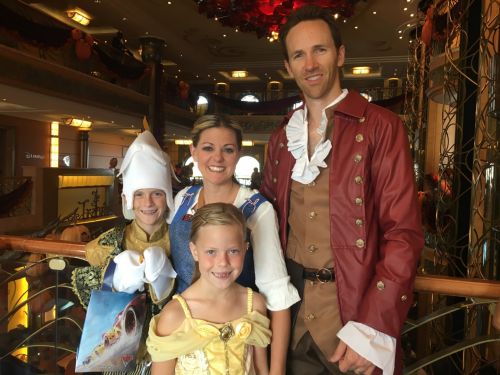 Lynette Brown
Travel Planner
Contact Lynette today, using the links below!
SaveSave
SaveSave
SaveSave